If you are having a wedding, then you should definitely start looking for some wedding dresses! Of course if you are the bride, I am sure that is the first thing on your list and you have forgotten about everything else. Is this the time to remind you about mailing the invitations out to guests? Okay, below, I have the top 10 gorgeous wedding dresses…
---
10

Scala Beaded off-the-Shoulder Gown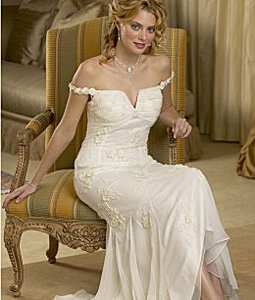 Price: $240.00 at dillards.com
This is an elegant gown that would look great during a wedding. The 3-D flowers on the off-shoulder straps will be sure to stand out. This dress will make you stand out from everyone else. Pair it with the right shoes and a train and you will look gorgeous.
9

Jovani Long Destination Wedding Bandeau Dress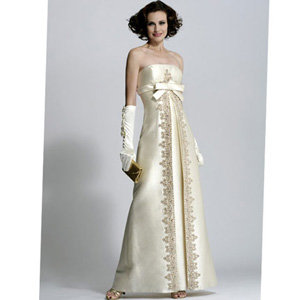 Price: $830.00 at lamonir.com
This is a long, strapless destination wedding dress that gives that overlay look. It has a beautiful beaded trim and don't forget about the cute bow that is on the bust. Would you like this for your wedding?
---
8

Stretch Taffeta Bustier Dress with Square Neck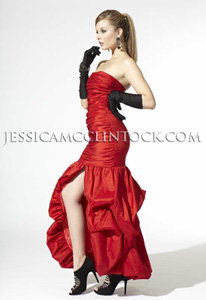 Price: $299.00 at jessicamcclintock.com
This is a Bustier Dress with square neck. If you are looking for a fairly cheap wedding dress, then this one would be a good one to pick. I guess right now, I should remind you that the dress you pick does not necessarily have to be labeled "wedding dress" to wear it. Why not wear red?
---
7

Jovani Special Occasion Long Dress Chiffon Skirt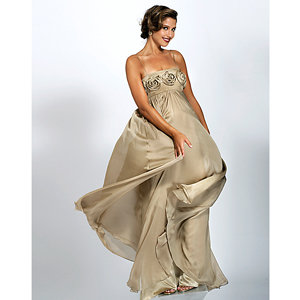 Price: $530.00 at lamonir.com
This is a long, empire style dress that has dainty spaghetti straps. The fabric roses add an extra touch to the dress. When you wear this five hundred and thirty dollar wedding dress, you are definitely going to stand out as the bride!
---
6

Maggie Sottero Wedding Dress Monalisa Royale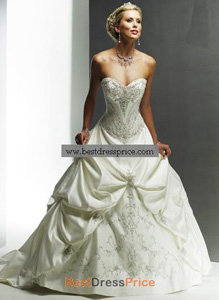 Price: $423.99 at bestdressprice.com
This is a one piece, strapless dress. It has a sweetheart neckline and is a full A line gown. It features embellished embroidery that is accented with Swarovski crystals, seed beads, glass beads, bugle beads and sequins.
5

Snowy-Ivory Short Wedding Dresses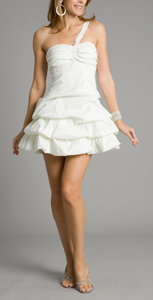 Price: $89.00 at windsorstore.com
This dress consists of one should strap with beading appliqué. It has a ruched bust, triple bubble hem and a back zip. It also includes an empire waste. Oh yeah and did I mention that it is gorgeous?
---
4

Lebon Bridal Couture Formal Bridal Gown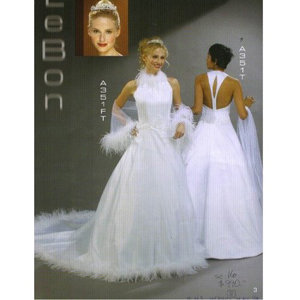 Price: $629.00 at amazon.com
This is a stunning gown that has some pretty amazing features on it. It has a pea-a-boo back with a chapel length train. This is one of my favorite dresses. I love the feathers that are on it. What do you think?
---
3

Lady Roi Bridals Gown Style 8570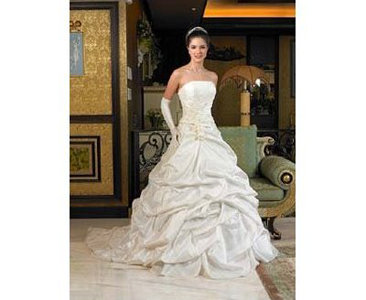 Price: $349.00 at amazon.com
This dress is tight up top and then flows down into a wave full of ruffles. I don't know why, but there's something about this dress that really draws me to it. Plus, it being three hundred and forty nine dollars on Amazon is pretty good for a wedding dress that is this beautiful.
---
2

Lebon Bridal Couture White/Black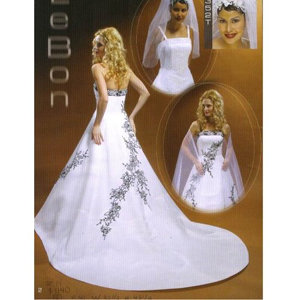 Price: $719.00 at amazon.com
This is a couture gown. It is strapless, but it comes with optional straps that are included. It has direct floral beading and a chapel length train. The veil has also been embroidered with black beading that is included with the gown. It is well worth the price.
---
1

Ball Gown Wedding Dress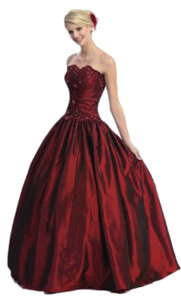 Price: $164.00 at amazon.com
This is another one of my favorite dresses. I don't know exactly why, but I always had a thing for ball gown type wedding dresses. I guess they remind me of Cinderella or something like that. The color of this one really catches my eyes. Who said wedding dresses had to be white?
Those are the wedding dresses that have really caught my eye that I believe many of you would like. These wedding dresses are popular as well. So, which one is your favorite? My favorite is number four.
---
Comments
Popular
Related
Recent