You know what they say, summer is the time for love… and weddings! So, I believe someone out there is looking for some beautiful summer wedding dresses. Below, I am going to give you 8 beautiful wedding dresses for the summer you could try…
---
8

One-shoulder Stretch Taffeta Dress with Rosette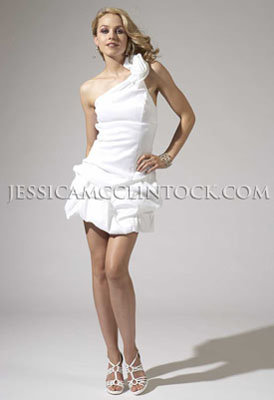 Price: $180.00 at jessicamcclintock.com
I think this dress would be perfect to wear during a wedding during the summer months. It is a one-shoulder dress that comes with a rosette. It has cross straps with a low back. If you've got the legs for it, it'll look beautiful! I like the short lifted bubble skirt so much -- very stylish!
---
7

Summer White Wedding Dress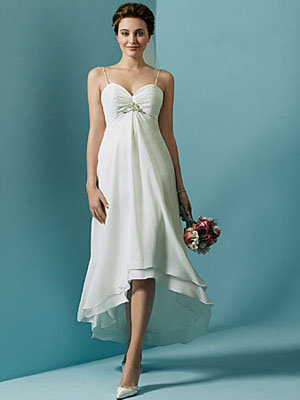 Price: $159.00 at helenebridal.com
I know, this is a simple dress, it's not really my style, but it is still very nice, very classy. I know that some people like the simple look. Nonetheless, I think it would be sexy for a great beach wedding. What would you add to it to make it look better? How would a big red flower look strapped on one of the spaghetti straps?
Trendinig Stories
More Stories ...
6

Caneel Bay Wedding Dress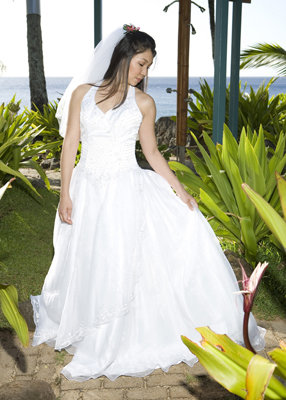 Price: $1,500.00 at hawaiianweddingshop.com
This wedding dress just has romance to it. The princess style is adorable. It has beaded chiffon layers on satin. Add in a tropical wedding veil and it will be gorgeous.
---
5

Lace Tiered Wedding Dress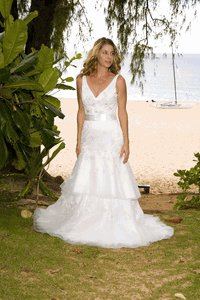 Price: $1,500.00 at hawaiianweddingshop.com
I say that this one is perfect for a romantic wedding on the beach. The lace is made of hand tiered beaded lace. It really does look beautiful. What do you think?
---
4

Hannah White Dresses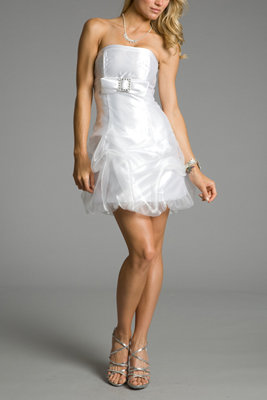 Price: $109.00 at windsorstore.com
This is a strapless dress in a somewhat 80's style (which is huge trend this season). It would be perfect for a summer wedding. The back zips up. It is one hundred percent Polyester. At a price like this, you really cannot beat this sexy wedding dress!
---
3

Satin Bustier Bridal Gown with Square Neck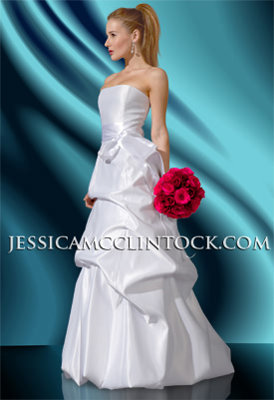 Price: $233.00 at jessicamcclintock.com
This really is a gorgeous gown. It has a full bubble skirt with lifts. I like the long skirt! The ribbon sash and bow add a bit of "je ne sais quoi" to it as well. Did I mention that it is satin?
---
2

Poly Mesh Bustier Dress with Square Neck

Price: $235.00 at jessicamcclintock.com
I know, this one looks different. It's unique and that's why I included it on this list. That and because I think it would make a great summer dress. I like the black lace on it. I think this will really make you stand out on your big day.
---
1

Ivory Strapless Wedding Dress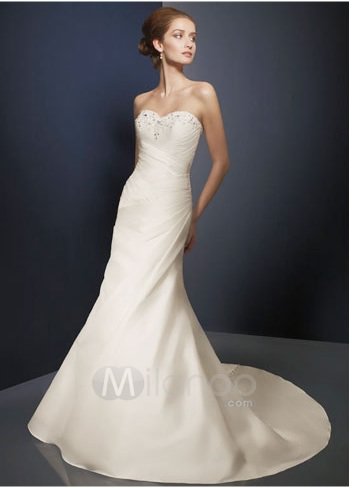 Price: $169.90 at milanoo.com
I think this is great for more than one reason! For one, it is classy. Second, it's great for any kind of wedding as it is timelessly classic and for number three, it's affordable! If you are having a wedding where you do not want to spend too much, because you prefer spending more on a honeymoon, then this would be the perfect dress.
There you have 8 beautiful wedding dresses that you can wear to your wedding. Remember, it does not have to say "Wedding Dress" to be worn by the bride to the wedding. Which dress do you favor the most?
---
Comments
Popular
Related
Recent