Summer is the perfect time to get married and many brides choose this sunny season to walk down the aisle. If you are interested in having a coastal themed wedding or even tying the knot beside the ocean, you can add some creative accents to your wedding look and décor. Here are 8 Etsy Items for the Summer Bride that will take your wedding day to a new level of coastal cool.
---
1

Ivory Bridal Hairpiece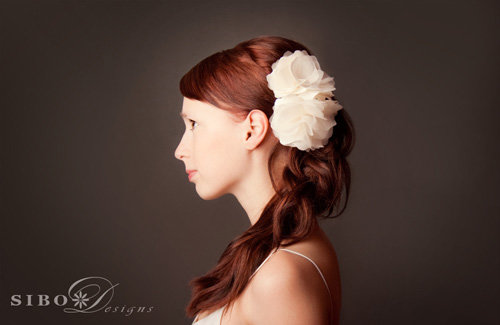 Price: 60.00 at etsy.com
This gorgeous hairpiece is made for ivory silk and organza. It is attached to a comb and you could wear it in multiple ways. Wear it to accent an updo or pin back the side of your long, cascading curls. As a more coastal alternative to the traditional veil, it's perfect for the summer bride.
---
2

Summer Bride Necklace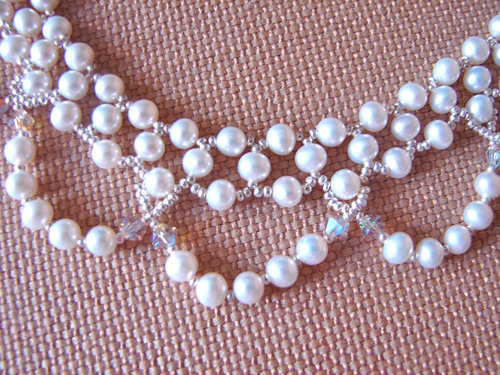 Price: 124.00 at etsy.com
These creamy pearls will look complete the look for any summer bride. With a few Swarovski crystals intertwined with dainty ivory pearls, it will give just enough sparkle to accent your wedding gown perfectly.
---
3

Beach Wedding Barefoot Sandals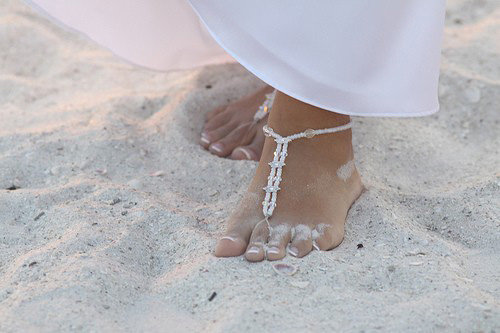 Price: 32.00 at etsy.com
If you are saying your vows on the white sandy beach, high heels just won't cut it. Barefoot is the best way to go by the ocean, but these barefoot sandals can give you a little sparkle for your feet.
---
4

Beach Wedding Ring Pillow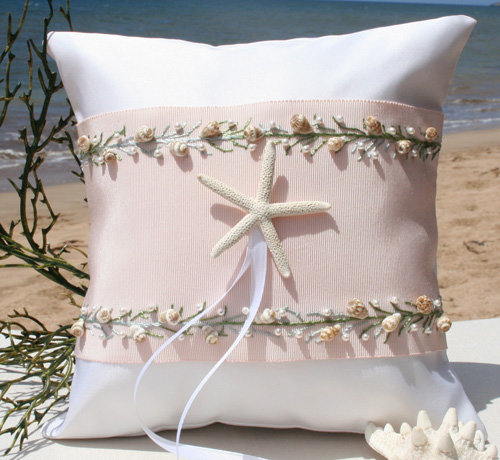 Price: 95.00 at etsy.com
Let your ring bearer carry this beautiful beach pillow for an extra special touch to your coastal wedding. It is hand embroidered and adorned with a dainty white star fish. Imagine the "oohs" and "aahs" when people see the rings emerge from this beautiful piece.
---
5

Glittery Wedding Starfish Sign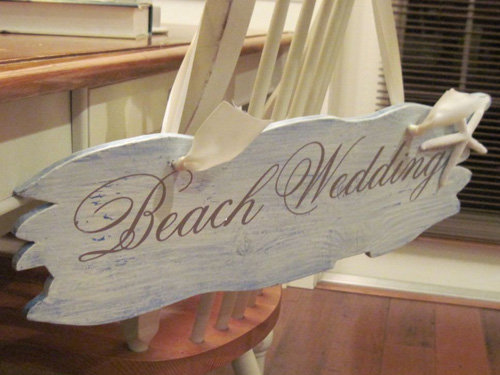 Price: 35.00 at etsy.com
Point guests in the right direction with this shabby chic wedding sign. Perfect to weddings held at public beach access points, you can make your location look customized in a moment by hanging this beautiful sign from a stake in the sand.
---
6

Seashell Bouquets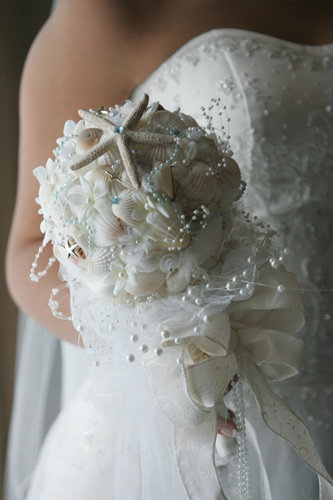 Price: 100.00 at etsy.com
The summer bride deserves a beautiful bouquet to match the rest of her beach wedding décor. This seashell bouquet would be perfect for any bride to carry or it could also be a nice accent for the bridesmaids.
7

Mermaids Beach Rose and Pearl Necklace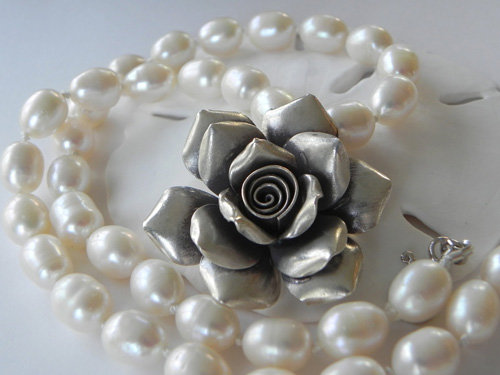 Price: 145.00 at etsy.com
This gorgeous necklace features a Thailand crafted silver rose and a string of glistening pearls. It will be a stunning statement for the bride, especially when paired with a vintage style dress or a long flowing chiffon train.
---
8

Natural Starfish and Seashell Cake Topper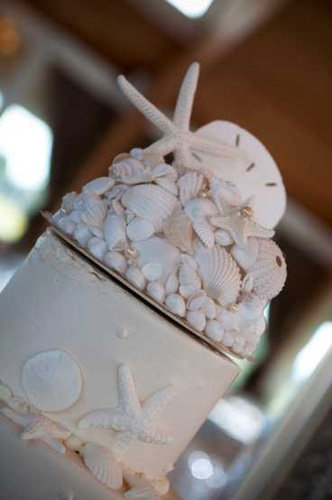 Price: 65.00 at etsy.com
Don't forget the cake when you are planning your beach wedding! This cake topper features a pretty starfish and sand dollar perched above a mountain of assorted pearly shells. It will complete your theme perfectly.
These are only 8 Etsy items for the summer bride, but there are dozens of additional ways to add a coastal touch to your wedding. Have you ever dreamed of a beach wedding? Would you make it a casual day or a formal affair?
---
Comments
Popular
Related
Recent