Most brides don't think much about their bridesmaid's dresses once they've been selected, but as a girl who's stood up in more weddings than I care to count, I sure did! Most of the time, the dresses were awful, ugly, utterly unwearable again. But why? Why do bridesmaid's dresses have to be ugly? Why can't they be pretty, dresses a girl would be happy to wear again? Here are 7 lovely alternatives to bridesmaid's dresses. Best of all, they're all less than $50 each!
---
1

Champagne Toast Pocket Dress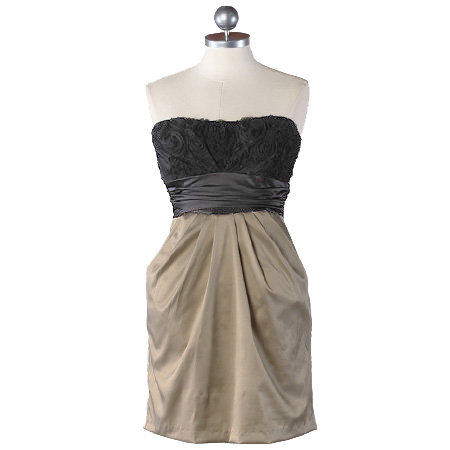 Price: $39.99 at shopruche.com
This strapless dress would be ideal for an elegant, adult-only wedding, wouldn't it? It's black and taupe, with pretty tulle rosettes on the bust and a wide sating sash that ties in back. The skirt even features side pockets for stashing a lip gloss. Ask the girls to each wear a pair of black satin heels, in any style they prefer, and you're set!
---
2

Petal Bloom Dusty Pink Dress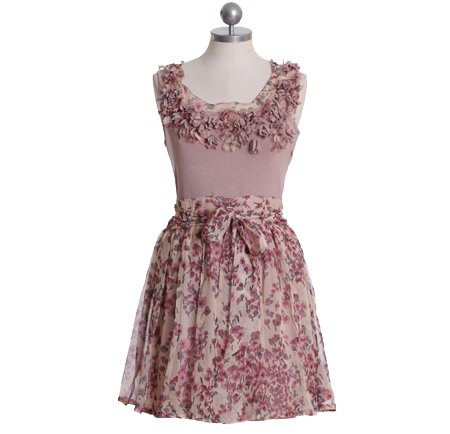 Price: $44.99 at shopruche.com
If you're planning a summer time garden wedding, this is the perfect dress, with a flattering full skirt and tie belt and delicate, dreamy chiffon flowers at the neckline. The bridesmaids could all wear updos and delicate chandelier earrings to complete the look.
3

We Were the Lucky Ones Lace Wrap Dress

Price: $97.99 at shopruche.com
Grace and elegance in black, this dress features a light cream base under a black lace overlay, with ruffle sleeves and a V neck cut. The bridesmaids could wear any of their black shoes with this dress, or red… or any other accent color you choose!
---
4

Enchanting Lady Strapless Dress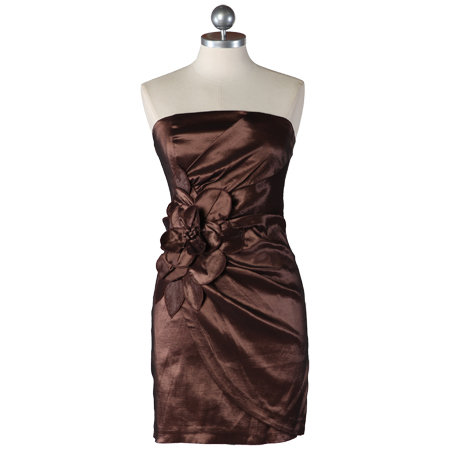 Price: $45.99 at shopruche.com
Mocha or silver, daytime or night. This dress can be worn for almost any sort of wedding, with a cropped cardi or sheer wrap and metallic shimmer shoes. Make sure the accessories, if any, are tame, and let the gorgeous rosette detail at the side be the focal point.
---
5

Landed on My Mind Butterfly Back Dress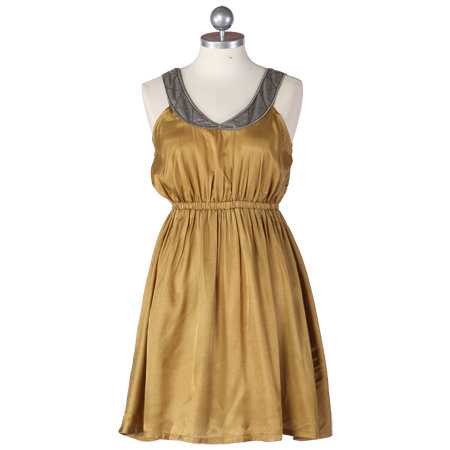 Price: $44.99 at shopruche.com
The Detroit Zoo has a gorgeous Butterfly House, which they make available for weddings. This dress would be an ideal alternative to a traditional bridesmaid's dress for a wedding in the Butterfly House. From the front, it's just another pretty yellow and silver frock. But on the back is a big butterfly, all sequined and pretty…
---
6

Gardenia Grace One Shoulder Dress

Price: $38.99 at shopruche.com
Black is such a great color for bridesmaid's dresses, for what girl wouldn't want to add another gorgeous LBD to her closet? This one's especially pretty, with a posey of white flowers perched on one shoulder. It's got flattering pleats at the waist and hits modestly just below the knee.
---
7

Sequins of Events Asymmetrical Dress

Price: $45.00 at shopruche.com
Are you getting married in late summer or early fall? Let your bridesmaids choose this dress, then, asymmetrical with a beautiful sequin detail and a pleated skirt with ruffles. Pair with gold shoes and bangles, and the girls will be beautiful!

Let the bridesmaids pick any of these pretty dresses, and they'll be eternally grateful… so grateful, they won't make you wear bright orange taffeta as a bridesmaid in their wedding. Which of these very pretty alternatives to bridesmaids dresses do you like best, and why? Or are you more of a traditional bride, intent on making her girls wear something else? Please let me know!
---
Comments
Popular
Related
Recent