Every day as we look into the mirror and get ready for our day we ponder over how to wear our hair. Should I leave it down, put it up, maybe half up and half down? Our hair style is especially important to us when it comes to special occasions like proms, school pictures, and weddings. But no matter how we wear our hair, there are always cute accessories like hair clips,headbands, and flowers that we can add to our style to make our hairdo even better. Here are some hair accessories that will help you shine even brighter on that big day.
---
5

Stop and Smell the Roses...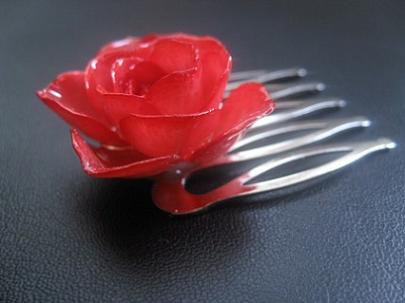 Believe it or not you are looking at a beautiful, real red rose. This one of a kind hair piece was made by Etsy.com shop owner RoyalPrincess by a process she calls electrofoming, which includes coating the rose with resin. If you are looking for a red floral hair comb to match your bridesmaids' dresses or your beautiful rose bouquet pick this one up for $18.00. I love how delicate the rose looks and would love one in blue for my wedding day.
---
4

Friends of a Feather...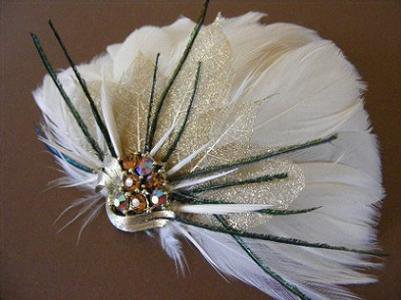 Feathers are a big bridal hair trend and this beautiful ivory goose feather comb made by Etsy.com shop owner Ivana is just what you need if you're looking for a funky feather hair piece. Accents of swarovski crystals, peacock feathers, and golden leaves** make the goose feathers shimmer. For $30.00 **show off your trendy, funky side along with your beautiful Fabio Gritti organza, silk, tulle gown. Many brides on WeddingBee.com are talking about what to wear in their hair and feathers has been a very popular topic.
3

Something Blue...

As the bridal saying goes, "Something old, something new, something borrowed, and something blue." This beautiful** **wool felt floral headband will have everyone loving your "something blue" as you walk down the aisle in style. It could also be a wonderful piece for your bridesmaids to accent their teal blue dresses for only $20.00 from Etsy.com shop owner Kathryn Winslow. My younger bridesmaids love wearing headbands and would love this stunning piece to wear with their blue dresses.

*5 Tips for Wearing Headbands. This Season's Hottest Accessory!
---
2

Big and Bold...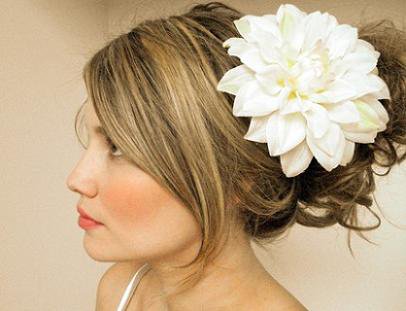 Every bride stands out on her own but with this beautiful big and bold silk flower from Etsy.comshop owner Mandizzle you will be sure to have everyone looking your way. This great flower can dress up your simple beach look as you dip your toes in the sand in your Maggie Sottero destination gown. At a price of only $17.00 you'll now be able to splurge on the dream honeymoon you wanted!
*10 Tips on Creating a Fabulous Updo...
Klaudia
and #2 look fabulous! I absolutely adore more of t...
---
1

Flying South...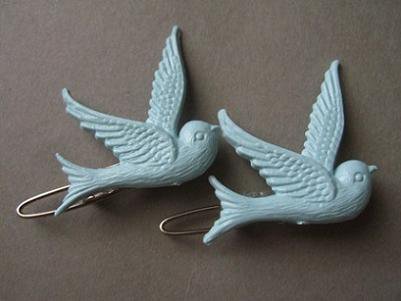 Birds are another wedding trend with cake toppers, invitations, and decorationsand now you can add little bird hair accessories to that list. With these flying blue birds from Etsy.com shop owner Dangsworld you can complete your bird themed wedding that everyone will love. At a price of only $6.00 per pair you can have your bridesmaids and flower girl flying in style with you. Now that I have seen these cute bird hair pins I might just include some birds into our wedding! Butterflies are popular for weddings too and I will be including them into our wedding as I have already stamped blue ones on our invitation envelopes.
*5 Ways to Have your Wedding Cake and Eat it too!
What will you wear in your hair on your wedding day?
Photo Credit: ProjectWedding.com, Dangsworld.etsy.com, Mandizzle.etsy.com, KathrynWinslow.etsy.com, Croska.etsy.com, RoyalPrincess.etsy.com
---
Comments
Popular
Related
Recent