There is a lot to focus on at a wedding, of course the bride and groom are at center stage. But one of the main attractions of a wedding is the cake cutting. **There are many things to consider when choosing a cake to **fit your wedding theme**** and style like taste, decorations, layers, design, and much more. So here are 5 wedding cakes to help you decide what cake is worthy for your wedding day.
---
5

A Day at the Beach...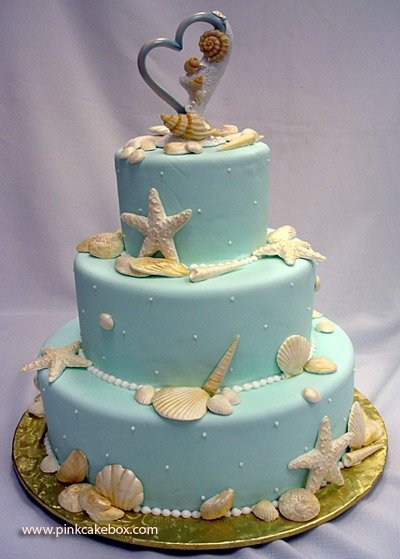 This pretty blue fondant cake from Pink Cake Boxis simply decorated with white and gold seashells and little white sugar pearls. The heart topper**symbolizes** the love the bride and groom have for each other and for the beach. What a perfect way to pull together the details at your boardwalk or **destination wedding. **
---
4

A Spooky and Fun Halloween...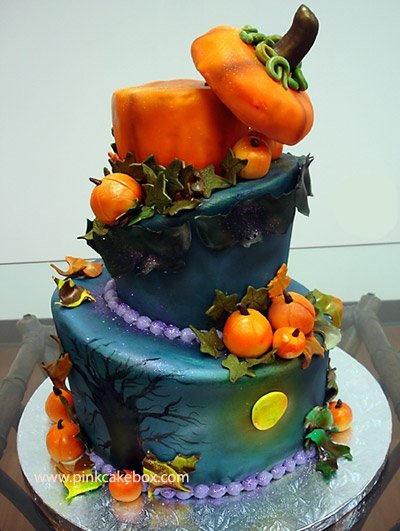 This spectacular halloween cake can put some fun into your fall weddingwhether it's on halloween or not. Add a bride and groom to the top of the pumpkin for a personalized touch. This is another** work of art** from Pink Cake Box, who can make cakes for** all seasons and all occasions**.
Trendinig Stories
More Stories ...
3

Creative Cupcakes...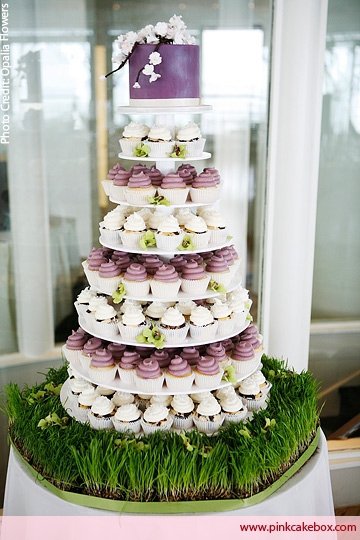 Cupcakes like these tasty ones filled with raspberry chambord, chocolate pudding, and oreos and cream filling are sweet for any wedding style. If you live in the New Jersey, New York, Connecticut, or Pennsylvania area and need any kind of cakes, cupcakes, or cookies then I suggest calling Pink Cake Boxwho have been featured in magazines like Modern Bride, NJ Bride, Elegant Bride, and many others. If we didn't already have someone making our cake I would definitely be calling the bakers at Pink Cake Box.
*5 Ways to Stick to Your Wedding Budget...
---
2

A Strawberry Delight...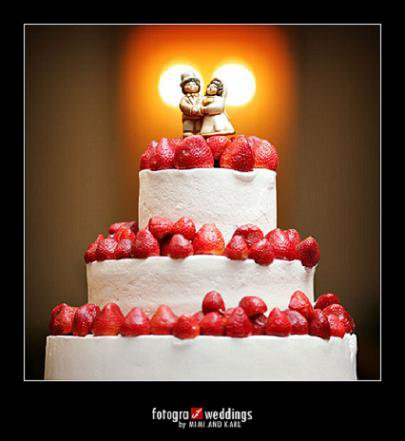 Fresh fruit is always a delight to have, especially for summer weddings. Photographers Mimi and Karl captured a delicious picture of Marzia and Martin's**strawberry** wedding cake with an adorable bride and groom topper. Maybe blueberries could decorate our wedding cake. What do you think?
---
1

Stop and Smell the Roses...

Over at the Weddingbee photo gallery you can find cakes among other wedding details like gowns and invitations. This simple yet elegant cake by April Reed features a beautiful couture rose and two love birds for a cake topper. I thought of having real flowers on our wedding cake, maybe someblue hydrangeas. Will you have flowers on your cake?

Other than the design you choose for your wedding cake, don't forget to** taste test many flavors for the fillings and the cake. **And always have fun!

Photo Credit: PinkCakeBox.com, MimiandKarl.com, Weddingbee.com, Sanctuaryoncamelback.com
---
Comments
Popular
Related
Recent