To have kids or to not have kids in your wedding, seems like a simple question. It's not so simple when you have pros and cons swimming around in your head as you get closer and closer to your big day. What if the kid misbehaves or doesn't want to participate when it comes time to walk down the aisle? For all the kids who get excited when they hear about your wedding, here are five pros that may help push you towards having a little flower girl or ring bearer.
---
5

Kids Are Cute and Full of Love...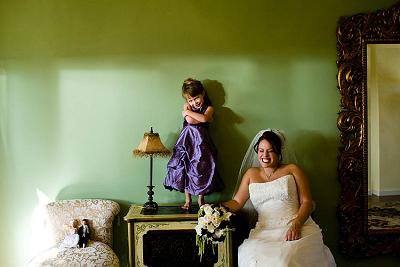 Just one glance at this adorable flower girl puts a smile on my face. Children just want to be loved as they have so much love to give in return. Most kids eat up the opportunity to feel special and to feel like they are adding charm to your wedding day. To make certain you get a photo of your flower girl as cute as this one bring mom or dad along so the little one feels comfortable and don't forget their **favorite toy. **
---
4

Kids Are fun and Full of Energy...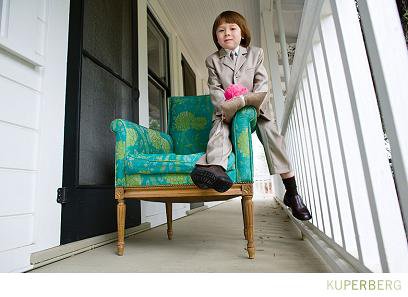 Kids keep the party going and they help keep our own energy going. This little guy looks like he is having a great day and is proud to be the ring bearer. How cute are his shoes and suit? Yes along with their energy may be some screaming and running around, but weddings are meant to be fun! **Let go of the stress and **join all the kids running around the dance floor at your wedding and start enjoying all the hard work you and your spouse put into this momentous celebration!
3

Kids Are Full of Laughter...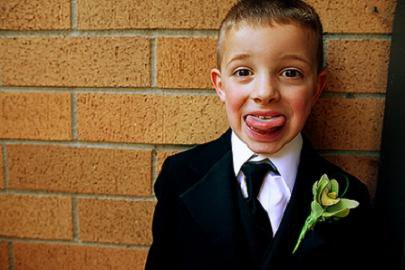 At those too serious moments when you need a laugh just ask any kid to tell you a joke or have them say or do just about anything. Kids love to laugh and know all about having a good time, just ask kids why they watch SpongeBob! They know how to make our lives better and when you look back your photos and see kids like this funny little guy you will be thankful that you chose to have them in your wedding. So laugh it up with all the children during your big day and throw in a SpongeBob gift that they will be sure to enjoy while sitting at the **kids table. **
---
2

Kids Are Unpredictable...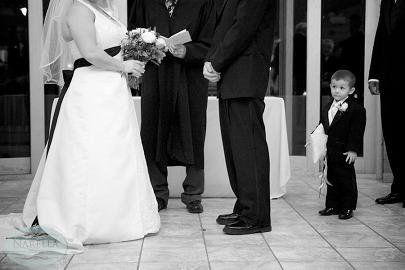 Sometimes unpredicted events can give you a great wedding story to tell for years to come. On your 10th anniversary you'll look back at your wedding album at the kid who wouldn't let go of the dress as you walked down the aisle with your new husband...the little guy had the biggest crush on you and wanted you all to himself! This is the story that makes the best of the pros for having children in your wedding so bring toys, dolls, coloring books, and games to keep the** kids entertained** and to make for sweet unpredictable stories not cranky ones. If you really want to go all out for the kids** hire a clown or a magician** who will definitely keep them happy, just make sure they're not afraid of clowns!
Remember that kids are just that...kids! Even if you get the crying flower girl or the ring bearerwho stomps his way down the aisle it still makes for a fun memory and a fun day! You and your new spouse are getting married and get to spend the rest of your lives together and nothing is going to get in your way of the love you share.
---
1

Including Kids Includes Great Ideas...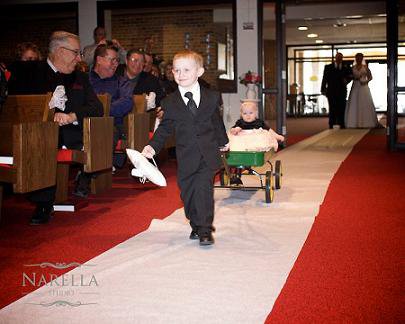 Having kids in the wedding makes for great ideas like this adorable flower girl being pulled in a wagon by the ring bearer in this wonderful photo. Think of ideas and ways to include the kids in your special day. Ask the ring bearer to dance with you after you have danced with your new husband or ask the flower girl to dance after you have danced with your new wife. If you don't have anyone to walk you down the aisle I'm sure your ten year old nephew would be honored to step in. Remind the kids to** sign the guest book** and make a toast to the new couple or have someone include them in a toast.
*****5 Real Weddings to be Inspired by...
Share your wedding stories with us, did you have or will you have kids in your wedding?
Photo Credit: Kuperblog.com, Narella-blog.com, idovancouver.blogspot.com
****
---
Comments
Popular
Related
Recent