If you just got engaged and you're not sure where to begin or even if you want a wedding, I may be able to help. I loved every moment of our wedding, from the moment we were engaged and planning our own wedding, to the moment I was walking down the aisle. There may have been some stressful moments in between, but here are 10 reasons why our wedding rocked and yours can too!
---
10

A Magical Feeling ...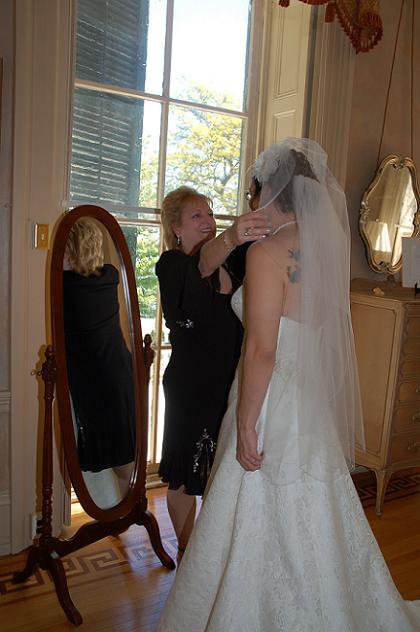 All day long as we were getting ready I felt like it was just another day. We put the dresses in the van and headed to the salon to get our hair done and even as my hairstylist put the veil in my hair I still felt like the reality of the day hadn't hit me yet. I was excited and happy but it wasn't until I pulled into our venue, Glen Foerd Historical Mansion, walked into the beautiful bridal suite and put my gown on with the help of my maid of honor, bridesmaids, and motherthat I finally felt that magical bridal feeling. As I smiled at my mom the emotions floated in my head and heart. When did it hit you that you were a bride and this was your wedding day?
---
9

Walking down the Aisle...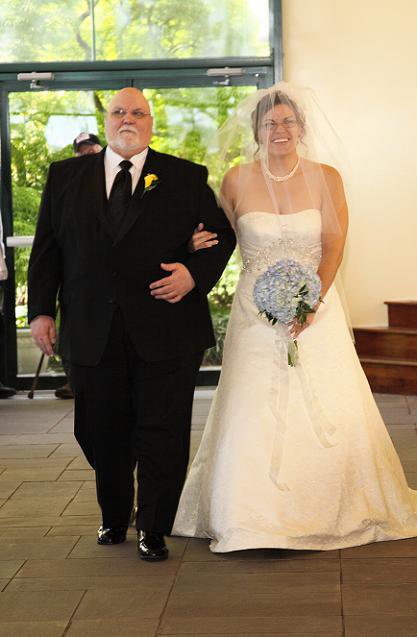 It meant so much to me to have my dad walk me down the aisle. This is one of the special moments of the day that I will remember forever. As soon as I saw my dad as he met me on the grand staircase inside the mansion I started to cry like a little girl, daddy's little girl. I held myself together pretty well until that moment when I saw my dadand how handsome he looked in his tuxedo. He was so proud as was I. The magic feeling continued as I saw all of our family and friends watching my father**walk me down the aisle**. I couldn't help but smile knowing that they were there for our big day**! ****Who will be helping you make your grand entrance down the aisle? **
8

You May Now Kiss the Bride...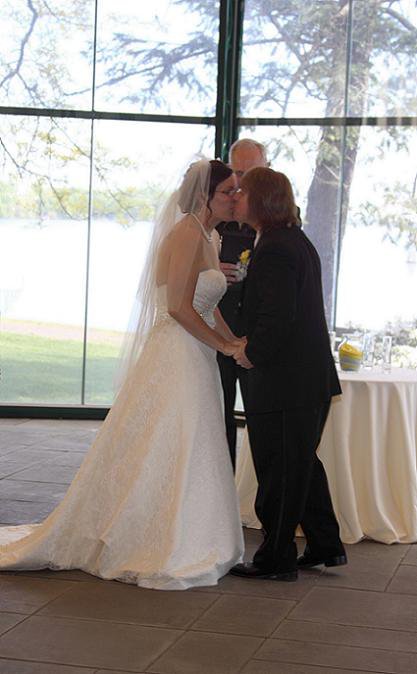 Before our ceremony we had a little sneak peek of each other during the "first look" . Many coupleslike to do a first look before the ceremony to share a loving moment together before all the excitement of the day really begins, but other couples are a little superstitious and wait until the actual ceremony before they see each other. For me, it made the ceremony all the much easier to stand up there infront of all our guestsand to read my vows without falling apart. That first kiss as husband and wife was the best feeling I've ever felt and for a moment it felt like we were the only two souls in the room. Were you floating on cloud 9 during your first kiss?
---
7

Beautiful Bridesmaids...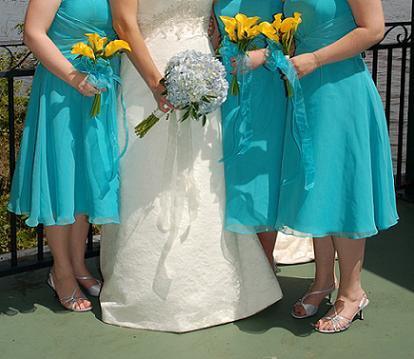 My maid of honor and bridesmaids made everything so simple and easy about being in our wedding. All three of them liked the same beautiful Mori Lee**turquoise** dresses and silver Touch of Nina**heels**. They shined in their own way as they held their lovely yellow calla lily bouquets that contrasted so well with their turquoise blue dresses. I couldn't have asked for a better maid of honor than my** best friend** and better bridesmaidsthan my stepdaughters. Choosing the right girls to stand beside you on your big day is a very important decision. Not only did I feel like I could trust these beautiful girls, but I felt the love that we shared as friends and as a stepmother to be! Who will you choose to stand beside you as you say I do?
---
6

Personal Touches...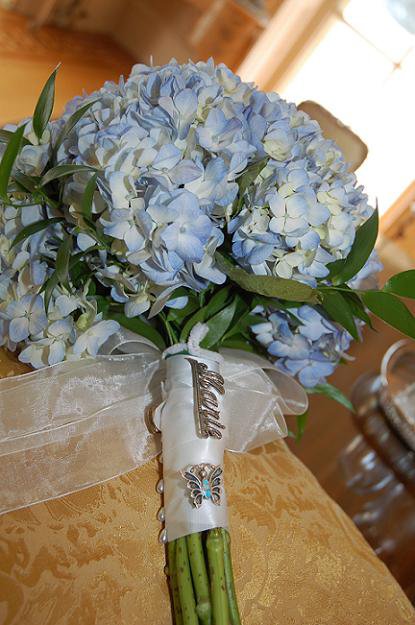 On our wedding day I wanted it to be not just about us but about our family as well. As soon as I thought of our wedding day I knew that my** blue hydrangea bouquet** would help me keep three special women, my two grandmothers and my great aunt, close to my heart and carry them with me on my big day. Personal touches on your wedding day make it uniquely yours and not just another wedding. Before we read our vows we had a unity sand ceremony that included my husband's children (**my stepchildren**). As we poured the sand into the vase and became a new family we were bonded together, never to be separated. Our personal touch was to make this day about our new family, the Trotters and the Feathers, coming together as one. What will you include to make your day unique?
---
5

Amazing Atmosphere...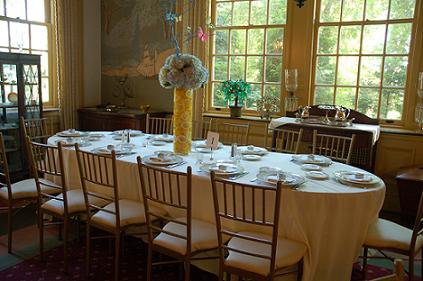 I can still feel the magic that surrounds the atmosphere of Glen Foerd Historical Mansio****n every time I look at our photos. The history, art, and decor make Glen Foerd so magnificent and seeing our things set up through out the space made it feel like it belonged to us just for one day. No matter where you have your wedding make it feel like you never want to leave and put your mark on it for your special day. It also helps to be surrounded by amazing people who include your bridal party, guests, the staff, photographers, DJ, florist, officiant** and videographer, they made us feel like we had a perfect day even with any mishaps that may have occurred. You could feel the love, hear the laughter, and see the joy around us all through out our big day. ****What was it about the atmosphere on your wedding day that kept you smiling all day long? **
---
4

Let Them Eat Cake...
Mmm wedding cake! We wanted our wedding cake to represent our love for the ocean, beach, and sand, which is where my fiance proposed and where we love to vacation each year. Until the day of our wedding I didn't know what our cake would look like in it's final stage. I had emailed photos and ideas to our wedding consultant at Conroy Catering, but there was no complete image I had from them until we saw our actual wedding cake on the big day. Every detail, from the blue dots, the three round tiers, and the** amazing sea shells**, to how I wanted our little boat and engagement photo displayed was exactly the way I pictured our cake table in my head. I was in love with our cake, it took my breath away! Don't be afraid to let your vendors know exactly what you want on your wedding day because it's the only way to make it happen.** ****What will your wedding cake look like?**
---
3

Unique Centerpieces...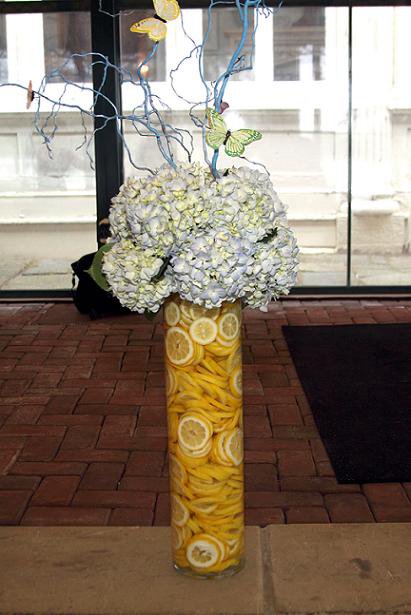 I wanted our centerpieces from Flower Girl Florist to flow with the beauty you already felt as you stepped into the stunning dinning room and conservatory, which is where we danced our first dance and held the reception. The blue hydrangeas that sat on top of our centerpieces felt perfect for the Spring atmosphere as the light glowed through the windows. The hydrangeas, butterfly branches, and lemons were three separate ideas that I found on the internet and just like our wedding cake, they were another detail we wouldn't see complete until our wedding day. They were so perfect and everything I thought they would be. The guests loved the lemon idea, along with every incredible detail of the mansion, it gave them something to talk about and take home! Have fun with mixing and matching **ideas you find, **don't worry about breaking out of the norm and being a non-traditional bride! **Are your centerpieces fun and funky? **
---
2

Memories to Last a Lifetime...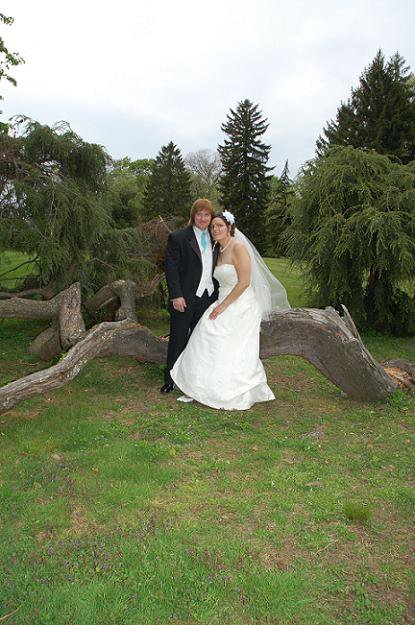 With our beautiful photos and video we will have our wedding day memories to look at and remember tomorrow, four months from now, and even forty years from now. However, even without the photos and video, in our hearts and minds we will always remember the love that made our day unforgettable. Our day flowed with grace. We danced our first dance to Rob Thomas' "Ever the Same", my stepdaughter sang a song for us that she wrote herself, I danced with my dad to Eric Clapton's "My Father's Eyes", and we said beautiful vows that we wrote together, these are just some of my favorite memories of our wedding day that I will never forget! **What memories do you want to make to last a lifetime on your wedding day? **
---
1

A Dream Come True...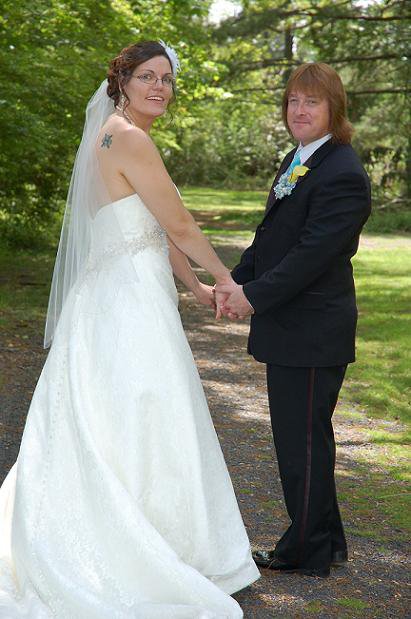 It doesn't matter what your budget is, where you have your wedding, if a few guests are no shows, or if someone stepped on your dress. Through out your day remember all that really matters is the feeling you get when you look at each other, the love that you will always share, and that the dream that you had when you were a little girl is finally coming true because of the person standing next to you. My dream didn't come true because the flowers were the perfect shade of blue or because my dress fit the way it was supposed to, it came true because we made vows together to love, trust, and honor each other forever. Without that love, the details don't matter.
**Share with us how your wedding day rocked and the memories that you'll never forget? **
Photos: Pictures in a Snap
**
**
---
Comments
Popular
Related
Recent