There have been many first daughter weddings over the years, some in the White House and others after their fathers were no longer president. Even years after her father, Bill Clinton, was president, Chelsea Clinton's 400 guests wedding is still talk of the town. Here are** 8 beautiful first daughter weddings** including Clinton's to be inspired by for your own wedding!
---
8

All about the Bride....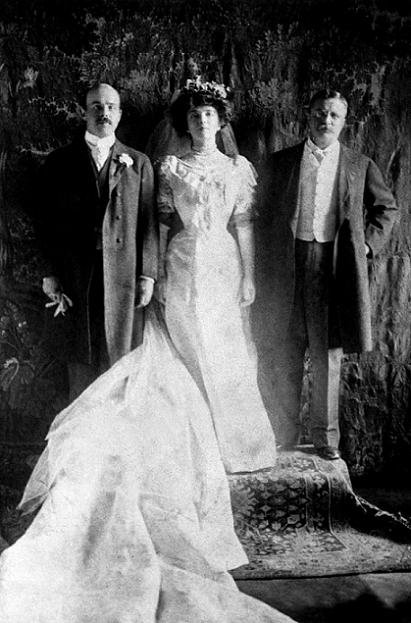 Photo: AisleDash.com
President Teddy Roosevelt's daughter Alice married Ohio Congressman Nicholas Longworth on February 17th 1906 at the White House. She wanted everyone looking at her as she always did with her public smoking, which was frowned upon for women in those days. So on her big day Alice chose not to have any bridesmaids so the spotlight would remain on her and her 18 foot train. How many bridesmaidswill you have in your wedding?
---
7

Salute the Groom...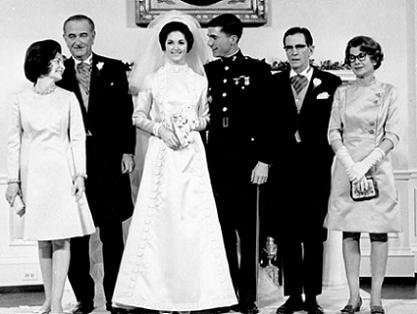 Photo: CBSNews.com
Lynda Bird **Johnson was a proud American and a proud bridewho married **Marine Captain Charles S. Robb. Lynda Bird walked down the aisle with her father president Lyndon Johnson in the East Roomof the White House on December 9, 1967. To honor his military position the bride and groom used the captain's sword to make their first cut into their wedding cake! Will your groom be wearing his military uniform?
---
6

They Made Two Presidents Proud...
Photo: Life.com
Julie Nixon made a big name for herself and for her father just after he won the Presidental election in 1968 when she married Dwight David Eisenhower II, grandson of president Dwight Eisenhower. Although she could have had a White House wedding, Julie decided to hold their weddingat Manhattan's Marble Collegiate Church with a reception at the Plaza. Would you believe that her wedding gown is from Priscilla of Boston! Who made your wedding gown?
---
5

Another Wedding for Daddy....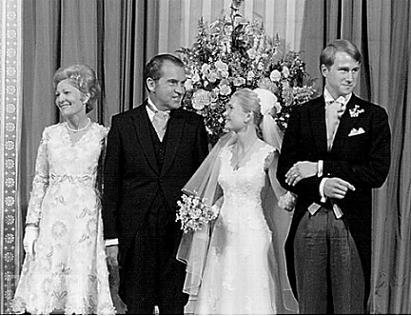 Photo: Life.com
A few years earlier Tricia Nixon walked down the aisle as maid of honor in her sister Julie's wedding, and on June 12th, 1971 she walked down the aisle as the bride in a Rose Gardenwedding at the White House. Tricia and Edward Cox' wedding made big newswith 600 international reporters covering every detail, including Life magazinewho featured the bride on the front page! Her wedding was also the last wedding to date that has taken place at the White House with one of the first White House brides, 87 year old Alice Roosevelt, as a guest.** Will your wedding be featured in a magazine?**
---
4

A Kennedy Wedding...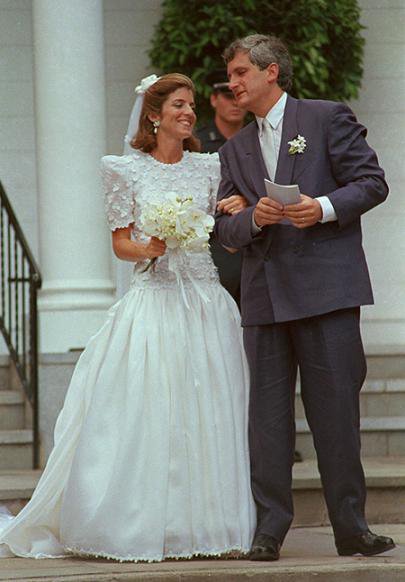 Photo: Huffingtonpost.com
If only her father, JFK, could have seen how beautiful a bride Caroline Kennedy was when she married Edwin Schlossberg. **Caroline's uncle Ted Kennedy, who passed away last year, proudly walked her down the aisle on July 19th, 1986 at the Church of Our Lady of Victory in Centerville, Massachusetts with a reception held at Rose Kennedy'shome, Caroline's grandmother. Carolina Herreramade the bride's beautiful gown, which was a bridal gown start for **Herrera who launched her first bridal line a year later in 1987! Will your wedding reception be at home?
---
3

An Independent Bride...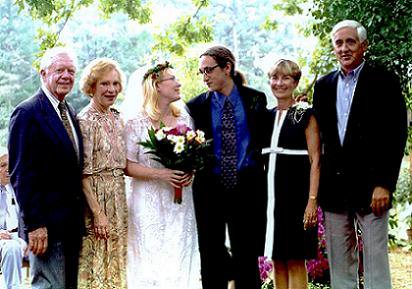 Photo: CelebrityBrideGuide.com
Amy Carter was very proud of being a DIY bridewho baked her own wedding cake when she married Jim Wentzel on September 1, 1996. Jimmy Carter's daughter was a very independent woman and decided she was going to keep her own last name and let no one give her away at the altar on her big day. Are you a DIY bride?
---
2

A Texas Wedding like No Other...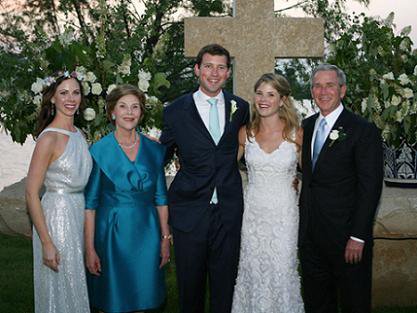 Photo: CelebrityBrideGuide.com
Another at home wedding was that of Jenna Bush and Henry Hager who tied the knot on the Bush family ranch in Crawford, Texas on May 10th, 2008. President George W. Bush walked the stunning bride, who wore Oscar De La Renta, down the aisle as a San Antonio mariachi band played "Trumpet Voluntary". Jenna's** twin sister**, Barbara, was maid of honor along with 14 bridesmaids who all wore dresses of different colors by Lela Rose. Who will be your maid of honor?
---
1

The Wedding of 2010...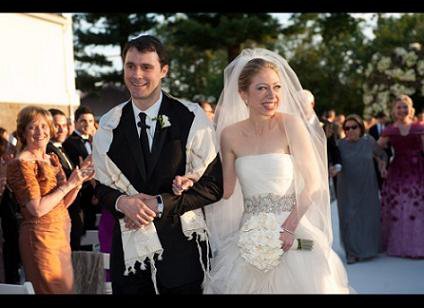 Photo: Huffingtonpost.com
Who will she wear, how much did the wedding cost, what celebrities will attend, and will the President be there? These questions plus many more were on the minds of many people who were excited to see Chelsea Clinton marry Marc Mezvinsky in Rhinebeck, New York on July 31st. Former President **Bill Clinton walked his gorgeous daughter Chelsea down the aisle in her flowing, jeweled Vera Wanggown to say I do in front of friends, family, and celebs like Ted Danson and his wife Mary Steenburgen, as well as Vera Wang! And no, President Obama did not attend nor was he invited. As for the cost of this extravagant wedding, it is said to have been between $1 and $5 million! Chelsea's mother, Secretary of State**Hillary Clinton, wore a beautiful fuchsia gown made by Oscar De La Renta. Will your mother be wearing a designer gown**?**
** **
**Will these First Daughter Weddings be inspiration for your own wedding? **
Top Photo: Celebritybrideguide.com
More
Comments
Popular
Recent