Every wedding has it's own spin on tradition and what is custom for a bride and groom to incorporate into their big day. There are many cultures that have traditions for respect of family, history, trust, and faith that are beautiful memories to pass down. Here are 7 cultural wedding traditions that can be borrowed from any bride and groom that may want to start a new one.
---
7

The Lasso of Love...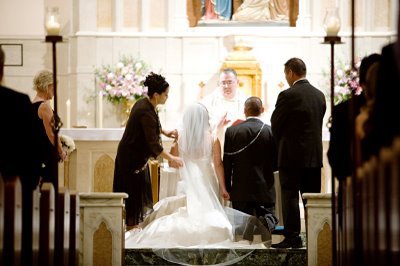 Photo Credit: WeddingBee.com
El Lazoor Lasso is a cultural tradition celebrated during many Hispanic Catholic ceremonies. While the vows are read the lasso is first placed on the groom's shoulders and then twisted like a figure eight to wrap around the bride's shoulders. A long strand of rosary beads, a rope of flowers, or a satin cord can be used for the lassoto represent the unity of the new couple and their marriage bond. If you would like to bring this beautiful tradition into your ceremony ask someone in your wedding partyor a close member of your family if they would be so honored to place the lasso around you and your groom.
6

Jumping the Broom...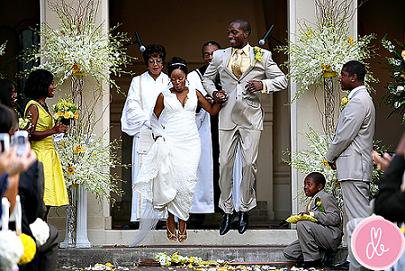 Photo Credit: WeddingAces.com
Although there are some critics who say this tradition may not have started in Africa, many Africansand African-Americans enjoy jumping the broomduring their wedding ceremony as a cultural tradition. Jumping the broom was a tradition for slaves because they were not allowed to be officially married. As they jumped over the broom together they felt like they were starting a new beginning and sweeping away the past. I think it looks like a fun idea as well as a meaningful one to pass on.
---
5

Mehndi Rituals...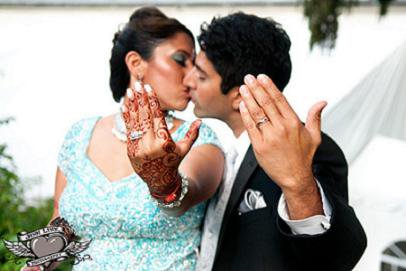 Photo Credit: MaharaniWeddings.com
Mehndiis a ritual in most Indianand Pakistani cultures that is celebrated on the night before the big day. A henna artist or a family member applies the tattooto the hands and feet of the bride, the bridesmaids can be included in this traditionas well. The tattoo is a design of flowers, patterns, circles, elephants, and peacocks that hides the name of the groom who must search for it to show you how much he loves you! This tradition is a fun way to celebrate at the bride's home with her bridal party and female relatives with a night full of art, good food, and music. The mehndi represents the beauty of the bride and the love of the new couple. Will you hide your groom's name with Mehndi?
---
4

Tea Party...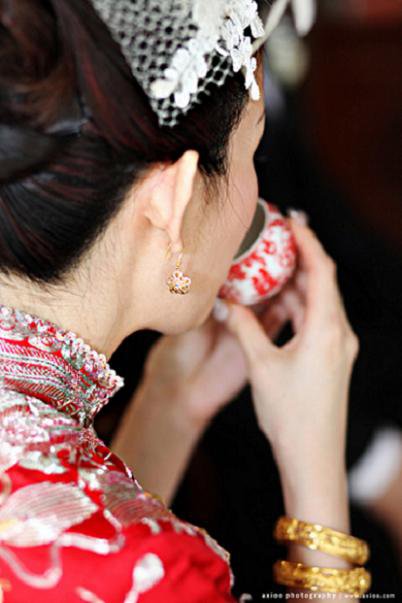 Photo Credit: Axioo.com
Chinese Tea Ceremonies are a very important cultural tradition that symbolizes the respect for family and the blending of the two families. Both families, including the groom's parents and the bride's parents, get together at either home to have tea. The bride and groom serve the tea starting with the groom's parents, his grandparents, and uncles and aunts if they are all there. They then serve the tea to the bride's parents, grandparents, and so on. After the tea the couple gives each parent a lucky red envelope or a lai see, which is usually filled with money or jewelry. Will you share tea with your new family?
---
3

"Hava Nagila"...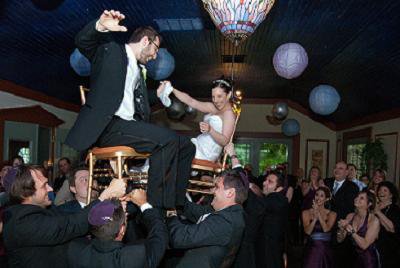 Photo Credit: DanielKrieger.com
As you can see in this fun celebration the Horais a tradition where the bride and groom are hoisted on chairs while their guests hold them high and danceto the song, "Hava Nagila" (Let's Rejoice). Many Jewish bride and grooms include this wild dance in their reception, it is said to be derived from the days when king and queens were carried around the city on throwns. What better day for you and your new husband to feel like royalty! Will you be brave enough to dance the Hora at your wedding?
---
2

Dollar Dance...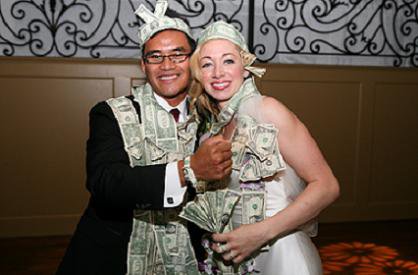 Photo Credit: MDTurnerPhotography.com
Who doesn't like money? The question on a lot of wedding sites and blogs is whether the dollar or money danceis too tacky to include during your wedding reception. It is thought to have been created between the 19th and 20th centuries in Poland but has since been a wedding tradition for many cultures. I think it looks like a lot of fun and a good way to get the party started! Do you think guests should line up with their dollars to get the chance to dance with the bride or groom?
---
1

Crowning the King and Queen...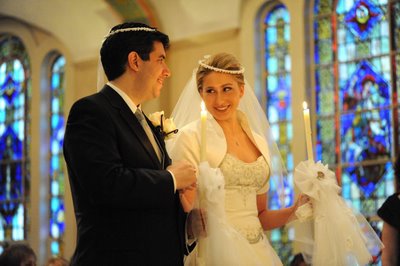 Photo Credit: BridalBubbly.blogspot.com
In many Greek Orthodox weddings the bride and groom have crowns called Stefanaplaced on their heads that have been blessed and are connected with a white ribbon. The meaning of the crowns is very spiritual as they symbolize the honor and grace that is given to you from the holy spirit as you enter into this new marriage with GOD in your life. This is a great way to feel bonded as a couple together in loveand religion.
What cultural traditions will be represented during your wedding ceremony and reception?
** **
Top Photo: Andrew Adams
---
Comments
Popular
Related
Recent