Are you obsessed with AMC's Mad Menjust as much as the rest of us are? My husband and I stumbled upon the TV series this summer and have been hooked ever since, but too bad for us that our wedding had just passed! If you love the 60s, short wedding dresses, classic cars and skinny black ties check out these 8 retro ways to have a Mad Men inspired weddin****g that everyone will remember. And don't forget to put your own spin on it!
---
8

A Madly in Love save the Date....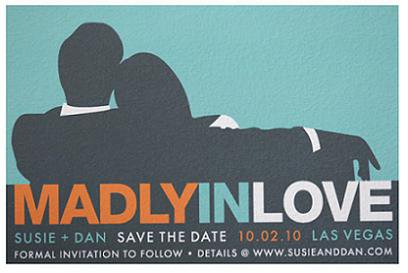 Photo:WeddingChicks.com
Have you ever seen a save the date as cool as this one? If you watch the show Mad Menthen you know how clever Susie and Dan were when they borrowed the silhouette from the logo to give their guests just a little taste of the rad 60s, Mad Men inspired wedding they are planning. AMCshould steal Susie's idea of the silhouette being a couple instead of just a man alone in the chair! Do you love this just as much as I do, head on over to WeddingChicks for your own custom Madly in Love Save the Date!
---
7

Joan Holloway All the Way...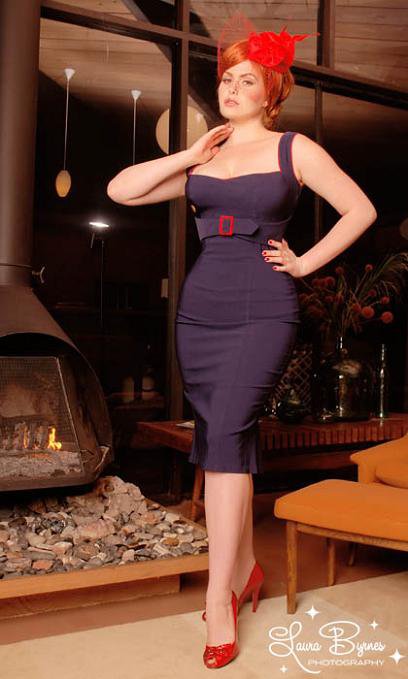 Photo:PinupGirlClothing.com
Price: $96.00
She is that woman that every lady wants to be and every guy wants to date. With this Joan Hollowaystyle dress you can turn your bridesmaids into sexy, confident chicks who love to strut their stuff! Or you can steal the show for yourself while wearing this curve loving dress on the night of your 60s themed bachelorette party!
6

Let Them Eat Cake...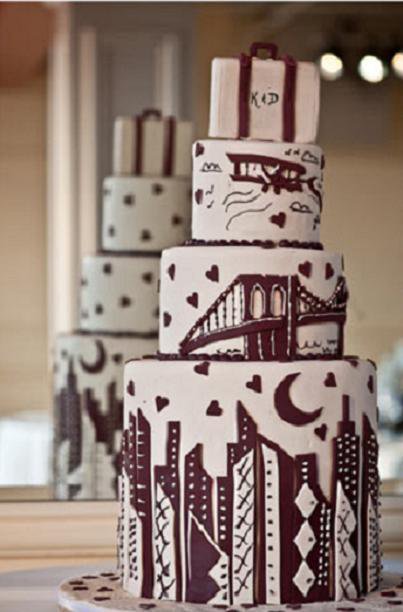 Photo: Ruffledblog.com
If you were fond of season threewhere Sterling Cooper's advertising firm was taken over by the London firm Puttnam, Powell, and Lowe, then this astounding cake of**** two cities that represents the adorable New York City bride and London groom in the top photo could be the perfect inspiration for your Mad Men wedding. Take flight with your monogramed suitcase **to see the London bridge, but don't forget to come back to city that never sleeps! **What will your retro wedding cake be inspired by?
5. Here Comes the Groom...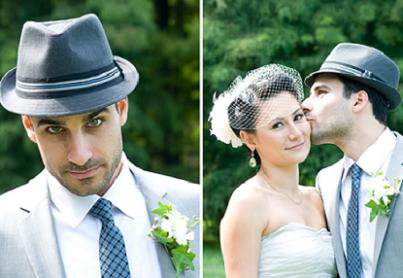 Photo:SnippetandInk.com
Does he not look like Don Draper? For their wedding Michelle and Joe wanted to have an intimate couple's shoot where they were able to show off their own style before the groom had to change his retro Fedora for a yarmulke during their Jewish ceremony. I love that their wedding pulls together cultural traditions with new non-traditional ideas, which is great inspiration for your** 60's theme wedding** where you can mix in the old with the new...not everything has to be from the Mad Men era. What traditions and trends will surround your wedding?
4. Lace, Gloves, Pearls and Pretty Girls...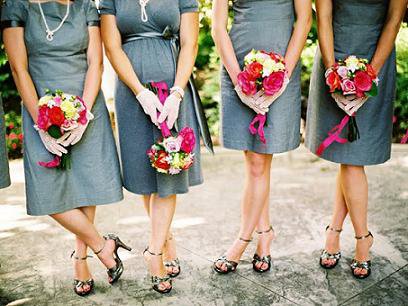 Photo:PrettyChicky.com
Many women from the 1960s were very classy and formal like Jackie O. They loved to wear pretty dresses, protect their beautiful hands in stylish gloves, and always wore stunning pearls. Take your bridesmaids back to that classy style with dresses fromModCloth.com, delicate lace glovesand pearls that every girl can afford. Don't forget to let your bridesmaids put their own spin on the idea by letting them pick their own dress or shoes!
---
3

Vintage Guestbook...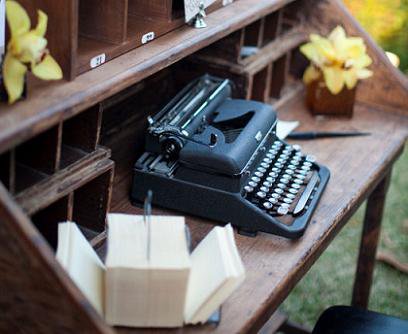 Photo: Saltharbor.squarespace.com/blog
Every good secretary has a typewriter on Mad Men so why not incorporate one into your wedding decor! Your guests will go back in time when they see your retro inspired typewriter guestbook and will giggle at the chance to type out a little note of wedding advice to the new couple! There are many ways to show your love for retro items, searchlocal thrift stores and Etsy.com to find your favorite.
---
2

Boys and Their Toys...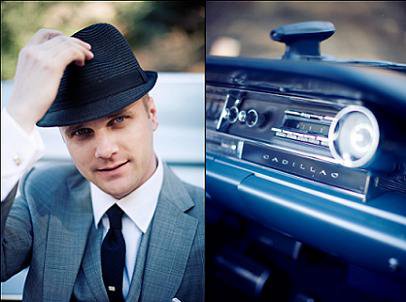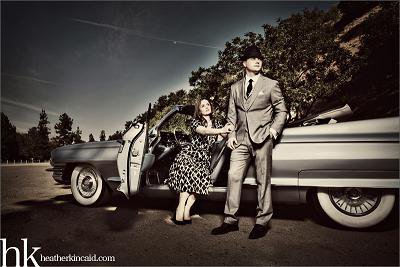 First Photo: Megperotti.com/blog
2nd Photo: Heatherkincaid.com/blog
Since the girls have their vintage dresses and accessories we have the let the boys in on the fun too! And what vintage, Mad Men inspired wedding would be complete without a 1962 Cadillac Coupe De Ville like the one Don Draper drives? And don't leave that car sit until your wedding day, climb in the backseat and take some cool engagement photos like Carly and Chris did with the 1961 Cadillac they rented. Will you be driving in a classic car on your big day?
---
1

Here Comes the Bride...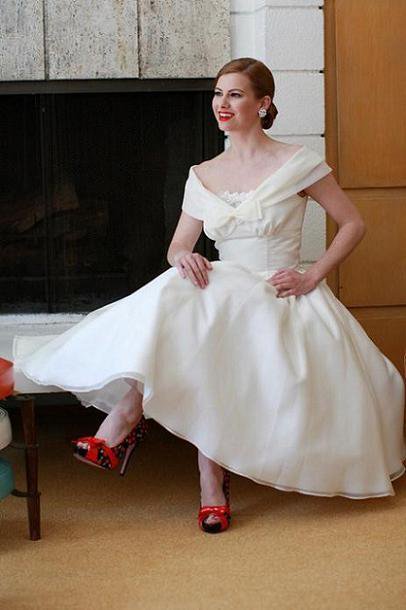 Photo: DollyCouture.com
Price: $395.00
Wedding dresses with sleeves and straps have been making their way back down the aisle in stunning stylesthat give nod to the beautiful retro dresses of the 60s when most brides wouldn't wear strapless dresses. Many designers today put a 2010 twist on the sleeved gown, but over at Dolly Couture you can find short wedding gowns **that are **custom made for vintage inspired weddings. I love the lace and petite bow on the neckline of this Edmonton dress that Dolly designed after her mom's 1961 wedding gown! Red lip and a simple, classic up-domake this bride a 1960s knock out!
**Are you planning an era themed wedding? **
Top Photo: Ruffledblog.com
---
Comments
Popular
Related
Recent