What kind of wedding do you envision? Do you see yourself floating down the aisle in a beautiful lace dress with candles lit all over the altar? May be you want a wedding on the ocean with little more than the sand and the sun as your deco. Or have you always pictured a modern affair at some fancy restaurant with the latest in fashion and food? If you're imagining any of these scenarios, good luck! I'm sure your day will be beautiful! However, no matter where you decide to get married, you need a theme for your big day! Here are 7 fun themes ideas for a unique and personal wedding.
---
1

Western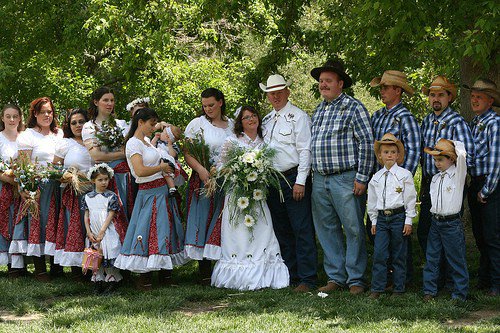 Photo Credit: Hyeknitter
Ok ladies, your man will especially love this theme because it's a lot more "guy-friendly". If you choose and outdoor wedding or reception, you couldn't find a more perfect theme! Have your groomsmen wear jeans and vests with cowboy hats and your ladies could wear sundresses. They could carry freshly picked wildflowers or if you want some creativity, a lantern! Serve some good ol' barbeque and sweet tea. Your guest will rave about this wedding!
---
2

Beach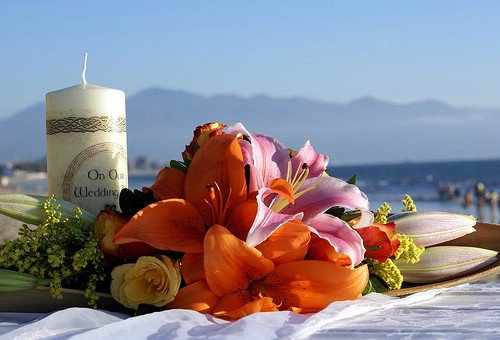 Photo Credit: pchavali
Who says you have to live near or even get married on a beach to have a beach theme wedding? You don't! Decorate with seashells and lots of light blue tulle for an airy effect. You can have your ladies go barefoot down the aisle! For something truly unique, get a unity candle made out of colored sand. It will be a keepsake to treasure!
---
3

Old-School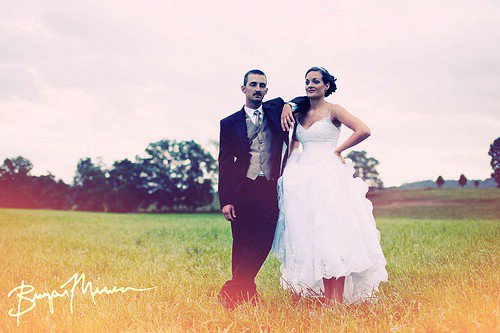 Photo Credit: bryanminear | https://www.bryanminear.com
For the truly unique couple, here is a fun and young theme idea! Go with a totally vintage, old school feel. You and your groom can wear all-star converse sneakers down the aisle and your ladies can carry polka-dot drawstring purses or umbrellas (not parasols) down the aisle! At your reception, have lots of mini gumball machines sitting around for your guests to enjoy and you can also consider renting a photo booth! This is one wedding your guests will be buzzing about for weeks after it's over!
---
4

Mexican Fiesta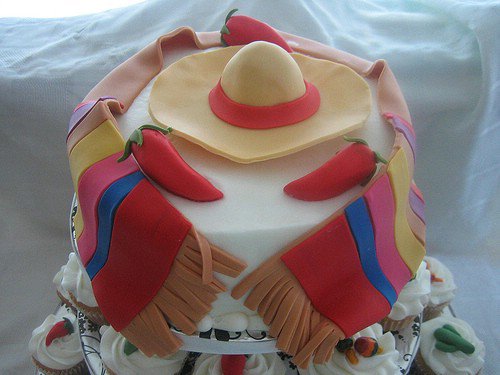 Photo Credit: Linzi's Cakes
Why not celebrate the biggest event in your life with a true par-tay? A Fiesta! Decorate in bright colors and have your girls wear rebozos, the little sash that drapes around your arms and trails in back. Serve Mexican food and be sure to hire a band to play lots of Spanish music so you can get your guests bailando, which is dancing!
---
5

Disney Princess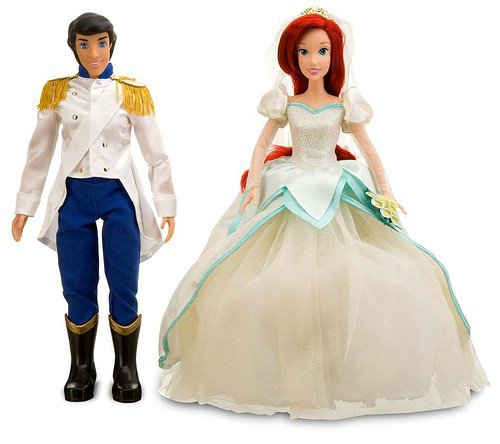 Photo Credit: BottledBarbie
Every girl wants to look and feel like a princess on her wedding day- but here's a twist! Instead of the typical princess theme, go with Disney princesses! Your maids could all wear a costume of a different Disney princess of your choosing, and their groomsmen could dress as their prince charming! You could decorate with wildflowers and play renaissance music. Be sure and fix up the reception area like a castle and your auditorium like a palace!
---
6

Hollywood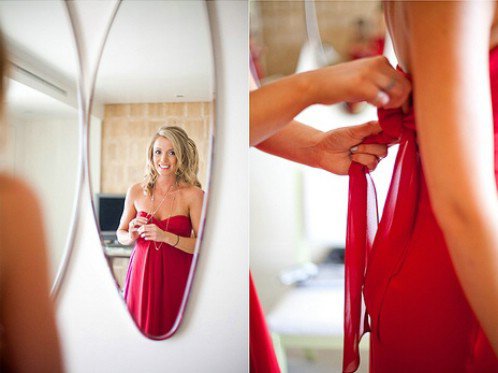 Photo Credit: Hannahsuh
Who doesn't love the famous world of Hollywood and who doesn't fantasize about being a celebrity for a day? Well here's your chance to shine like the star you are! Design your wedding with a Hollywood theme. Instead of a white carpet, roll down a red carpet! Get your groomsmen to wear dark shades and your ladies to wear sparkly Vegas dresses. Play Elvis Presley music and decorate with pics of Marilyn Monroe. Your invitations can look like ticket stubs! If you can't afford a dress from a well-to-do designer, get a knock off.
7

Harley-Davidson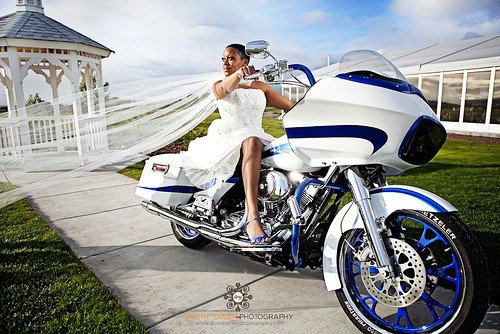 Photo Credit: preston d. - https://www.DivineOrderPhotography.com
So, I realize that not everyone who gets married wants a princess or flowery theme. You can pick whatever you want; it's YOUR day! If you like motorcycles, go for it! Have your guys and girls wear black leather and play racy music at your reception. Serve grilled foods like hamburger and hot dogs, and of course, make a dramatic exit on a motorcycle, just you and your honey!
I'm sure that no matter what theme you choose your wedding day will be perfect! I hope that you did get some great ideas from my list though! Can you think of any other fun themes besides the ones I mentioned?
Top Photo Credit: Neil Cowley
---
Comments
Popular
Related
Recent