Our wedding day is one of the most remembered and cherished days of a woman's life. On the other hand, the wedding night seems to erase all of that husband's memory of anything before then! LOL! There are many different and beautiful traditions that make a wedding unique and beautiful. Here are seven wedding vows that I found.
---
1

Sing Your Vows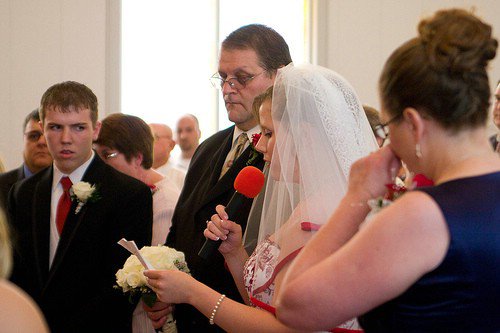 Photo Credit: KoriG
If you have a voice that can sing, this may be a creative option for you. Set your chosen vows to music (or have help) and sing! This would be especially beautiful to do as a duet with your spouse!
2

Put a Little Bit if You into It!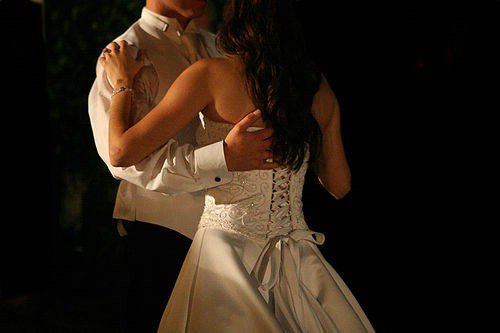 Photo Credit: aprillynn77
Be yourself. You should check with the officiator of the ceremony to be sure they would allow things, but if you are the rapper type, rap your vows. If you're the comedian, make your vows funny. Say your vows in a way that is true and from your heart, but will also convey the person that you are!
---
3

Want Unforgettable? Have the Wedding Party Chime in!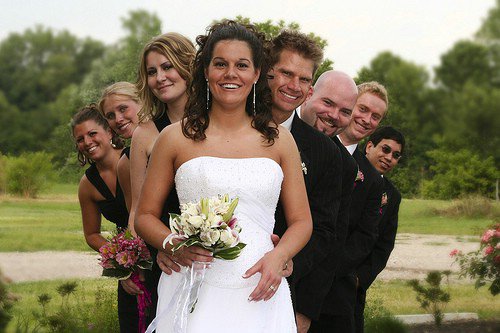 Photo Credit: Nancy Harris
For example, you would say, "I will love you for the rest of my life" and the wedding party choruses "She will love you for the rest of her life", you say, "I take you for better or worse" and the wedding party follows with "She takes you for better or worse!" This is definitely a way to leave a lasting impressing on your guests!
---
4

Funny Vows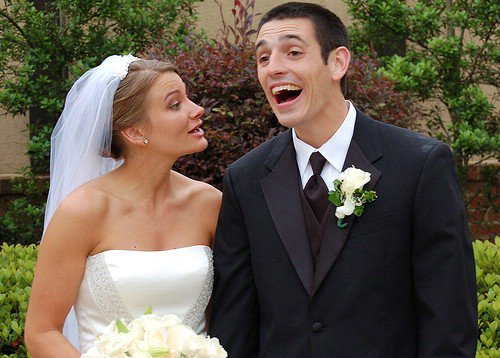 Photo Credit: The Beautiful Mess
If you want to be funny, try these Funny Wedding Vows found at: keepandshare.com
To add some entertainment to your ceremony and celebrate your unique relationship, you may want to choose funny wedding vows. (Hint: just try adding an extra promise or two that's unique to your relationship.)
"I promise to make your favorite fruit smoothies on Sundays." or "As Brad Pitt and Jennifer Aniston promised each other, "I vow to split the difference on the thermostat."
Or, say something like this:
Groom: I, (Name), choose you, (Name), to be my wife. In front of our friends and family gathered here I promise to love and cherish you throughout the good times and bad times. I promise to try to remember to put my dirty clothes in the hamper and to replace the toilet paper roll when it's empty. I promise to remember this day with love and roses. I will love you always.
Bride: I, (Name), choose you, (Name), to by my husband. In front of our friends and family, I promise to love and cherish you through every obstacle that may come into our path. I promise to learn how to check the oil in my car and how to roll up a garden hose. I will comfort you when your team loses and act like a crazy ape with you when they win. I will love you always.
---
5

Romantic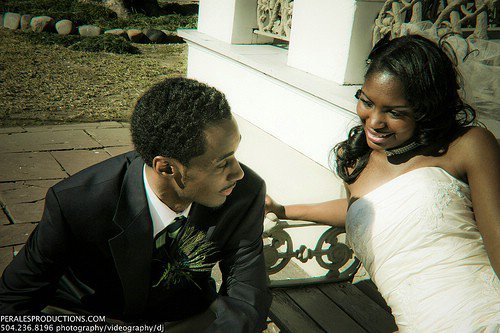 Photo Credit: https://www.peralesproductions.com/ WITH NOLA MEDIA
If you are a romantic, choose some extra romantic vows like these found at: I (Name) affirm my love to you, (Name) as I invite you to share my life. You are the most beautiful, smart, and generous person I have ever known, and I promise always to respect you and love you. With kindness, unselfishness and trust, I will work by your side to create a wonderful life together. I take you (Name) to be my lawful (wife/husband), to have and to hold, from this day forward, for better or for worse, for richer or for poorer, in sickness and in health for as long as we both shall live.
Or
(Name), today I take you for my (wife/husband). I promise to love you without reservation, comfort you in times of distress, encourage you to achieve all of your goals, laugh with you and cry with you, grow with you in mind, and spirit. Together we will create a home, becoming a part of one another. I vow to help create a life that we can cherish, inspiring your love for me and mine for you. I vow to be honest, caring and truthful, to love you as you are and not as I want you to be, and to grow old by your side as your love and best friend.
6

Write Your Own Vows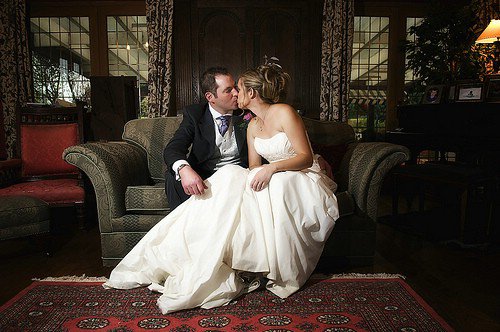 Photo Credit: darrenwilliamsphotography
Don't feel as if you're bound by tradition. It is your wedding - make it what you want. Write your own vows for each other - vows that will have sentimental value for you and your special someone. Be creative and express yourself and your innermost feelings for this person you are about to commit to for the rest of your life!
---
7

Song of Song's Vows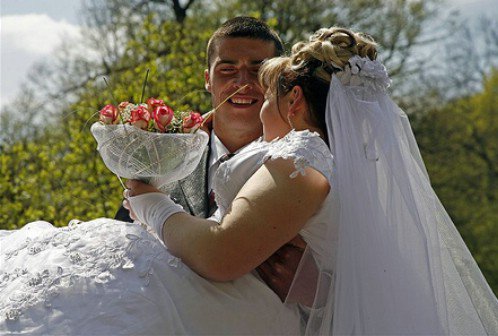 Photo Credit: Manon van der Lit
This set of vows jumped out at me since my favorite book of the Bible is Song of Solomon. I love the deep romantic connection that it portrays. These vows are written based on this wonderful book!
My beloved (spouse's name), on the day that I first met you, I knew at once that you were the one that God chose for me to be my partner, the person who shall be one flesh with me, the one whom I shall call my one and only love for as long as I live. You are, to me, beautiful: beautiful, not just in face, but also in spirit. You are a wonder to behold, and I am grateful to the Lord Almighty that He has chosen to give you to me.
And so, my beloved (spouse's name), place me like a seal over your heart, like a seal on your arm, as King Solomon has said. My love for you is as strong as death, as strong as my belief in the God Who created us. I promise to you that the flames of my love shall never waver for as long as we both shall live.
Make your day even more special with beautiful, unique vows!! Are you already married? If so, please share what made your vows special!!
Top Photo Credit: kikuike
---
Comments
Popular
Related
Recent