Most of us brides love planning our weddings online with blogs, inspiration boards, searching for that perfect dress or vendor, and even using Facebook. Now with the internet on the go brides can keep track of their plans while they wait at the hair salon. You'll be sure to never sit at your desk again with these 8 cool Wedding apps for your iPhone!
---
8

Find That Dress Anywhere...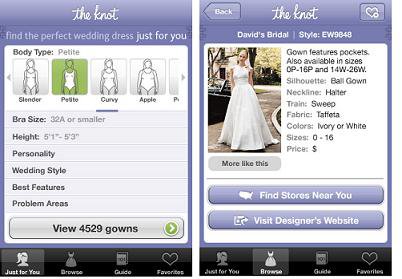 Photo: itunes.apple.com
Price: Free!
The first step for a bride after getting engaged is finding her wedding gown and finding "the one". With so many dresses The Knot's " Wedding Dress Look Book" app helps you to find your gown by narrowing down all those choices using your body shape, wedding style, height and even your personality. Be certain to save your favorite gowns and use the app to find stores in your area to try them all on! What does your wedding gown look like?
---
7

Register for Gifts on the Go!

Price: 99¢

Some brides and grooms find it difficult to put together a registry to ask family and friends to buy gifts for them. With the MyRegister.com appyou can compare prices and get alerts for a better buy to help your guests save money. Although some reviewssaid there were some problems to be worked out there is a really cool feature of the app that allows you to take photos of barcodes to add the product right to your wish list. Another great tool is adding items to your registry from stores and websites that may not have their own registry like Etsy! What wedding gifts are you looking forward to?
Trendinig Stories
More Stories ...
6

Learn to Dance...

Price: Free

Not everyone can dance like Karina Smirnoffnor do they have time to take dance lessons while in the middle of planning a wedding. You don't need to look like a professional for your first dance, but with iPhone's Waltz...Your Wedding Dance app from The Ballroom Dance Channelyou and your groom can learn **easy how to steps from watching video of World Champion dancers Nick and Lena Kosovich. Are you ready to dance the Waltz for your first dance**?
---
5

Find Inspiration...

Price: $1.99

As a bride I would search the internet for hours to find wedding inspiration photos for our wedding and sometimes I just didn't find what I was looking for. Now I'm jealous that brides with iPhoneshave apps like Wedding Envito sort through organized folders with photos of wedding cakes, shoes, flowers, invitations, and so much more. Each photo has an attached link so you can find out more information on that 4 tier wedding cake or where that beautiful honeymoon sunset is from! How many photos are in your wedding inspiration folder?
---
4

Find the Right Vendor...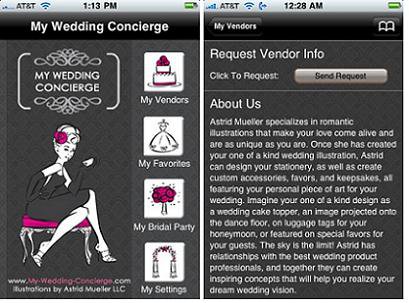 Photo: My-Wedding-Concierge.com
Price: Free
When planning your wedding you might not know where to find a floristor a caterer that suits the idea you are hoping for. Maybe you could call your family and friends for some suggestions or maybe you could use the My Wedding Concierge app to find any type of vendor, even the ones mom and dad told you about! On this app you can email, call, locate, and look at the websites of the professionals you want so you can plan together the picture perfect wedding you dreamed. How did you find your favorite vendors?
---
3

Ask the Knot...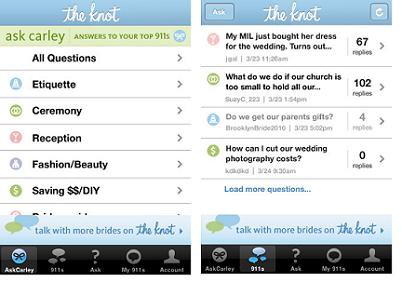 Photo: itunes.apple.com
Price: Free
There are so many questions you will have through out your planning process like, which side of the church do the parents of the bride sit, what color should the mother of the groom wear, or what should be my something blue? Blogs and online wedding resources make life easier for many brides and grooms and now with Wedding 911 by The Knot you can get advice from the experts and other brides right on your iPhone any time a wedding question pops in your head! **What are some important questions you have about the big day? **
---
2

Wedding Tips on Video...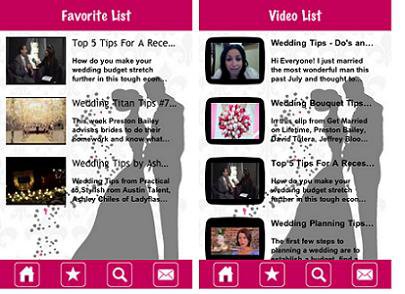 Photo: itunes.apple.com
Price: 99¢
Sometimes seeing is believing and now with iPhone's 100 Best Wedding Tipsapp you can see videos from wedding planners, florist, wedding stylist, caterers, and newlyweds who have been through it all. You can search, bookmark, and even share your favorite wedding tip videos with your friends and family through email or Facebook! **What wedding tips have helped you worry less about your big day? **
**
**
---
1

A Wedding Planner in Your Pocket...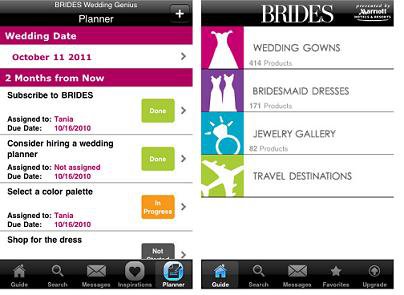 Photo: itunes.apple.com
Price: Free
Upgrade**: $2.99**
Brides of the future will no longer need binders and folders **bursting with magazine clips and inspiration if they just grab their **iPhone and download the Brides Wedding Genius app! Make a to-do list, assign tasks to your bridal party, find the bridesmaids dresses you've been looking for, search for the perfect honeymoon and keep it all in one neat place! It's like having a wedding planner in your back pocket. **Are you a bride in need of a compact wedding binder? **
**What wedding app will be your favorite? **
**Top Photo: **Flickr.com
---
Comments
Popular
Related
Recent