Finding the perfect "thank you" cards for a wedding can be difficult – and expensive. Since I'm randomly and sporadically in the process of planning my own wedding, I am constantly on the lookout for ways to cut corners and save money without having to sacrifice stylishness. To that end, Target has seriously been my best friend. Here are 8 cards to send for a wedding when you need to say "thank you" to your guests. Let's see if you like them too!
---
1

The Natural Approach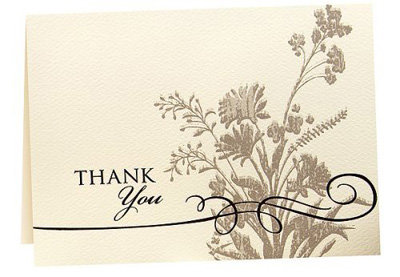 Price: $22.99 at target.com
Sometimes natural is the best choice. These thank you cards are simple but lovely, with a matte finish that looks extremely high quality. Of course, generally speaking, your thank you cards should tie in with the wedding theme, so these will work if your wedding colors were more neutral and natural as well.
2

Sweet Simplicity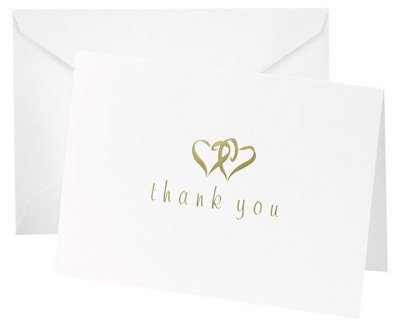 Price: $18.99 at target.com
Sometimes all you want is something simple, though. Cards like these are simple but extremely elegant (and FYI, I'm pretty sure you can get them in silver as well). A card like this one leaves you the opportunity to write your own message, whether it is generic or personalized to every recipient.
---
3

Beachy Peachy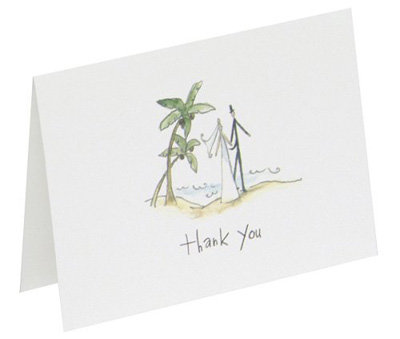 Price: $16.99 at target.com
Beach weddings are extremely popular. Not right now, of course, unless it's a destination wedding, but you get the idea. Beach weddings deserve beach themed cards, and this one is appropriate without being too cheesy. It's sweet as well, the sight of the stick figure bride and groom together. I don't know, I wouldn't ever have a beach wedding but I think this card is cute.
---
4

To-Die-for Damask

Price: $18.99 at target.com
This is the kind of wedding card I'm talking about! I love damask, and there are so many design out now that incorporate the pattern – this is just one of them! I love the classic black and white and the way the red writing complements it so well. This is the kind of card you want to look for if you're going for classy elegance.
---
5

Simple Elegance

Price: $12.99 at target.com
Of course, you can also combine simplicity with elegance. The writing on this card literally says it all. Sometimes you have to pay attention to script and font just as much as design. The creamy color of the paper, the black script: this is simple yet complex by virtue of its font, and as such it makes a really fantastic card.
6

Pretty Paisley

Price: $9.99 at target.com
Paisley is a lot like damask, but it's a bit more complex. When you don't want something too simple but also don't want a card that's too ostentatious, this is the way to go. The pattern is complex, but the fact that the card is ivory and black keeps it from being too over the top.
---
7

Prettier in Pink

Price: $24.99 at target.com
Actually, although I chose a pink version (I like pink!), this is more an example of the mod style of thank you card. The border, the font, the single decoration taking the place of the "O," this is a great representation of the mod style. So, if your wedding is more modern but you don't want to go too over top with it, this is an excellent choice – and you can find mod cards in a whole spectrum of bright, vibrant, modern colors.
---
8

A Touch of Silver

Price: $14.99 at target.com
Some couples prefer a religious ceremony but may not want to be over the top with it. Frankly, even if you aren't religious, the styling of this card is really pretty. Another simple, elegant choice, it eschews bold colors and sticks with simple silver and white.

Naturally, the cards you choose to send out to your guests are up to you. Ditto with the cards your guests send to you (and those can be even more difficult to find!). Just try to remember that you want your thank you cards to at least complement and tie in with your wedding motif. What kind of thank you cards would you like?
---
Popular
Related
Recent