Please check also Dresses to Wear to a Wedding …
First of all, I would like to start by telling you that my friend is currently planning a wedding and we need everyone's advice. The wedding will be in December of 2009. She gave me a list of dresses and I have helped out too, but I do need some advice.
There are so many beautiful designer wedding gowns coming out for the winter of 2009 – 2010! Below, I am going to give you some of the looks that really caught our eye. I have already got married six years ago, but looking at the latest wedding dresses really makes me want to have another wedding, because they are so gorgeous... So, which of these gorgeous wedding dresses you like best?
---
14

Gorgeous Christian Dior Wedding Dresses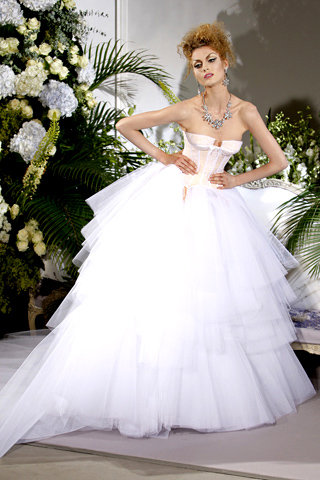 This is a dreamy tulle gown that comes to us from Christian Dior. It is perfect for those dramatic proportions. It looked great at the wedding of Delphine Arnault and Vallarino Gancia during 2005. Today, this beautiful white dress is definitely in style.
---
13

"White Quicky" Carolina Herrera Wedding Dress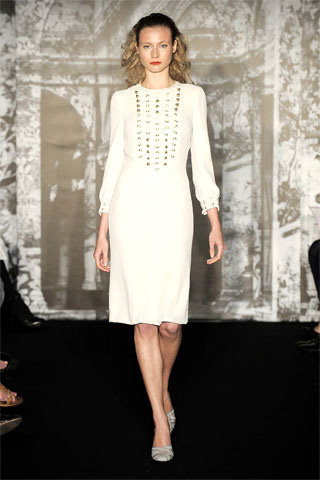 When I say "quicky" I do mean quick. With this wedding dress, all you have to do is slide it on and you are ready to go. It is perfect for those city hall weddings. Some girls may not settle for it on their special day, but for those girls that do not care about the dress and only care about the ceremony, then this would b perfect.
---
12

Long Ivory Colored Calvin Klein Wedding Dress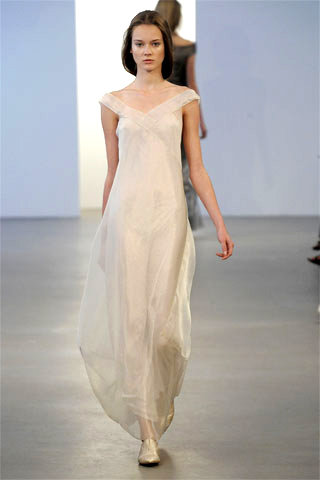 This is a long dress that has that silky look to it. It comes to you in an ivory color and I must say, it is perfect for those lakeside/beachside weddings. It appears to be a really thin dress. I think the dress would look even better if it had a flower on the sleeves or a big bow on the waist area. What do you think?
---
11

Jean Paul Gaultier Eloquent Wedding Dress with Fur Trimmed Veil and Micro Minidress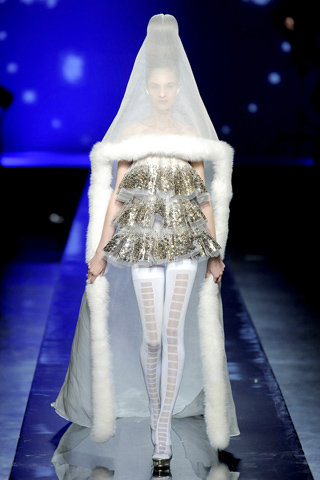 I'm not sure how many of you will like this one. I guess it would look great as a wedding dress, but my own personal tastes have "no" written all over it. My friend actually showed me this dress as she was interested in it. I do have to admit that the veil has a unique look, but the mini dress itself doesn't look like something you would want to wear to a wedding. Maybe the mini dress by itself with some brown tights under it would look better. The veil should be worn with a wintery looking dress.
---
10

See through Wedding Dress by Alex Mabille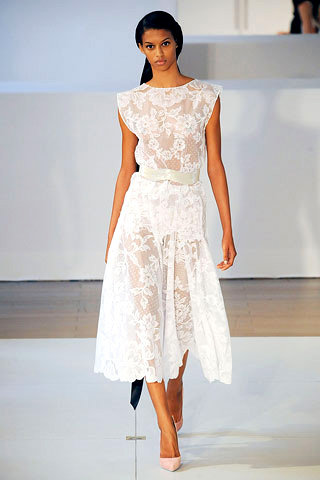 This is a see through lace wedding dress. Personally, I would not wear it to a normal wedding in a chapel. I had my wedding by the lake and believe this would be great to wear by the lake or beach. Also, a white slip under it may look better to prevent it from being so revealing. Overall, I think it's a pretty dress.
---
9

The White Dress by Georges Hobeika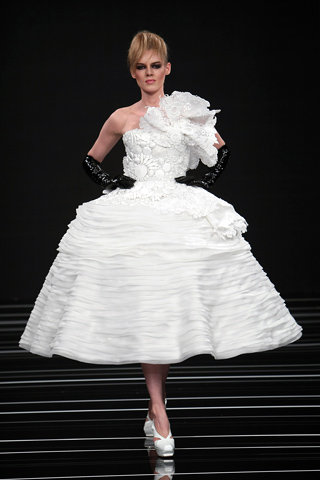 If you are having a art-deco wedding, then this would be a great dress to wear. I like the lacy thing that is on the shoulders on her left side. For the sleeves on the arms, you may want to choose white, instead of black. I believe a white lace sleeve with this dress would be great.
---
8

Antique Colored Ruffle Wedding Dress by Chanel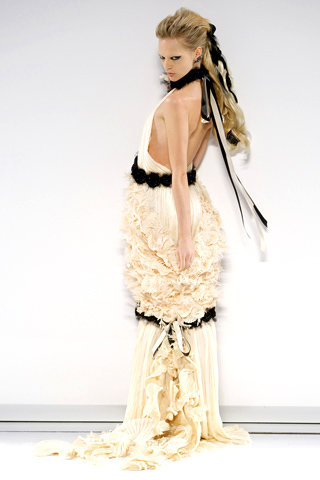 When you look at this dress, what do you think? I honestly adore it. In fact, I am not having another wedding, but I want to get it just to wear it. Where would I wear it to? Well, a military ball or something like that, maybe. I absolutely adore this dress and there is nothing I would change about it. I also think it would go great with a wedding on the beach as you wouldn't have to wear shoes.
---
7

Wedding Valentino Headpiece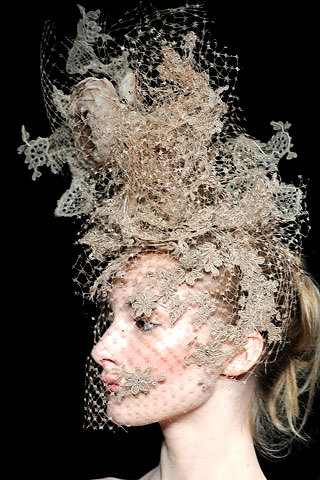 Do you like drama? If so, then this would really give some drama to you. It has a great lacy design. If I could choose something to change about this, then I would choose it in a color that is white. It would look great if it was white and wore with the wedding dress I told you about in number ten or with the mini dress I told you about in number eleven. What do you think?
---
6

Plain White Yves Saint Laurent Wedding Dress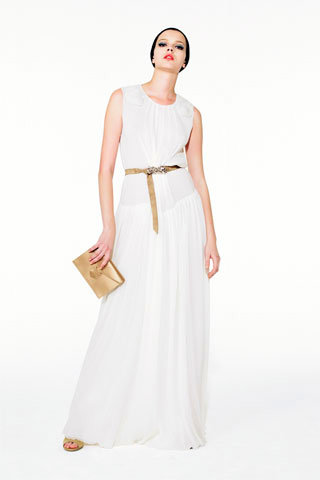 This is one of those popular throw on and go wedding dresses. It is white in color and have a Marrakech setting. It is perfect for an outside wedding as well as a wedding in a church or city hall. I would add a ribbon or flower on it in order to take away from that plain look. Then again, i'm just not the plain type of girl and always like something to spruce things up a bit. You may have other opinions…
---
5

Edgy Givenchy's Wedding Dress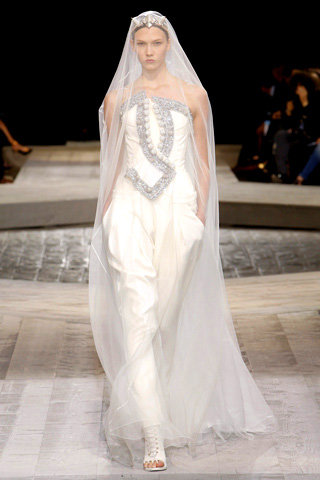 This is a white wedding dress that is richly embroidered. The studded headpiece goes perfect with it and would be great for an untraditional affair. I absolutely adore how long this headpiece is and how it flows over the whole body, but still allows you to see the bride. The shoes this model is wearing may not go so great with it though…
---
4

Crocheted Frock from Chloe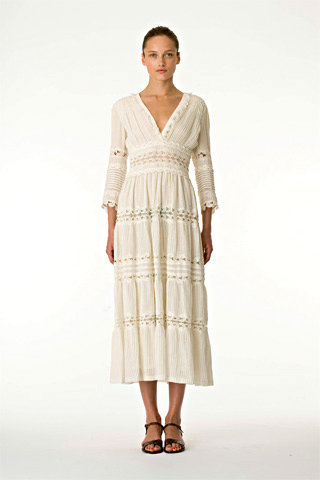 If you would like to wear a crocheted frock, then Chloe offers a great one. This would be a great dress for a setting on something like farm. What do you think?
---
3

Chic Chanel Wedding Suit from Moscow Collection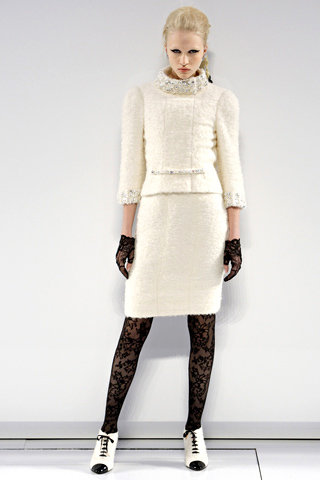 I must say, I like everything about this wedding suit. I think it would look great for a winter wedding as it has that sweater look to it. I like everything including the lace gloves and lace print panty hose that go along with it. If you could change anything about this suit, what would you change?
---
2

Feather Trimmed Lanvin Wedding Dress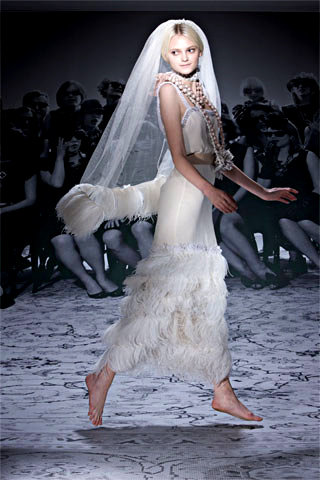 I do not know what many of your opinions are on this dress, you're open to tell me, but I really like it and that is why I recommended it to my friend. The ending of the vail even has feathers, which is something I really like. Even if you do not like the gown itself, the vail is a must have.
---
1

Christian Lacroix over the Top Folk Wedding Dress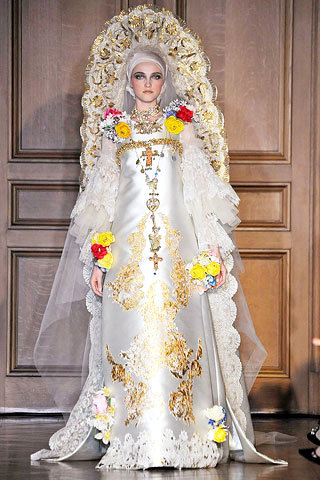 When you look at this dress, what do you think about? It has that unique look to it and overall is something that you may not wear to a normal wedding. However, in a Christian, chapel, it may look great for that sacred moment. I really like the vail to this one. This vail may go with the wedding dress I number eleven?
Out of all these outfits, which ones do you like the best? I am open to all opinions that you may have. If you have any more dresses on your mind, do show me. Thank you for your help!
More
Comments
Popular
Recent