What girl doesn't want to be a princess, at least on her wedding day? If you've dreamed of being Cinderella, Belle, or any of the other Disney Princesses, then you're in luck… Disney has a line of gorgeous wedding gowns inspired by all of their princesses, designed by Kirstie Kellie. Each princess has her own unique style, and the wedding gowns do, too! They're even available in plus sizes, since princesses do come in more than one size! To make planning your day even easier, each princess also has a coordinating line of bridesmaids and flower girl dresses. Curious to see what they look like, or dying to try one on? You can't buy them online (not yet, anyway), but you can see them… and here they are, the prettiest Disney Princess wedding gowns…
---
1

Cinderella, Style C2901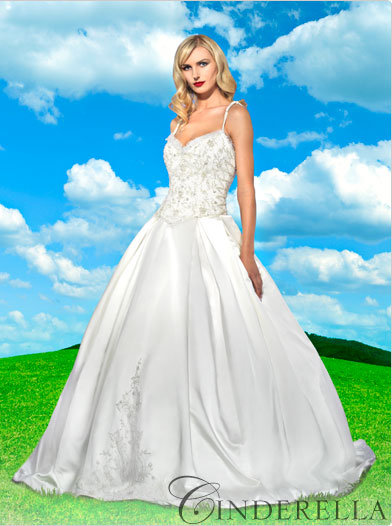 View Cinderella's collection at disneybridal.com
What a lovely gown to wear to your own special ball with your own Prince Charming, only this time, you can stay past midnight! I love the corset lacing detail on each side, and the delicate beading all over the bodice. Love the dress, but not the stark white color? It's available in four dreamy shades: white, ivory, antique, and champagne.
---
2

Sleeping Beauty, Style SB2908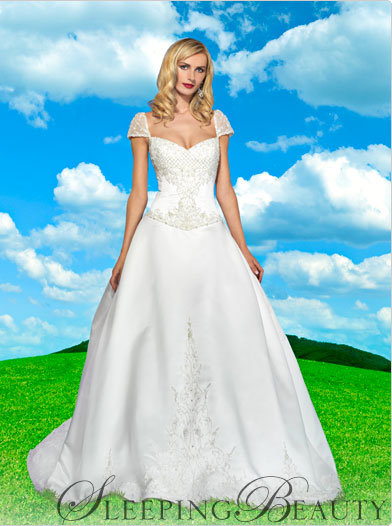 View Sleeping Beauty's Collection at disneybridal.com
So demure, so pretty! This gown features a pretty cap sleeve and a flattering sweetheart neckline. The beading is so detailed and so intricate, extending from the empire bodice to the sparkly cap sleeves to a smaller detail on the skirt. Say "I do" to your handsome prince, and dance with him once upon a dream!
3

Snow White, Style SW2906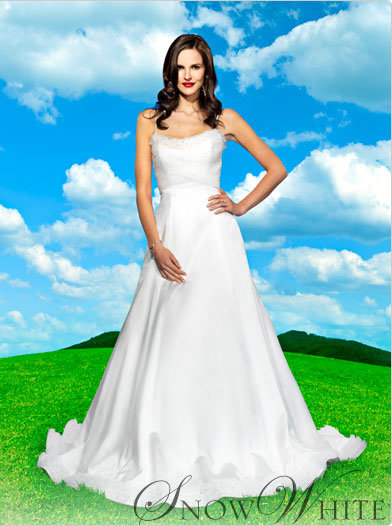 View Snow White's Collection at disneybridal.com
I'm so in love with this dress! It's an A-line gown with a delicate rouched detail on the bodice, glittering crystal and pearl details, and a tow of tulle ruffles along the full hem. All four of Snow White's collections have been oh-so-pretty, but this dress from the fourth collection is my favorite! It's just so sweet…
---
4

Princess Jasmine, Style J2909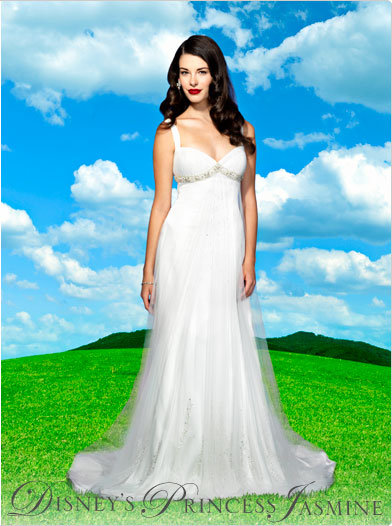 View Jasmine's Collection at disneybridal.com
Jasmine, with her humor and wit and fire, was always one of my favorite Disney Princesses, and if you're also a fan, you're going to love this gown! It features a v-neckline embellished with crystals and pearls at the empire under-bust. I love the flow-y layers of chiffon, and the somewhat Boho styling!
---
5

Ariel, Style A2911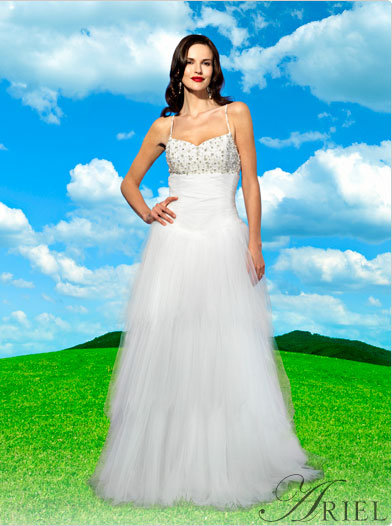 View Ariel's Collection at disneybridal.com
This dress is all classic romance, with layers and layers of silk and tulle and a whimsical beading detail on the bust and truly unique back "strap." Even the spaghetti straps are beaded! This dress would be so flattering on a tiny bride… or mermaid!
---
6

Belle, Style B2903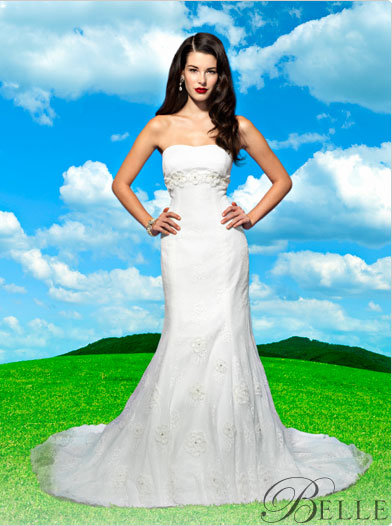 View Belle's Collection at disneybridal.com
So sophisticated, like Belle herself! I love the rich lace and taffeta, and the strapless, form-fitting style. The gown is hand-embroidered, and features lovely floral detailing at the hem. The back is slightly rouched, and embellished with the same divine flowers at the bustline.
---
7

Giselle, Style G1916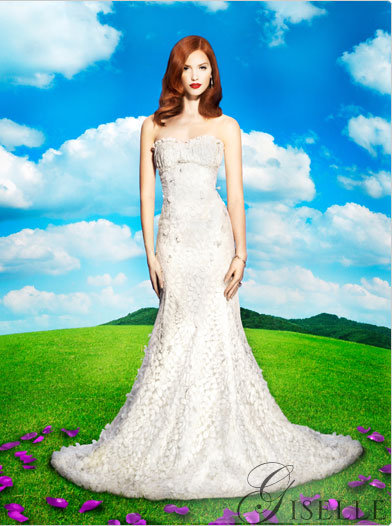 View Giselle's Collection at disneybridal.com
A dream-come-true wedding gown for one of the newest Disney Princesses, Giselle! It's all sumptuous, romantic details, from the tulip-cut styling to the organza lace with delicate leaves across the train and skirt hem. Choose from white or ivory and channel your inner fairy-tale land princess!
Aren't they lovely? I think they're all just gorgeous, but my favorite collection is the first one for Cinderella… they're so ladylike and pretty! Which collection do you love the best? Have you had a chance to try one on, or maybe even wear one on your wedding day? What did you think? Please let me know!
---
Comments
Popular
Related
Recent