Please check also 15 Hottest Dresses to Wear to a Wedding …
So you're all pumped up from just having the most amazing wedding day and you don't want the party to end. Well it doesn't have to when you have an after party! But you're not sure that you want to wear your wedding dress, especially if the after party is at a swanky downtown clubor bar. Here are 7 hot dresses that will help you keep that wedding after party going all night long!
---
7

I Heart Pockets...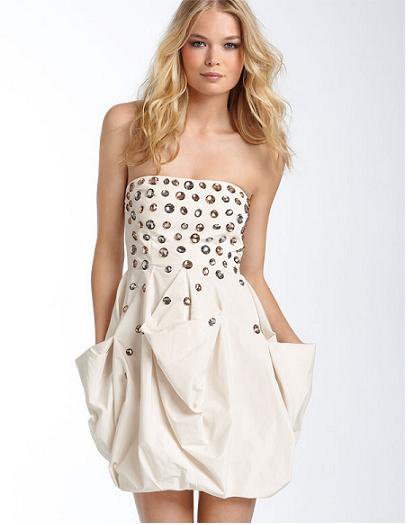 Photo Credit: Nordstrom.com
Price: $348.00
This BCBGdress is how sophisticated meets sexy. Pockets are still a big trend with wedding gowns and party dresses this season. At our wedding one of our guests had on the cutest dress with pockets, I wanted to take it home! The jewels on this dress show off a rock n roll side that gives it the perfect wedding after party feel. Pair it with the perfect high heels, a gold clutch, a cute ring and you're ready to keep the wedding celebration going!
6

Keep the Bridal Feel...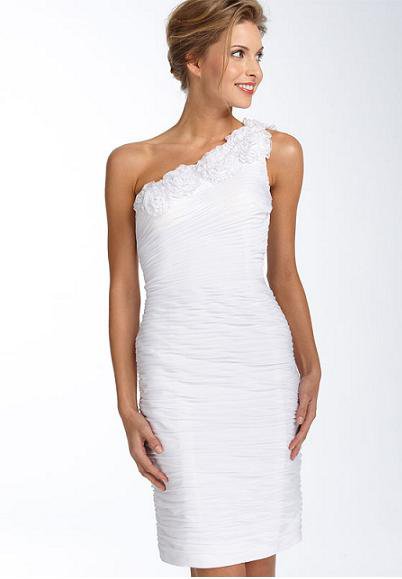 Photo Credit: Nordstrom.com
Price: $188.00
Are you looking for a wedding after party dress but you still want to feel very bridal? **This one shoulder Adrianna PapellRuched Rosette Dress can give you that bride look but will give you that relaxed party feeling too. It would also be nice for something to change into during the **reception **for a beachstyle wedding. **Ruched roses on your headbandand heelscomplete the bridal ensemble.
---
5

Glitz and Glamour...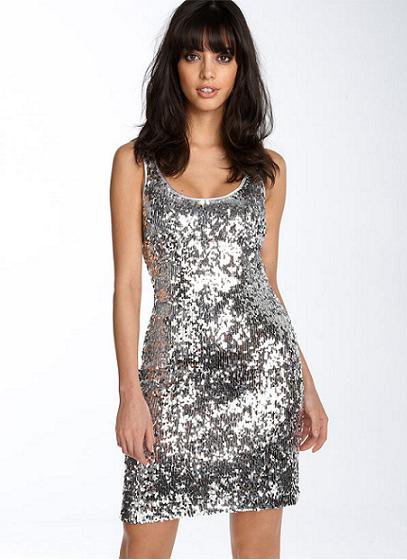 Photo Credit: Nordstrom.com
Price: $138.00
Keep that spotlight on you all night long after the wedding as you rock this JS BoutiqueSequin Dress! You have been glowing all day with that loving feeling and now you'll shine in the dark in this glitzy, fun, sexy****dress. Slip into strappy metallic heels , grab your lip gloss and purple eyelinerand you'll be one sexy bride enjoying agreen apple martini at your after party!
---
4

She's Got Legs...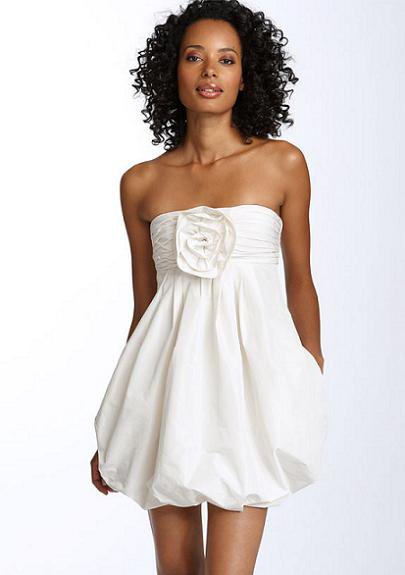 Photo Credit: Nordstrom.com
Price: $298.00
If you're a bride with sexy long legs and love the look of bubble dressesgo for this BCBGpleated bubble hem. The dress has such a feminine feel with the soft fabric and cute eye catching rosette. You can shake it on the dance floor and show off your fun side with colorful flat sandals that match your peacock clutch.
---
3

The Little Black Dress...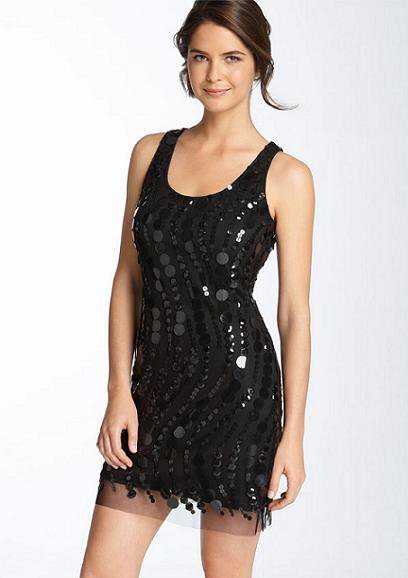 Photo Credit: Nordstrom.com
Price: $172.00
They say every woman should have a** little black dress in her closet and here is one you can wear to your wedding after party! Adrianna Papell knew what she was doing when she layered **large sequins and mesh over a simple little black dress. You can feel sexy and classy as you flirt with your new husband in this dress and your sparkly drop earringsand kitten heels.
2

Let It Flow...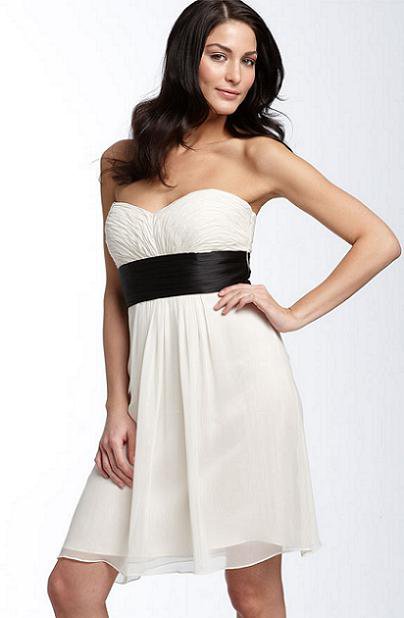 Photo Credit: Nordstrom.com
Price:$146.90
I love the way this Laundry by Shelli Segal chiffon dress flows at the bottom and comes to a sweetheart neckline at the top. As you twirl around on the dance floor this dress with move right along with you. The empire waist with the black sash is brilliant for any woman's beautiful body. Spice it up with a unique necklace, some sparkly bangles, killer heelsand you're all set!
---
1

Black and White All over...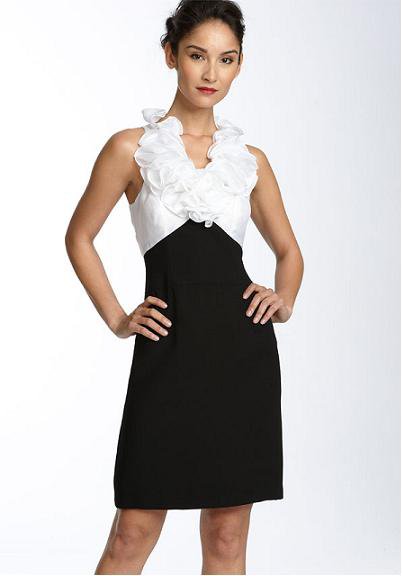 Photo Credit: Nordstrom.com
Price: $198.00
The ruffled V-neckline of this JS Collectionsdress and the black and white contrast will show off your sweet and sassy side as you step out of the limo at your wedding after party. It has a very timeless look for any cocktail or evening event. With this dress ruffled heelsand sexy earrings are the only accessories you need to start that party right!
Top Photo: RocknRollbride.com
Are you having a wedding after party?
---
Comments
Popular
Related
Recent