It used to be that the most versatile and best-loved article of clothing a woman's closet was her favorite LBD (Little Black Dress). From garden parties to office meetings to formal weddings, the same LBD could be worn and admired. But nowadays, we girls don't have to stick to the old stand-by LBD. We have choices, and here they are, 7 stylist alternatives to the LBD…
---
1

Glisten up Dress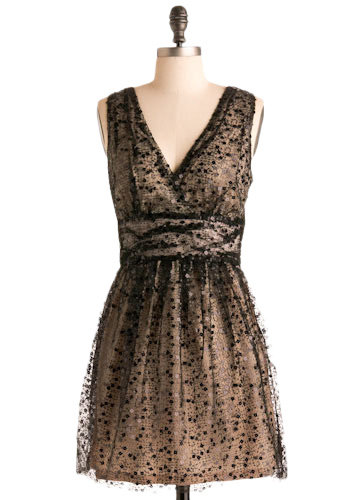 Price: $73.99 at modcloth.com
Why settle for basic, bland black when there's champagne and sparkle to go with it? The V in the front and back, along with the wide waistband, make this dress so flattering to all figures, and the overlay of sheer black lace gives it more style than one dress needs! Pair with a sparkly black choker or cameo, your favorite black pumps, and who needs that LBD?
---
2

Maeve "Sure Lock" Dress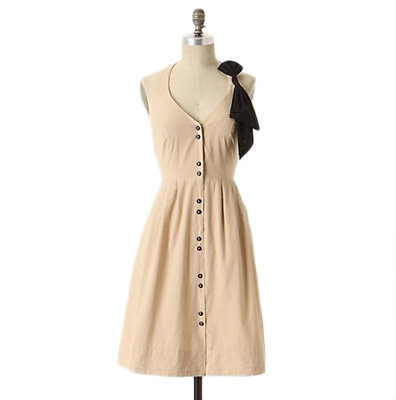 Price: $128.00 at anthropologie.com
Most of us rely on our LBD because it's neutral, and can be worn so many ways with so many of our beloved accessories. This lovely cream-colored dress is no different, with pairs of black buttons marching down the front and a pretty black bow on the left.
3

RicRac "Rising Vapor" Dress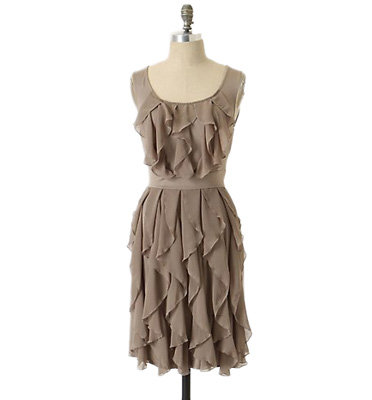 Price: $98.00 at anthropologie.com
Lush taupe or smoky grey? Either way, pair with inky black heels and an armful of bracelets, and you'll look divine. This dress is a keen alternative to the LBD — still versatile, still stylish, and still easy to dress up or wear casual. To dress up, pair with heels and a delicate wrap. To wear casually, tie a light sweat around your shoulders and carry a hobo bag.
---
4

Frankly, I Don't Give a Dress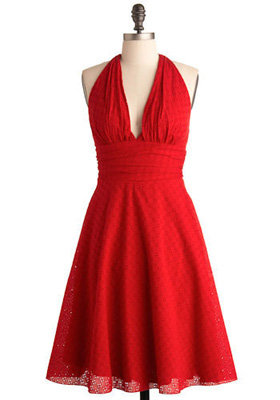 Price: $84.99 at modcloth.com
Why fade into the background in a LBD, when you can stand out in this gorgeous LRD (Little Red Dress)? You can still wear your best black shoes, and carry that slinky black patent clutch, but use them to add to your retro pin-up style in this red eyelet halter dress.
---
5

Windy City Dress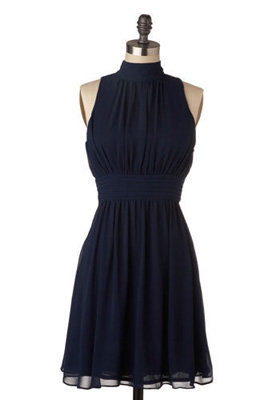 Price: $64.99 at modcloth.com
Navy blue can be just as flattering and versatile as black… don't believe me? Take a peek at this slinky chiffon dress, mock-neck and sleeveless and pretty in navy. I love the sneaky peephole back and the layers of floaty chiffon for the skirt… perfect for any occasion where you'd normally wear an LBD!
---
6

MinkPink "Space Odyssey" Mini Dress
Price: $88.00 at urbanoutfitters.com
Maybe you're a little more bold and daring, stylish and chic. Flaunt your unique style in this futuristic metallic dress. It's a mini, so you can also show off your legs, too, and it features a one-shoulder look. Pair with black ankle booties and a few chunky black bangles for a chic alternative to a standard LBD!
---
7

Maeve "Things and Joys" Dress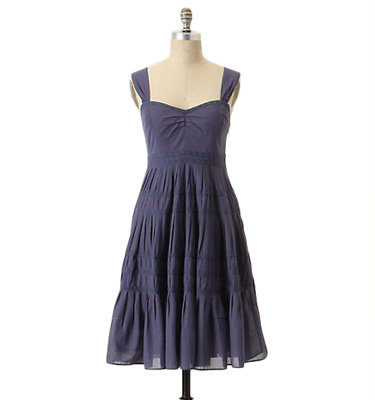 Price: $128.00 at anthropologie.com
It doesn't matter that this dress isn't black, really. It's all in the details… the tiers of voile, the tidy pintucks, the lace insets. Choose from dark blue or creamy ivory, and accessorize with gold or silver jewelry and a pretty little clutch.
Choose one of these dresses and wear it instead of your LBD to your cousin's wedding, or to that concert in the park. You'll shine far more than those prissy missies in their boring black! Which of these alternatives to the LBD do you like best, and how would you wear it? Or do you have another dress you already wear instead? Please let me know!
---
Popular
Related
Recent