I love centerpieces! It is the first thing I notice when I walk into restaurant, a wedding, or even a friends dining room. They can be plain and simple, or they can be as elaborate as you want to make them. They can stand out from the rest of the room, or blend in with the decor. Below, I have listed my seven favorite centerpieces, along with a few pointers on how to create your own.
---
1

Wildflowers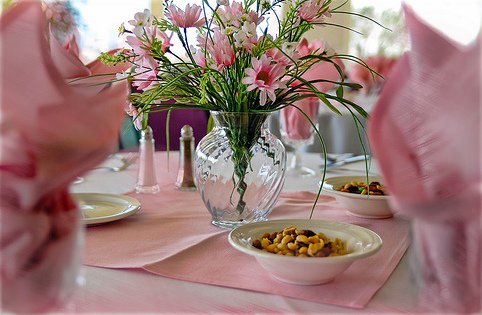 Photo Credit: Rick Insane Diego...
Summertime is the perfect time to pick flowers for the table. My children bring me bouquets all the time. I always, always, put them in a vase and showcase them on my kitchen table. They look casual, pretty, and perfect. You can color coordinate them with your place mats and you instantly have a designer look!
---
2

Fruit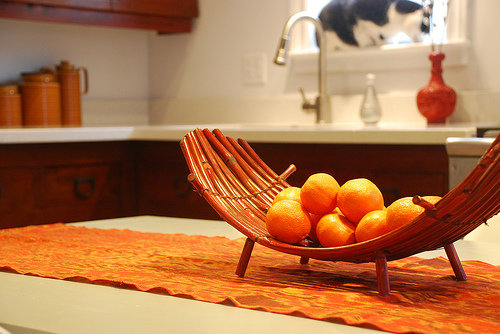 Photo Credit: kimhas8cats
This is an extremely easy way to decorate. The best way to make it look designer perfect is to put the fruit in a really unique container. A vintage basket, a spectacular platter, antique crystal bowl, whatever suits your fancy. I love baskets, so I am able to change my container quite frequently, although our fruit is usually the same!
---
3

Unique Container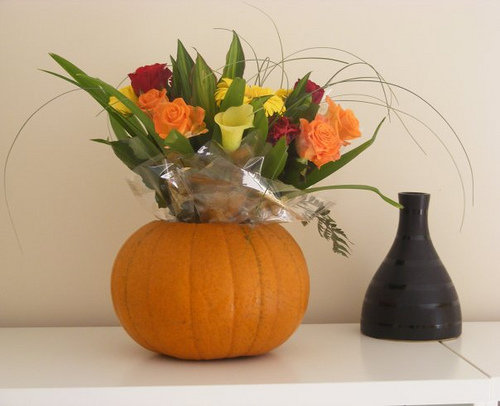 Photo Credit: easyqueenie
Using an unexpected vase really makes a statement! This is perfect for fall, when pumpkins are plentiful. You might also consider gourds, and hollowed out watermelons for the end of summer picnics. Of course, you get to enjoy the fruit before you enjoy the vase.
---
4

Mirrors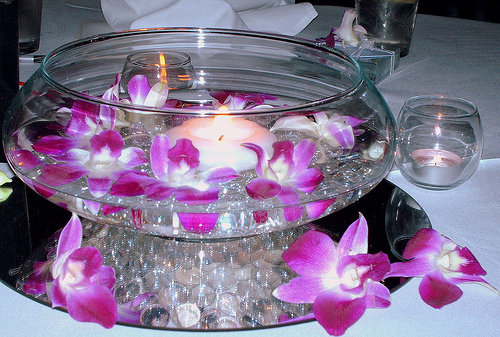 Photo Credit: .hannita.
I love this centerpiece. I have done the very same thing at my house, except I haven't used orchids. This really is super easy to assemble. Place a mirror on the table and top with clear bowl with water. Place little pebbles in the bottom, flower petals, (real or silk), and then your floating candles. Elegant simplicity at it's best!
---
5

Feathers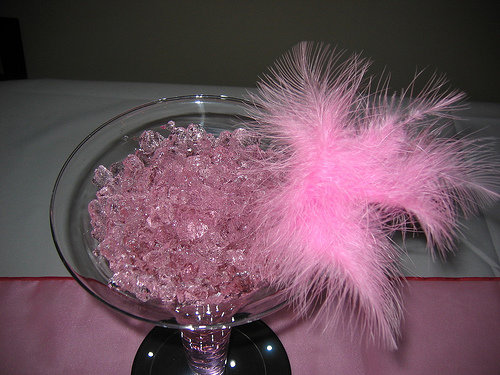 Photo Credit: www.classic-events.net Samples
I love feathers like this one in the photo. How adorable is it! You can buy the huge martini glasses at most dollar store outlets. Fill with colored crystal glass or beads, then place you bling-y, "froofy" feather on top. Perfect!!
---
6

Candles and Petals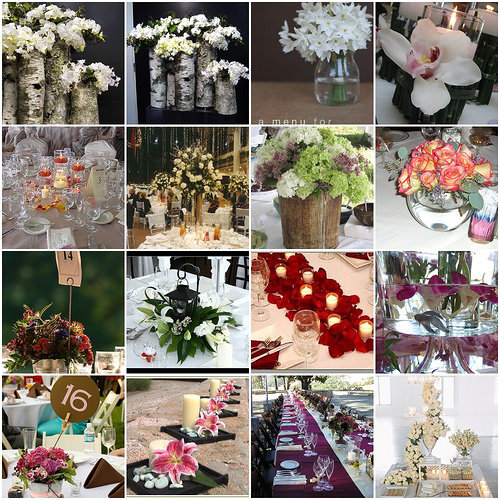 Photo Credit: lindsayplans
I chose this picture for the red rose petals and candles. Do you see it there, third row, third to the left? This is bright, bold, and so pretty. It's perfect for any special occasion: wedding, shower, or romantic dinner with your hubby or boyfriend. No, your guy probably will not notice it, but it will make you feel romantic and pretty!
7

Shells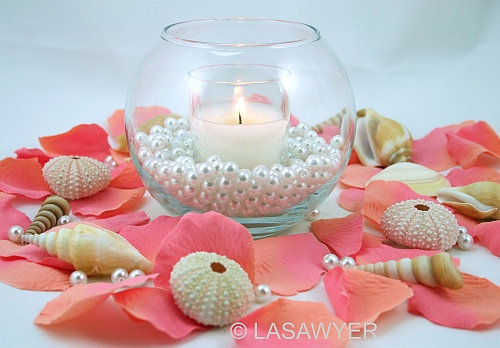 Photo Credit: LASawyer
What a pretty way to bring the outdoors inside. A little water, a few "pearls," and throw in some rose petals for a color splash, and you've got a beach on your table. Kids will love this, especially if they found them at the beach and gave them to you as a gift. You will get triple benefits: the hug at the beach when the kids found them, the beauty of the centerpiece, and the hugs then the kids see you admiring their gift at home.
I hope you liked some of my pretty table centerpieces. Do you have a unique or gorgeous idea you'd like to share with me?
Top Photo Credit: alexyra
---
Comments
Popular
Related
Recent