I have been obsessing about rosettes because I just learned a new way to make them. While I may have this secret plan to pin the rosettes I've made onto everything I own, it doesn't mean that I have turned a blind eye to the rosette items found in stores. In fact, here are 10 that I love...
---
1

Chiffon Rosette Tunic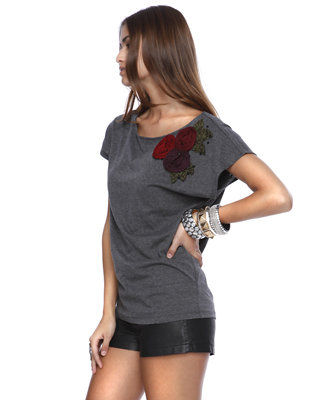 Price: $15.80 at forever21
Aren't rosettes perfect for prettifying a plain top? What I like about this particular blouse are the colors. I like the loose shape of the top, too. I bet this will look great with skinny jeans.
---
2

Chunky Knit Hat

Price: $7.80 at forever21

This is winter-perfect. And I guess you gals know by now that I love gray so yes, this knit hat is calling out my name. Too bad we don't have super cold weather where I live.
---
3

Lace Dressy Heels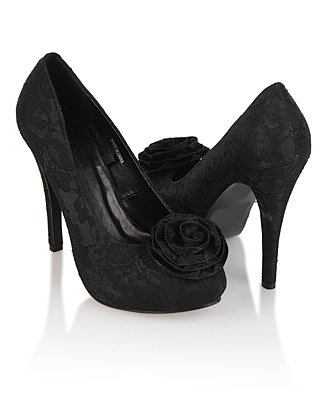 Price: $24.80 at forever21
What could possible be more girly than this pair? I bet these will be great for your upcoming Christmas parties. Pair it with an LBD and you're good to go!
---
4

Broadway Hair Clip

Price: $9.80 at forever21

Do you want a hair accessory that is just a tad more dramatic than a headband? Then this top hat hair clip is for you! Great for 30's costume parties or a night for painting the town red.
---
5

Chiffon Rosette Cardigan

Price: $22.80 at forever21

Pretty and cheap! I have been looking for a girly cardigan for months and I am THIS close to just sewing DIY rosettes to an old one I own. If I get lazy, I'll get this white beauty instead.
---
6

Mesh Rosette Dress

**Price: **$27.80 at forever21

If you are looking for an affordable holiday dress, this rosette little black dress cannot be more perfect. You get rosettes AND a bow --- tell me, is that combination sweet or what?
---
7

Jeweled Florette Ring

**Price: **$4.80 at forever21

It's shiny and has a filigree rosette. I'll get 5 please! The best thing about this is that it has a stretchy band.
---
8

Layered Rosette Sheen Dress

Price: $32.80 at forever21

Another fabulous holiday dress to consider. You will most definitely look like the belle of the ball wearing this hot number. Top it off with simple turquoise accessories and you'd look smashing!
---
9

Lovely Spring Necklace

**Price: **$6.80 at forever21

Pretty! I wonder if our local Forever 21 has this in stock.
---
10

Mesh Rosette Skirt

Price: $19.80 at forever21

This looks like the little sister of the tube rosette dress above. While the dress is strictly for formal events, this pretty skirt can be worn in more casual settings.

So which of these rosette lovelies do you covet? My heart is set on getting the ring and necklace. How about you?
More
---
Comments
Popular
Recent