I love the versatility that a pretty vintage-inspired brooch or fun, quirky pin can bring to an otherwise boring tote or jacket. One little accessory can mean the difference between standing out and blending into the background! I've been searching out new pins and brooches at my favorite internet shops, and here's what I've found! This is my list of 7 pretty pins and brooches…
1

Hooked on You Brooch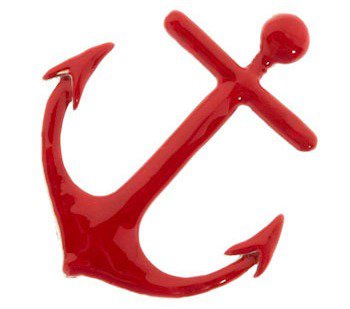 Price: $11.99 at modcloth.com
The nautical theme has been big this year, and this bright red enamel pin is a great way to wear the trend without going overboard! Add it to a navy blue and white suit or pin it on your cropped navy pea coat for a little maritime fun!
2

Medal of Honor, Sparrow or Owl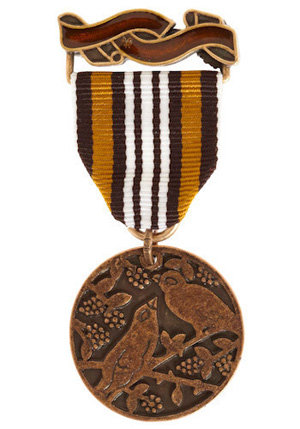 Price: $16.99 at modcloth.com
While the military trend is also very popular this season, not all of us look good in khaki, camouflage, or field jackets. This vintage-inspired brooch does look marvelous on everyone, and it can be added to any of your pretty fall outfits. I love the vintage-feel ribbon and the pretty bronze-finished medal. I'd choose the sparrow version, but the owl is really pretty, too!
3

Farm Fresh Brooch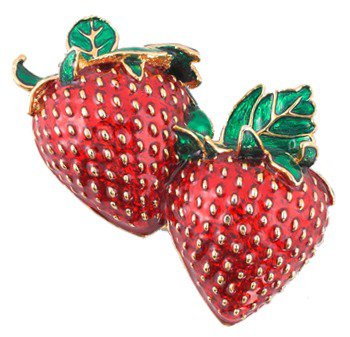 Price: $19.99 at modcloth.com
These two sweet little berries serve as a year-long reminder that summer will come, warm and sunny enough to ripen your favorite fruit — strawberries! I'd pin this on the lapel of my warm wool winter coat, or on a hat…
4

Maki Pin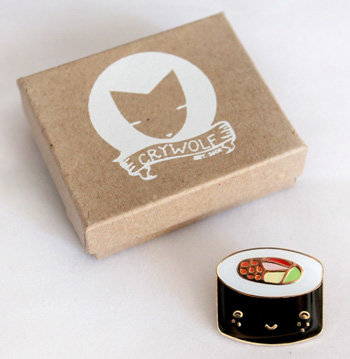 Price: $6.58 at crywolfclothing.com
I love sushi, and this pin is a great way to let the world know it! This little maki roll is smiling because he knows we love him, and because he knows he's completely adorable. I've pinned him to my lunch tote to remind myself that while I may be eating peanut butter and jelly for lunch, there's always sushi for dinner later!
5

Ninja Bunny Pin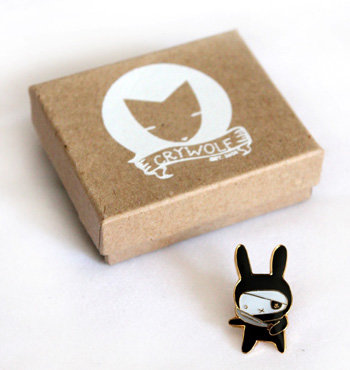 Price: $6.58 at crywolfclothing.com
Which is tougher, a ninja, a pirate… or a bunny? This little guy is trying his best to be bad-ass, but he's just too cute to be scary! I love his little eye-patch and his black ninja suit. Pin him to a tote, or a jacket, or anywhere else you want to add a little ninja pirate bunny flair!
6

Hootie Owl Pin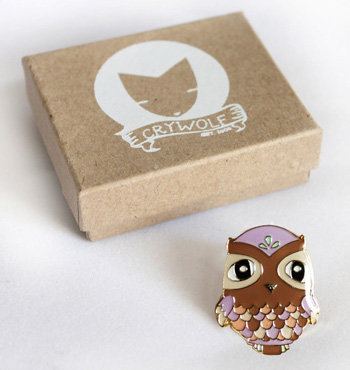 Price: $6.58 at crywolfclothing.com
This sweet little owl looks so shy and timid, she may not want to be displayed somewhere obvious, like a jacket lapel. She may want to be somewhere more quiet, like a school bag strap or a pinned to a pretty headband, don't you think?
7

Transformations Pin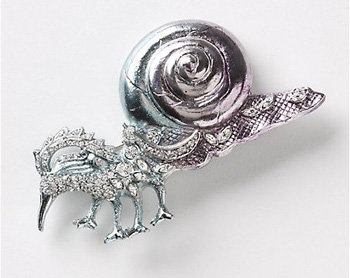 Price: $129.95 at anthropologie.com
What an extraordinary pin! It's sure to draw attention anywhere you decide to wear it, on the lapel of your soft black pea coat on of a pretty scarf… the front end is a gorgeous phoenix, and the back end is a patient, lovely snail. Together, they're a pretty, eye-catching pin!
There are so many gorgeous brooches and pretty pins, it was hard for me to choose! But I've already ordered the Ninja Pirate Bunny and the Sparrow Medal is on my wish list. Which of these pins do you like best, and where would you stick it? Please let me know!