While many have tried their hand at re-creating classic 1940s and 1950s feminine allure, very few designers have nailed it like Pinup Couture. As their name implies, they celebrate the bygone era of sexy women with dresses that accentuate our curves and flatter our figures without looking too skimpy, revealing, or trashy. If this describes your ideal style, keep reading! Here are 7 gorgeous dresses by Pinup Couture.
---
1

Cover Model Dress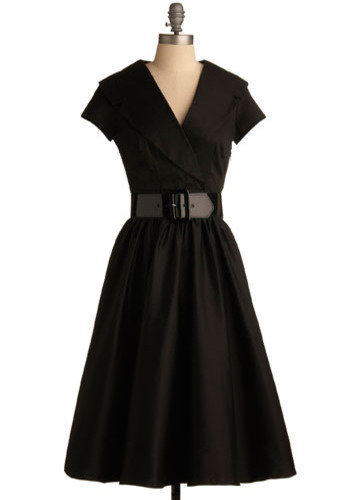 Price: $117.99 at modcloth.com
This LBD is a classic, a wardrobe staple, ideal for wearing to the office or on date night. It features a wide faux-wrap lapel and bodice with a wide patent leather belt and a flattering full skirt. Pair with round toe or t-strap pumps and a sequined clutch for dress, or with a cropped cardi and flats for casual wear.
2

Sailing into the Sunset Dress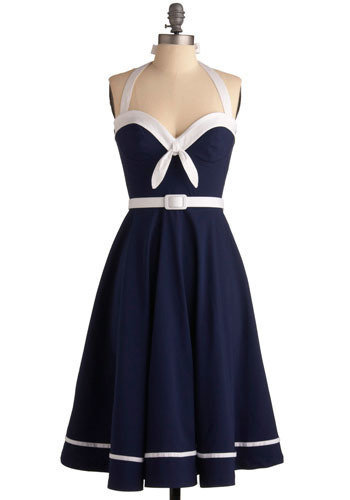 Price: $97.99 at modcloth.com
There's not a girl in the world who wouldn't look darling in this updated sailor's dress! It's a deep navy cotton/polyester blend with white belt, halter tie, and band at the hem. Pair with a straw sunhat and wedges, or with red accessories for a Fourth of July picnic.
---
3

Atop the Grand Staircase Dress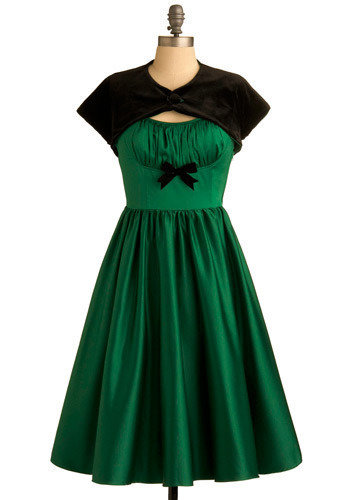 Price: $117.99 at modcloth.com
Available in emerald green satin with a black velvet shrug, or in a lush black and yellow floral print with a matched shrug, this dress evokes an earlier age, when women wore more modest attire and still managed to, like you, attract various handsome suitors. I'd wear this with any of my favorite black heels or flats to any holiday party (the green one) or wedding (flower print).
---
4

Craft Market Maven Dress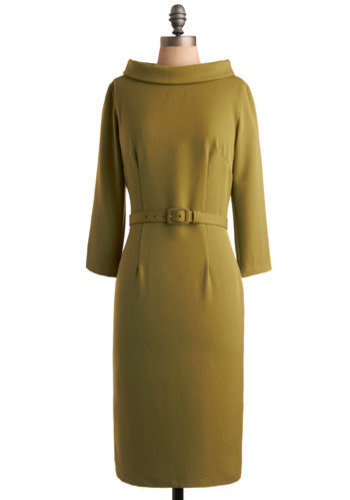 Price: $66.99 at modcloth.com
I imagine that somewhere in the depths of her closet, Jackie O must have had this avocado-green dress, or one very much like it. She would have loved its rolled cowl neck and calf-skimming length, and its waist-cinching matching belt, and though I don't pretend to have anything like her sense of style, those are just the reasons I love it, too.
---
5

Give 'Em Sass Dress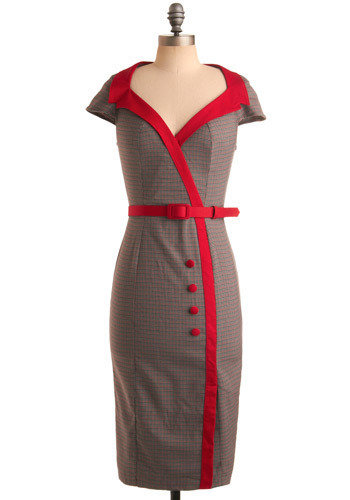 Price: $107.99 at modcloth.com
In every black-and-white film noir I've ever seen, the dashing detective is aided (and falls in love with) the resourceful, beautiful Girl Friday he's employed to keep his books, keep his creditors at bay, and keep him sober. She's always wearing a dress like this, the siren, and you'll look as smashing in it as she does. Naturally, in this modern color-picture age, the bright red belt and details will stand out more, giving you an edge over even the most modern assistant…
6

Destined for Stardom Dress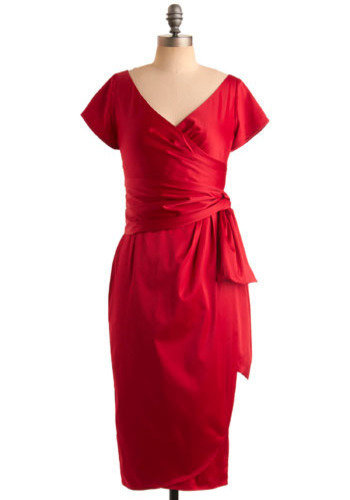 Price: $107.99 at modcloth.com
You, my dear, are destined for the red carpet, so prepare your Oscar acceptance speech and start searching for shoes and a glittery rhinestone necklace to wear with this stunning red gown. It's made of a lush cotton/polyester blend and features a supremely flattering design, with a sash belt at one side and a faux-wrap bodice.
---
7

How Was Your Day Dress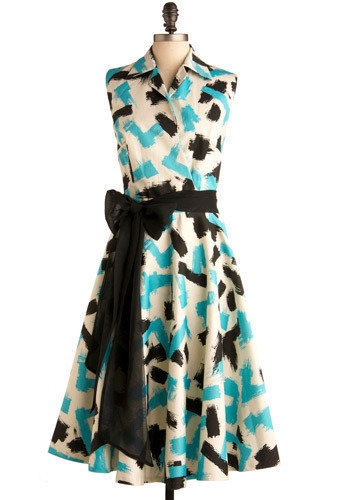 Price: $117.99 at modcloth.com
While wearing a dress as charming and cheery as this one, how could your day have been anything less than marvelous? The bright blue and black abstract pattern alone is enough to make a great day, not to mention the flowing black sash and the cool sleeveless design… pair with black patent heels and a black knit cardi, or with ballet flats and a martini in one hand for an end-of-the-week soiree or just drinks at your favorite pub.
These are just a few of the gorgeous retro-inspired fashions by Pinup Couture, and I just love them all! Even a very un-curvy girl like me looks feminine and round in these… I especially love that sailor dress. Which of these dresses do you like best, and why? Please share!
---
Comments
Popular
Related
Recent