By now you would think that most denim designers would have gotten their skinny jeans down to a science, but sadly that's not the case. Some wear too low, others are too tight in some places and downright baggy in others… what's a girl in need of skinnies to do? Don't fret, sweetie, for I can recommend a designer who has nailed skinny jeans, and makes them in varying lengths (since we girls also come in varying lengths). Who is this wonderful designer? They're called Cheap Monday, and here, my dear, are 7 of their great skinny jeans.
---
1

Lean on Me Jeans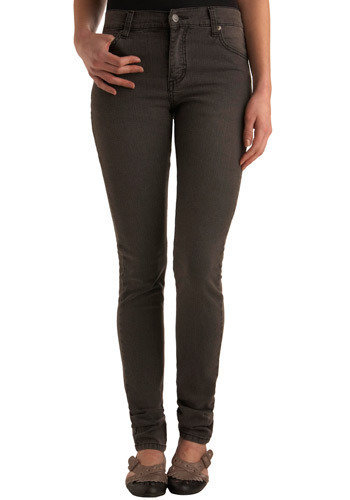 Price: $64.99 at modcloth.com
While inky black denim is certainly a fine choice, sometimes you'll need something softer-looking, not quite so harsh. These lighter black skinnies are just the thing, made to be more subtle, softer-looking, but still ideal for wearing with your white tops, or graphic print tees and cute cropped blazers. They feature a classic five-button fit, too. Hooray for dark grey!
---
2

Urban Explorer Jeans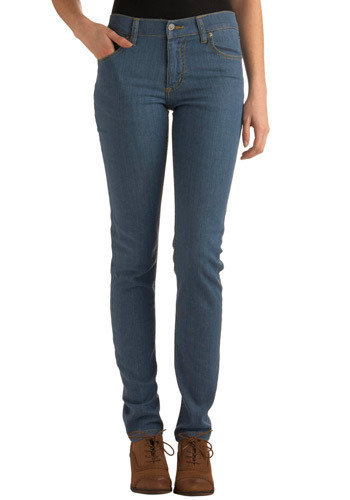 Price: $64.99 at modcloth.com
These classic light-wash denim skinnies are ideal for wearing with a western-inspired ensemble, from a yoked button-down shirt and cowgirl boots to a plaid tunic and leather flats. The gold-colored topstitching is what makes these unique, and somewhat western…
3

Show Promoter Jeans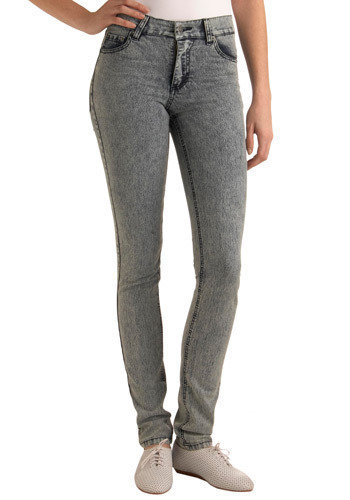 Price: $64.99 at modcloth.com
Journey back to a time when hair was big and ties were skinny in these 1980s-inspired acid-wash high-waisted skinny jeans. Add a neon tunic or "big shirt" and funky flats, or with a black hair-metal band vintage tee and tall boots. Either way, you'll look awesome!
---
4

Blue Jeans Delight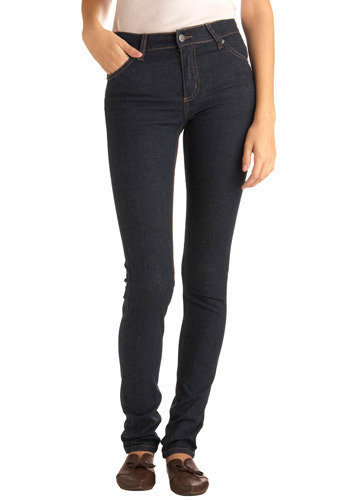 Price: $64.99 at modcloth.com
Dark wash denim is my favorite, and really, I'm not sure why. Is it because, like these, I can wear them with anything? They can be dressed up — with a lacy blouse and cropped blazer and heels — or dressed down — with a graphic tee and flats, so they're versatile, and I love the color… these are sure to be a wardrobe staple.
---
5

Window Ciel Jeans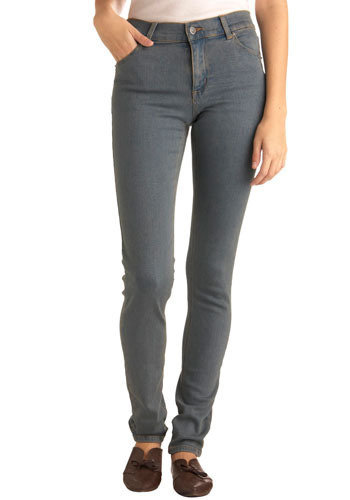 Price: $64.99 at modcloth.com
The "dirty wash" skinny jeans feature the familiar, flattering five-pocket jeans fit, ideal for wearing with something casual and fun. For some reason, this wash looks best with distressed brown leather, so wear them with a pair of slouchy brown boots and sling a well-loved brown hobo bag over your shoulders to complete the look.
---
6

Halfway There Jeans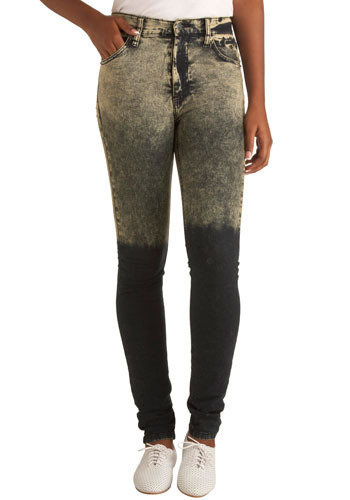 Price: $64.99 at modcloth.com
These skinnies are so unique! I love the graduated look, light acid-wash that fades down to inky blue just above the knee. Wear with a long-line tunic or funky graphic tee and colorful flats, or with a sheer ruffled blouse and peep-toe heels. These are so chic!
---
7

Nocturnal Daybreak Jeans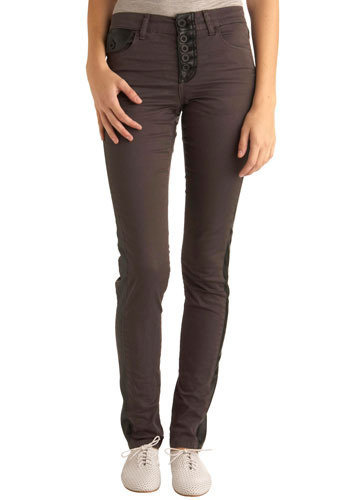 Price: $64.99 at modcloth.com
The skinny jeans offer a modern take on the classic tuxedo pants, with the same skinny fit we all love, in a lush slate grey with panels of soft pleather along each side and at the exposed button placket. Wear with a glittering sequined top and sleek patent heels, or with flats and a slinky tunic. Gorgeous… I love these!
With so many gorgeous, fun-to-wear skinny jeans, it's no wonder Cheap Monday is a favorite denim designer for so many fashionistas! Which of these skinnies do you like best, and what would you wear them with? Do tell!
---
Comments
Popular
Related
Recent