Your bedroom should be your personal oasis where you escape from a stressful day and relax. If your bedding is worn out, the entire room will look bland so it is important to find some pretty bedding to make your space feel more luxurious. Here are 7 beautiful bedding sets from Urban Outfitters to make your bedroom feel like a far away retreat.
---
1

Tonal Waterfall Ruffle Duvet Cover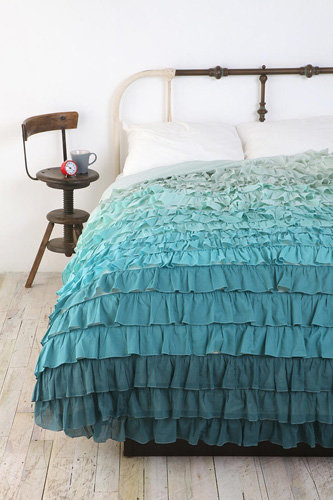 Price: 148.00 at urbanoutfitters.com
The dramatic ruffles on the Tonal Waterfall duvet cover will make your bed feel like a coastal escape. The gradual color shift mirrors the look of falling water or the rolling ocean waves. Accent this bedding with some pretty shells in a large glass vase or a large coastal painting.
---
2

Vintage Scarf Reversible Duvet Cover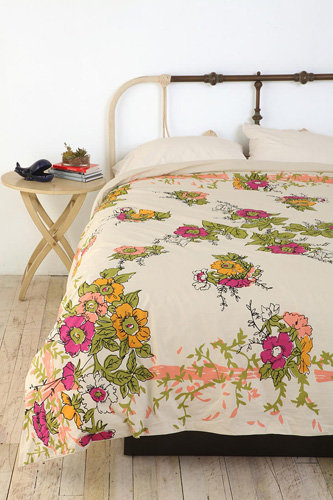 Price: 78.00 at urbanoutfitters.com
If you are inspired by everything vintage, you will love this pretty duvet cover. The vintage floral design is reversible with leaves on one side and flowers on the other. Pretty buttons finish the look at the bottom.
---
3

Birdie Stamp Duvet Cover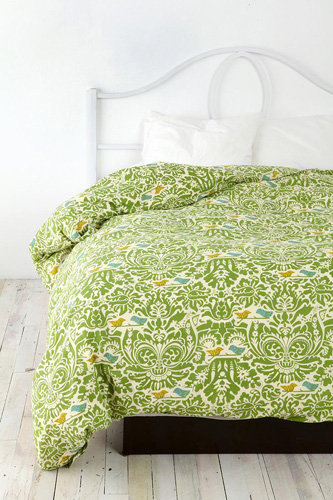 Price: 68.00 at urbanoutfitters.com
Go green with the birdie stamp design. It will give your bedroom an outdoor feel in a hurry! Accent the pretty duvet cover with a custom bamboo headboard or a natural wood vase. Even a drift wood candle holder would go beautifully with this bedding.
---
4

Cabana Stripe Duvet Cover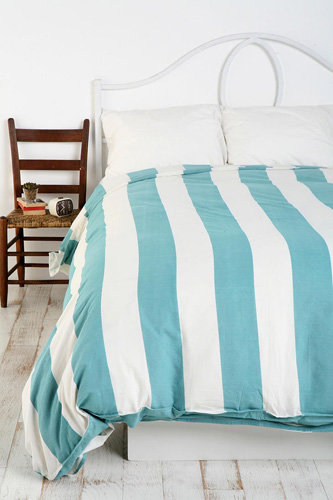 Price: 68.00 at urbanoutfitters.com
This striped duvet cover is versatile enough for any decorating style. Turn it nautical with coastal accents or make it feel youthful with bright pops of color and a variety of throw pillows. This cover comes in blue, green, or coral.
---
5

Gathered Ruffle Duvet Cover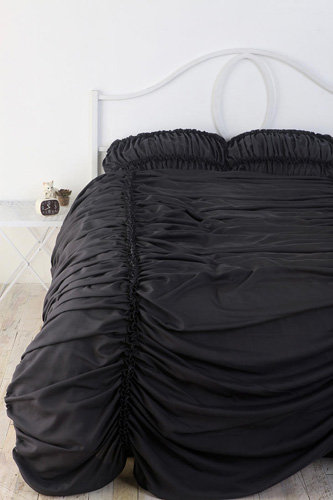 Price: 128.00 at urbanoutfitters.com
Add some romance to your space with this gathered ruffle style. Fill this duvet cover with a down comforter and it will give your bed a plush, luxurious feel with delicate romantic style.
---
6

Falling Floral Duvet Cover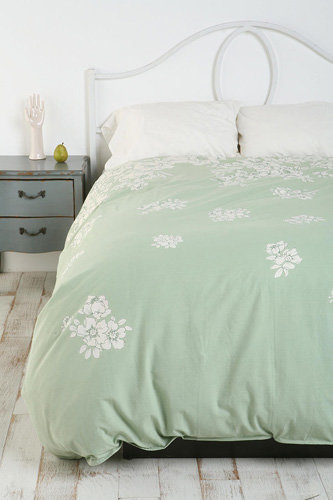 Price: 78.00 at urbanoutfitters.com
The minimalist girl will love this soft duvet cover made from laid back cotton and adored with a few simple flowers. Since the bedding is simplistic, you can keep the room bare for a subtle, serene style. If you want to add some color, pink or bright green would pop against the blue duvet cover.
7

Mod Sketchbook Duvet Cover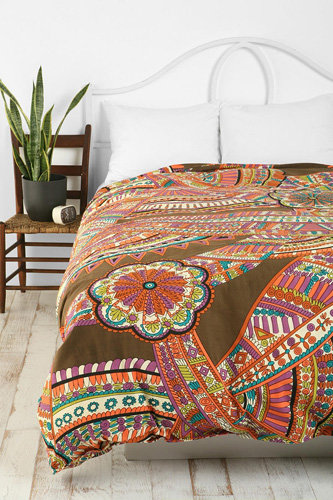 Price: 79.00 at urbanoutfitters.com
Artistic girls will feel inspired by the bold graphic print of this Mod Sketchbook duvet cover. Far from the boring traditional comforter, this duvet will add a modern touch to your space which is perfect for the free spirited woman who needs some artistic inspiration.
These 7 beautiful bedding sets from Urban Outfitters will update the look of your bedroom in a hurry. Complete the look with some matching curtains or a plush area rug and you will be relaxing in style in no time. How do you decorate your bedroom to create a relaxing environment?
---
Comments
Popular
Related
Recent