Ever ready, always up to date, and more choices than you could ever need, Juicy Couture has stores all over the world. If you do not live close to an actual store, their website is the place to shop. Here are my favorite, ultimately cool, adorable, best-loved choices from Juicy Couture.
---
1

Brushed Plaid Dress

****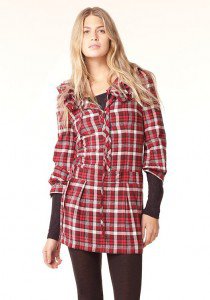 Price: $178.00 a juicycouture.com
Talk about cute! This up-to-the-minute sophisticated red flannel dress does double duty. Wear it during the day for a relaxed elegance. Add chunky jewelry and big and bold red handbag for instant style. At night, trade your red purse for sleek, black clutch and slip into a cute pair of black Mary Jane boots and you will be all the rage.
This flirty piece embraces the girl inside all of us. A ruffled collar glides through a rounded neckline. Sleeves stop at a buttoned cuff bunched at your elbow. Simple pleats adorn the skirt while a drop waist falls gracefully at your hips. Comes in Cherry Gloss or Licorice.
---
2

Chunky Stitch Cardigan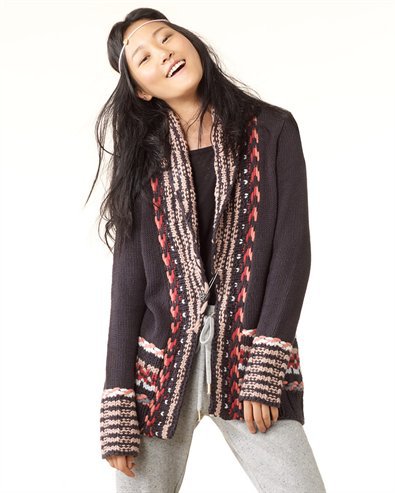 **
Price:** $258.00 a juicycouture.com
Classic, yet trendy, comfortable at the same time high-rise, and colorful while neutral, this adorable cardigan is nothing but cute. A shawl collar rests snugly around your shoulders wrapping you warmth and modus operandi. A kilt closure playfully opens for a peek at what's underneath. Sleeves fall at the knuckles, adorned in pink, chunky stitching. You will arrive at work with perfect confidence and pose. If you choose this sweater for a fall outer or winter shopping spree, rest assured you will steal the looks of all those around.
---
3

Rhinestone Trimmed Cashmere Cardigan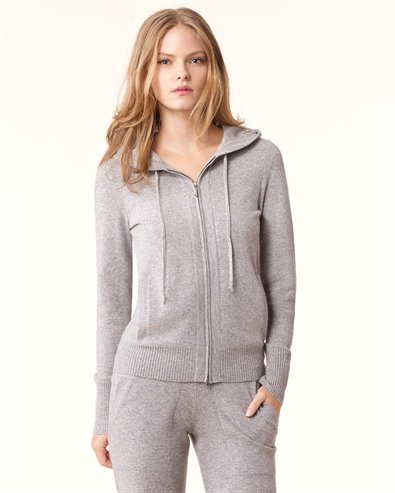 **
Price:** $328.00 a juicycouture.com
Wrap yourself in this heavenly hoodies for the ultimate taste of luxury. The softest cashmere you have ever slipped into, you'll be tempted to wear this lavish, rhinestone -trimmed beauty to bed. Rhinestones dot along the zipper and trim the hoodie in shimmer and shine. These sparkles catch the glint of light and reflect the beauty in the one who wears this elegant but ultimately cozy cardigan. A delicate "j" dangles from the zipper for an easy glide closure. Ribbed cuffs and hem finish this perfect cashmere slice of heaven. This sweater is definitely cute, maybe even beyond cute!
---
4

Felted Wool Peacoat
**
Price:** $398.00 a juicycouture.com
Timeless as Jacqueline Kennedy, a peacoat will never go out of style. This updated cutie embraces everything culture. Embellished with brass button lined up at attention down a front yoke. Pleats fall softly from the waist and down the center of the back. The bottom hem hits your thigh at a flawless length. A faux tab and brass buttons stand at attention on the cuff and two lone buttons stand guard over the entire ensemble. Your choice of colors in camel or black, and both shades are nice neutrals. Jackie would definitely approve.
---
5

Felted Wool Military Coat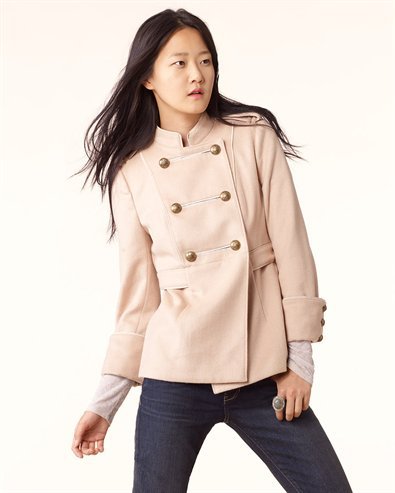 **
Price:** $398.00 a juicycouture.com
Command the attention you deserve in this absolutely perfect must-have coat. Double-breasted brass buttons rule the front closure while a stand up collar rules the neckline. Brass decorations on the epaulettes repeat their appearance on the turned-up cuffs. Oh! Gotta have this "Romantic Military" coat.
---
6

Luxe Polka Dots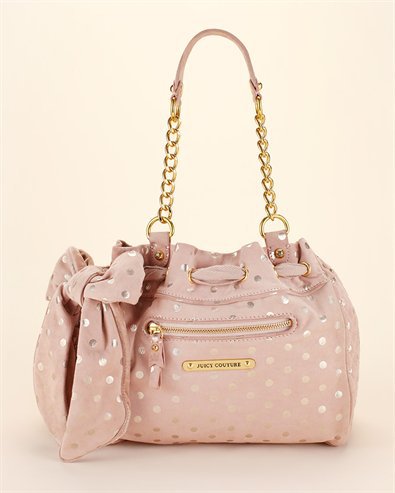 Price: $398.00 a juicycouture.com
Retro inspired dots add pizzazz to all you outfits. The drawstring top closure ties in a perfect bow for a bit of girl power. Comes is Club Navy as an excellent neutral to compliment for all your favorite outfits. But if your feminine side kindles a spark of romance, venture over to the Damsel/Gold color, which is interpreted at Baby pink/blush and gold!
---
7

Cadley Riding Boot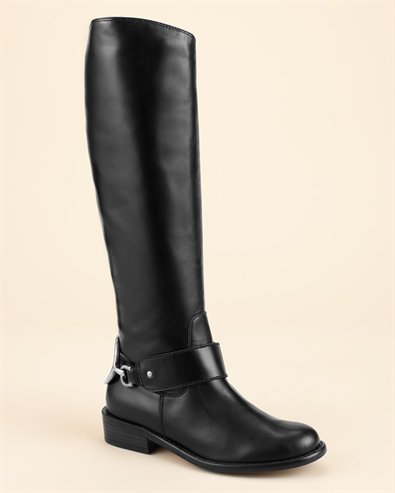 Price: $350.00 a juicycouture.com
Like the Pea Coat, these boots have stood the test of time as a classic staple in every wardrobe. Saucy, electric, chic, but never just a trend, if you are serious about the way you dress, you've got to have these boots. They come in a gorgeous brown or a timeless black and constitute an instant airs and graces attitude.
I love Juicy Couture! Perfect clothes, high- class style, and instant glamour! Have you enjoyed my choices? Do you agree with my likes? Let me know!
More
Comments
Popular
Recent