A dress is undoubtedly the most practical item ever! It fits great even if you gain a few pounds, does wonders in those periods when you feel like a watermelon (yup, you know what I'm talking about) and there is almost no color coordination, mixing and matching involved. No love handles either so that's a huge plus! But let me show you these 10 fab party dresses I found online, in hope that some of you may be eligible for free shipping and in need of a good party dress idea.
---
1

Embellished Capsleeve Dress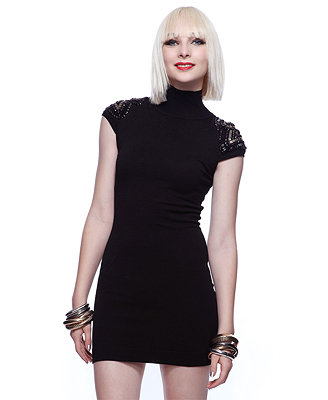 Price: $27.80 at forever21.com
Wow! I love the beads and the way they glitz up this relatively simple dress style. You don't want to show all your feminine attributes at once, right? So here's the chance to make everyone's head turn while remaining zipped up to your chin…literally! I'm sure the Stairmaster did its magic, now it's time to show those gorgeous legs of yours!
---
2

Marching Band Style Dress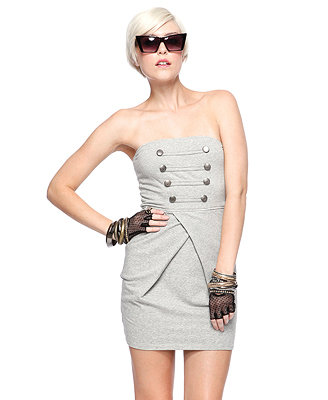 Price: $22.80 at forever21.com
Remember the post on how to do the Lady Gaga look? Well, if that dress was too expensive (and I bet it was) here's one Lady Gaga piece you can definitely afford to rock this season. So, save $$$ on this one and use the money to get a pair of gorgeous, good quality shoes you'll want to wear long after the Lady Gaga trend becomes a thing of the past. Now, isn't that exactly what we economists would call a "rational allocation of financial resources"?
---
3

Rosette One Shoulder Dress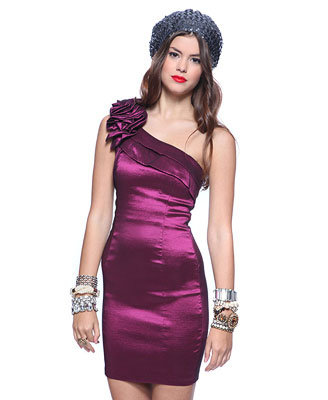 Price: $27.80 at forever21.com
I don't want to blow my own horn now, but I did wear a very similar beige dress for my high school reunion this summer and everybody loved it. However, seeing this one depressed me a little bit – I had no idea I could get such a similar style in my favorite color!
---
4

Twinkling Sequins Party Dress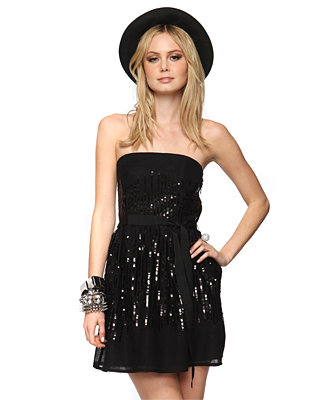 Price: $24.80 at forever21.com
Sparkles, of course! What else did you expect from me! I love the sparkles-on-black combinations because, with them, you just can't go wrong. I mean, there is some sparking going on, that's for sure, but you don't feel like a Christmas tree or anything.
---
5

Fab Satin Sweetheart Dress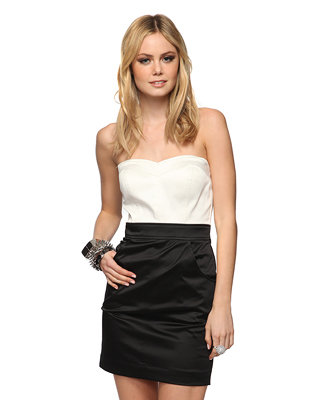 Price: $13.50 at forever21.com
Awww, adorable! This classic, simple style would look just perfect with a pair of simple, black court shoes and a string of pearls. So if you're wondering what to wear for a New Year's Eve party, a prom or any other black tie event – this would be my honest suggestion.
---
6

Chic Contrast Dress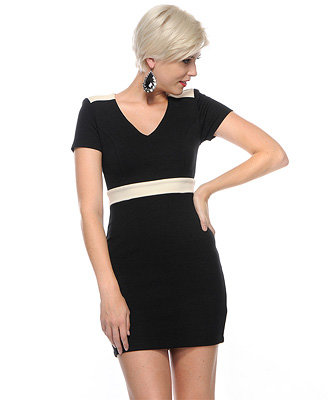 Price: $19.80 at forever21.com
Check out these white details! This is the work of a genus, GENIUS I tell you! The white stripe across the waistline accents the waist making it appear thinner and more feminine while the white shoulder pieces broaden up the shoulders. Combine those two together and you'll have a perfect illusion of a curvy, hour-glass figure.
7

Metallic Swirl Sequin Dress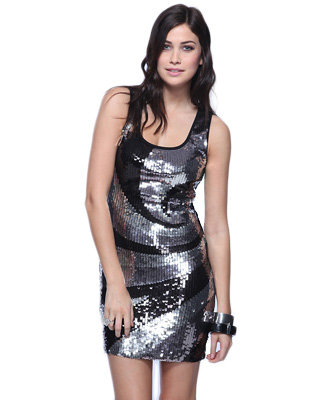 Price: $24.80 at forever21.com
I could swear I saw Katy Perry wearing a very similar dress, I just can't remember what was the occasion. Anyways, take my word for it because this definitely looks like something she'd wear. This is THE party dress, no doubt about it. Plus, you won't need any accessories, the dress is sparkly enough on its own.
---
8

Voluminous Floral Dress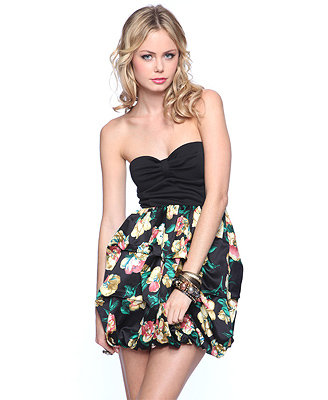 Price: $19.80 at forever21.com
You know what this is? This one of my favorite styles, the so-called "eating dress". I'm nervous when I'm hungry and I hardly have any fun if my stomach is screaming for a big fat sandwich. So, my girls and I usually book a table somewhere, eat, have a few drinks, chat and then go out to a club. And I would always but ALWAYS pick a puffy dress like this one because it gives me the chance to eat as much as I want. You've got your nicely shaped, formfitting top to enhance your feminine figure and a big pouf from the waist down to hind the fact that you've just ate like there is no tomorrow. Perfect! LOL!
---
9

Sequin Butterfly Dress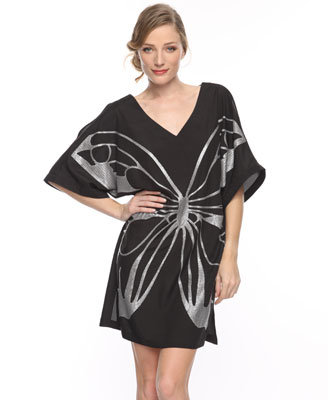 Price: $24.80 at forever21.com
Classy pool party? No problem! A drink in the ultra popular beach bar? No problem! This is a perfect summer party dress wearable with both heels and flats. You can wear it like this or belt it, if baggy is not your style. You're not in the mood for dresses? No problem! Wear it like tunic, with leggings and add a wide belt around the hips to give it some shape and make it appear a bit shorter. A versatile piece indeed!
---
10

Tiered Tulle Dress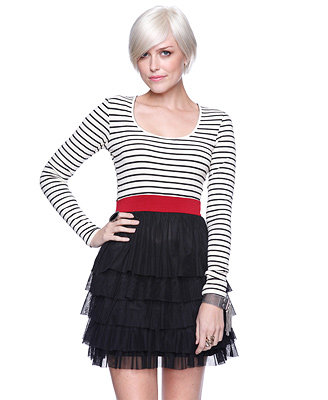 Price: $22.80 at forever21.com
Girly, original and perfect for a pair of cute ballet flats. It would go great with heels too, have no doubt about that. I'd go with flats because it looks soooo adorable and I kind of see it as the dress I'd choose to wear when I want to look nice and still look different than anybody else. So, if most girls would wear heels and sparkly dresses I would show up looking like a ballerina.
Now tell me what is your "first aid" item. You know, the piece that you wear whenever you're not in the mood to be creative and mix and match new thing? Is it a dress? I bet it is. My lifesaver is a black sequined Mango dress, very similar to the number 4 from this list. Hope you like dresses, girls and hope this list was helpful.
---
Comments
Popular
Related
Recent