The Dress Code** --- **sometimes clearly defined, but oftentimes very vague. If one thing is guaranteed, it is that black tie events require a distinguished, classic attire. Because of this prerequisite and sometimes discerning eyes of partiers, dressing up can be conforming and quite boring amidst so many ankle-length dowdy gowns. Here are ten cocktail dresses that fulfill your RSVP requirement to be "up to code," while still looking trendy and chic.
---
1

ASOS Oversized Sequin Shift Dress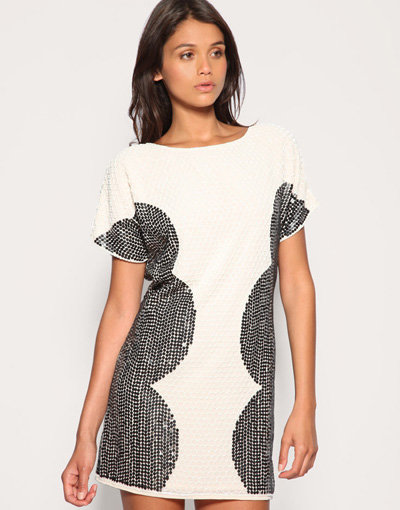 Price: $146.54 us.asos.com
Beading and sequins instantly turn a mere work-appropriate outfit into a flirty cocktail dress. While classically appropriate from the front, your sexiness exudes when turning around to mingle, revealing an open back that will garner a lot of attention. Those hot philanthropists will be hitting on you in no time.
---
2

Maggy London One Shoulder Dress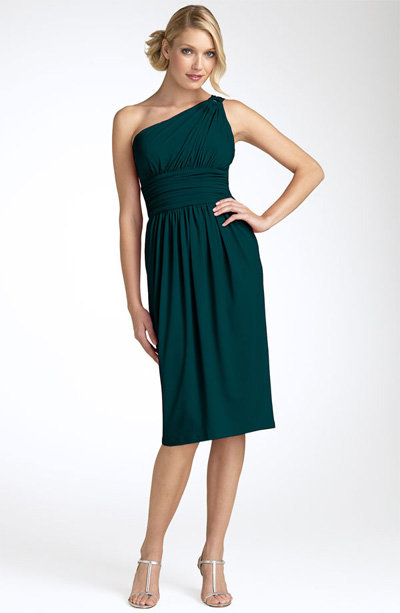 Price: $128.00 shop.nordstrom.com
If you're young, dressing for a black tie party can age you. And let's face it, your choice of outfit reflect that you might be the one who is the charity case. Show those donators that you can be mature for such an event and mingle accordingly in this Grecian-styled Maggy London frock. Its teal color and below-the-knee length is both age- and dress code-appropriate.
3

Elizabeth and James Silk Crepe Strapless Dress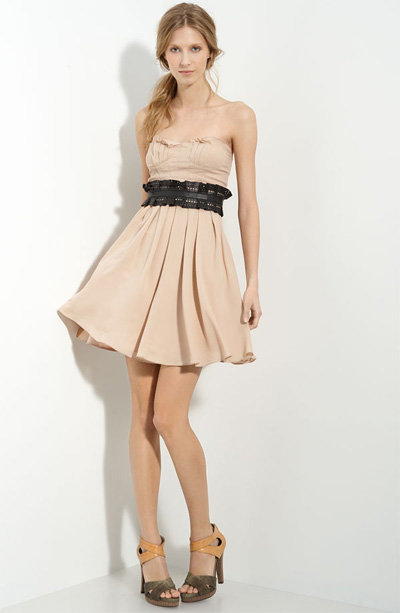 Price: $485.00 shop.nordstrom.com
This silk strapless dress from Elizabeth and James might be a bit of an investment piece for some budgets, but the payback from its multiple wears will be priceless. The pale – or "makeup" – color, is a must for all events, and the ruffled bodice and pleated leather waist will carry you from black tie to girls' night out clubbing in no time.
---
4

Paprika Pleated Satin Dress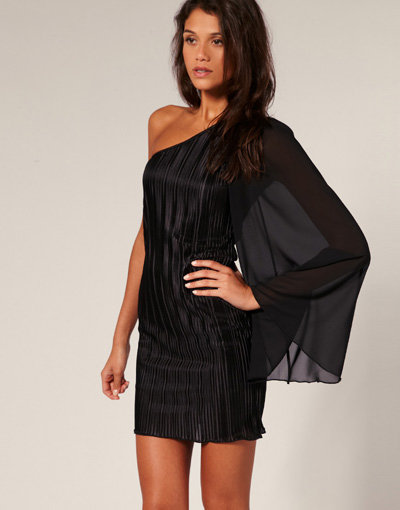 Price: $43.10 us.asos.com
Sugar and spice and everything nice – that's what this Paprika dress is made of. The classic black satin mini and its sheer chiffon sleeve might cook up some of its own elaborate stories perfectly suited for black tie affairs, but the pintuck pleating brings everyone back into reality. A gorgeously dressed one, at that.
---
5

Aidan Mattox Sequin One Shoulder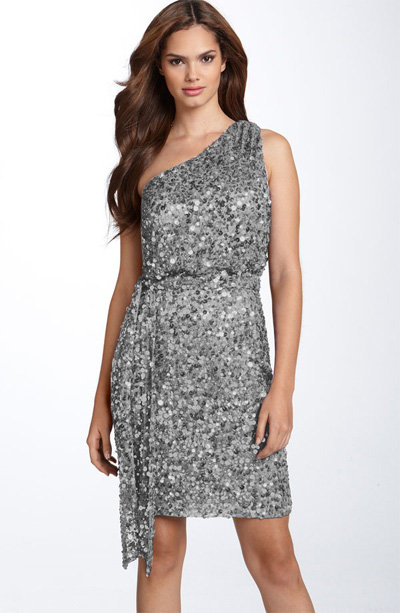 Price: $165.90 shop.nordstrom.com
For any event requiring a cocktail dress, silver is my signature color. As such, sequins are fashionably required for any invite labeled "black tie." What can I say – I love to steal all the jealous glances in a room full of outdated frocks! And this one-shoulder tank from Aidan Mattox will be the talk of any party.
---
6

ASOS Slash Neck Lace Body-Conscious Dress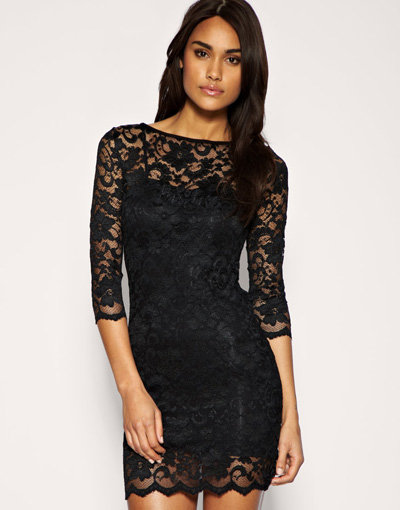 Price: $77.58 us.asos.com
Black lace is a definitive trend for winter and spring, and I love how chic and sexy the material can look on any woman. This body-conscious dress from ASOS is all that and a bag of super-stylish… err, chips. Also? I'm a proponent of ¾ sleeves on ANY garment, regardless of event.
---
7

ASOS Feather Corset Dress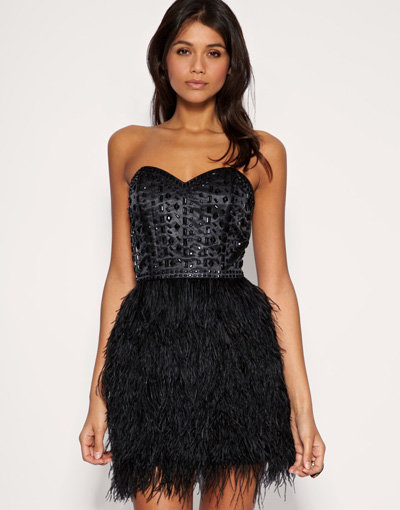 Price: $258.60 us.asos.com
I'm sure it's been said, but black tie does not have to equal boring. For looking the opposite of such an ugly and unwanted term, you will definitely stand out wearing this embellished corset dress. Think pretty ballerina (in full plume) with the edge. A little bit of "who let the bad girl in" with its strapless design and tiered feather skirt is balanced by an ever-classic "you're always welcome here" sweetheart neckline.
---
8

Maggy London Beaded One Shoulder Jersey Dress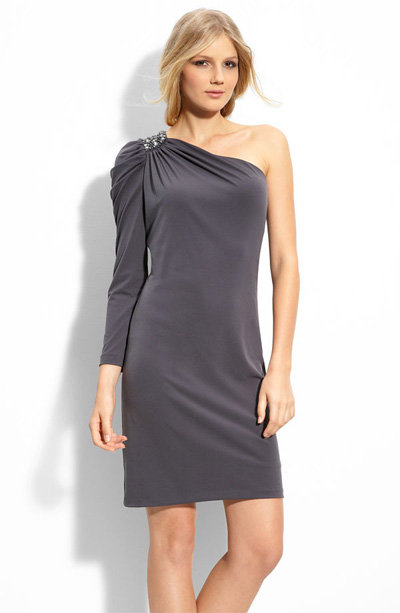 Price: $138.00 shop.nordstrom.com
Sometimes being chic in an orchestrated event can be as simple as baring a shoulder. For the girl who wants to remain as classic as the rest of the party, but still be a little daring, this Maggy London Jersey Dress strikes that chord. And I think that note is an A sharp!
---
9

Rare Opulence Draped Tab Bandeau Dress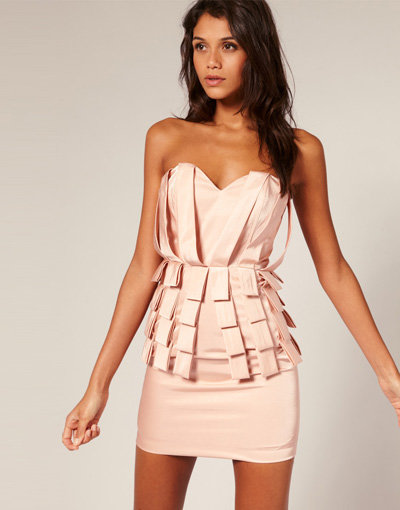 Price: $170.68 us.asos.com
Replace the notion of an LBD (Little Black Dress) with an OPP (Opulent Pink Party… dress). This Rare Opulence bandeau cocktail gown is a total sweetheart – or will perhaps hide the fact that maybe you're not. Its multiple tiers and loops of pink material from top to bottom will fit in with all the VIPs. And attract some of the BMOCs.
---
10

Lipsy Pleated Rosette Dress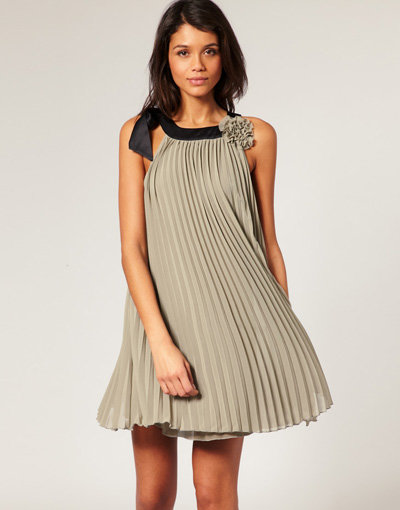 Price: $94.82 us.asos.com
Formal pleats come highly recommended in men's wear for black tie events. Capture some of that tux-y feeling – and complement the Big Boy look – by wearing this Lipsy pleated rosette swing dress. It is every bit classic, as it is fashionable and girly. And you won't have to return it to the rental place in the morning.
Grecian styling, lace material and garments constructed in shades of pink definitely seem to be on trend this awards season. These cocktail dresses will take you from Red Carpet to local fundraisers in a youthful style – while adhering to sometimes-antiquated black tie dress codes. Which one of these frocks would you wear to your next bash?
---
Comments
Popular
Related
Recent