No matter how many little black dresses you have in your closet, there's always room for one or two more. And why not? They're perfect for dressing up or down with ease, and they're so flattering to every figure and complexion. And right now, there are so many marvelous LBDs by indie designer Max & Cleo… you have to have a peek! Here are 8 fab LBDs by Max & Cleo for you to consider…
---
1

Licorice Black Dress

Price: $147.99 at modcloth.com
At first glance, this LBD is ordinary, though pretty, but a second peek will reveal the fitted waist, pleated skirt, and ruffle detail at the hem. All you need now is a pair of black and white spectator pumps or colorful t-straps and a long-line necklace and you're ready for a night out!
---
2

The Office Audrey Dress

Price: $137.99 at modcloth.com
You're a real Girl Friday, always busy, always chic, especially in this sweet LBD by Max & Cleo. It features a slate grey plaid skirt, hitting just below the knee, and a softly shirred bodice with gently pin-tucked short sleeves. Add a quick swipe of your best red lippie and a pair of patent heels in any color you like, and prepare for another day of errands, lunches, appointments, and more.
---
3

Go to Dress

Price: $157.99 at modcloth.com
Chief among the qualities that make an LBD fabulous is the nature of the details. This LBD has those in spades, with a criss-cross of sleek satin pleats and a modest at-the-knee hem. It's modern but classic, sure to become a staple in heavy rotation.
---
4

To Have and Behold Dress

Price: $157.99 at modcloth.com
This is a slightly more formal LBD, perfect for wearing to Orchestra Hall, an office party, a swanky gallery opening. I adore the sheer pleated bodice and the self belt of inky black grosgrain ribbon. Too, there's a glittering bow detail at the waist, and a dazzling shiny-black thread woven through the skirt in a delightful plaid pattern.
---
5

Structure and Form Dress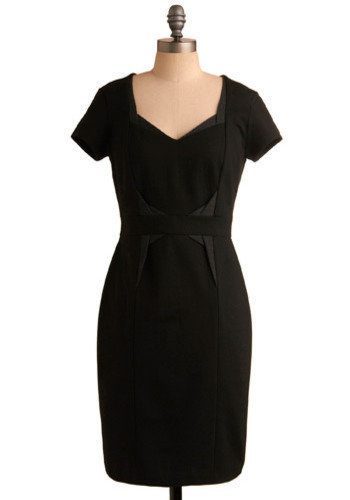 Price: $74.00 at modcloth.com
Clearly inspired by the Art Deco trend of the 1920s, this dress is gorgeous, an ideal addition to your collection of dresses. There's a visual interest about the waist, done in slate grey, and another spot at the neckline. Add a vintage fascinator and peep-toe patent pumps to complete the look.
---
6

Legendary Love Dress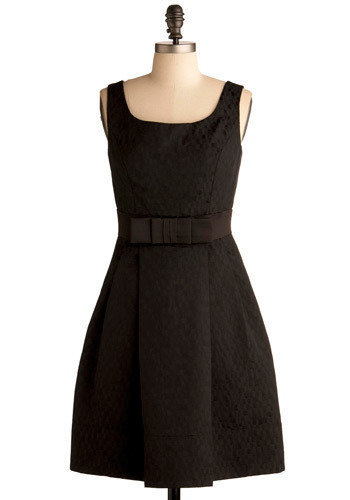 Price: $157.99 at modcloth.com
Simply put, this dress is divine, a superlative LBD. First there's the flattering fit, with a scoop neck, cinched waist, and full pleated skirt. Then there's the details, from the geometrically-woven fabric to the side pockets and the ribbon belt at the waist. All that's missing is a wrap, a clutch, and a glittering rhinestone necklace.
---
7

Bossa Nova Dress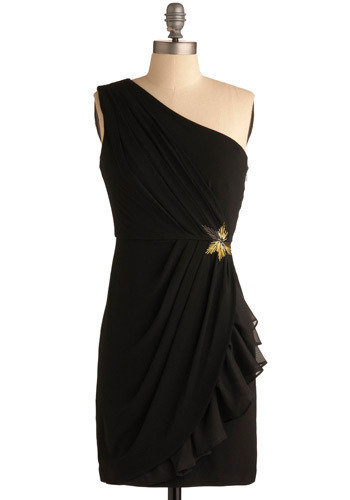 Price: $127.99 at modcloth.com
Stunning, they all say as you walk past. And they're right! You, in this dress, are gorgeous, and no-one else in the room can hold a candle to you. The dress features a one-shoulder cut, with a gentle gather at one side and a starburst embellishment in silver and gold. Add a gold or silver clutch, black heels, and a long-line necklace for max impact, and prepare for compliments.
With oh-so-many beautiful LBDs on this list, you might think these were all of them in the Max & Cleo line, but there are more! I adore that last dress, and the one with the sheer pleated bodice. Which of these do you like best, and what would you wear with it?
More
Comments
Popular
Recent