While it's not even technically spring yet, I'm already dreaming of summer, and with the warmer weather, a new crop of sassy strapless dresses! They look so cute with a cropped cardi and sandals, and we can wear them all summer long. I'm already scouting for a few new ones… and here are a few of my new favorites. Here are 7 sassy strapless dresses.
---
1

Blurred Shapes Dress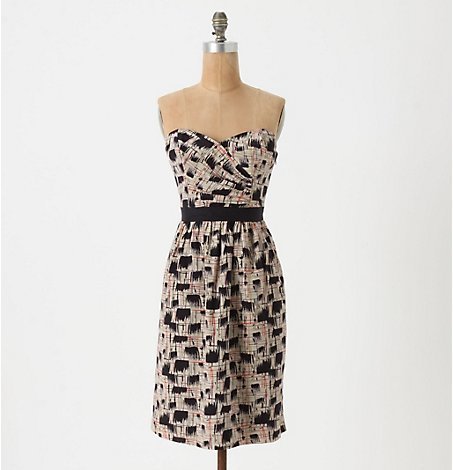 Price: $168.00 at anthropologie.com
This darling a-line dress is made of soft, lush silk, featuring a sweet heart-shaped neckline, wide black waistband, size zip, and knee-grazing length. Look closely at the print and, scattered among the raw black squares, you'll see smart red zig-zags, which means this dress, by Burlapp, would look stunning with your best black or red patent pumps.
---
2

Miss Swiss Corset Dress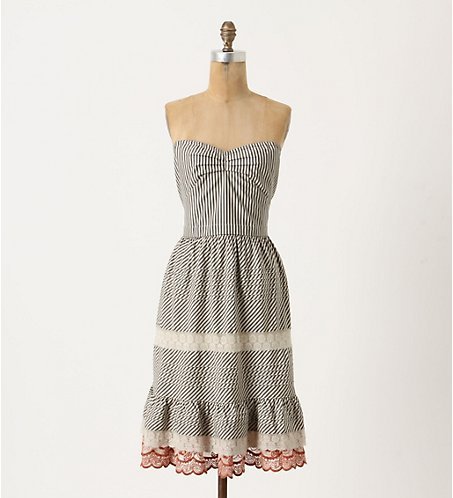 Price: $168.00 at anthropologie.com
Can you imagine a prettier, more charming dress? It's ideal for summer strolls, picnics, and parties, with a navy blue ticking pattern, ruched bodice, and tiered, lacy skirt. I love the hints of red in the last layer of lace at the hem, and the flattering shape.
3

Stippled Deciduous Corset Dress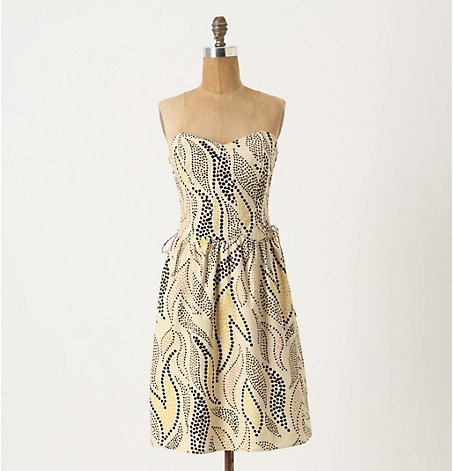 Price: $288.00 at anthropologie.com
Anna Sui's amazing little strapless dress, designed exclusively for Anthropologie, is all details, from the full skirt to the pretty leafy pattern to the corset lacing at each side, to ensure a perfect fit. I love the neutral earth tones in this dress, perfect for pairing with a wooden bead necklace and creamy knit cardi.
---
4

Silken Stitches Dress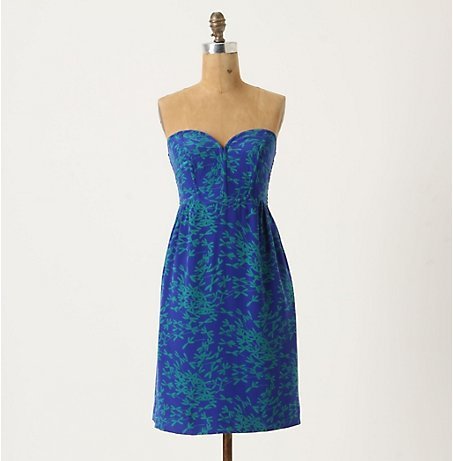 Price: $168.00 at anthropologie.com
I'm dreaming of a vacation in the Caribbean, where the sand is white and the sea is as blue as this gorgeous strapless dress. Though the bright blue and green pattern first caught my eye, I also adore the softly quilted bodice, a-line skirt, and the versatility of addable straps. I'd pair this with glittery chandelier earrings and a straw sunhat.
---
5

Sing Sweetly Party Dress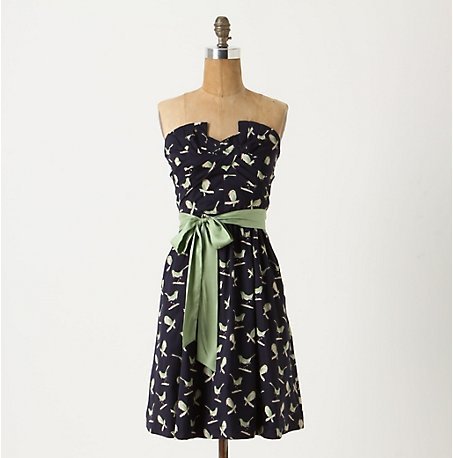 Price: $148.00 at anthropologie.com
There are oh-so-many reasons to love this party dress by Porridge, from its all-over sweet birdie pattern in soft moss green, to its deftly pleated fan-shaped bodice, to its gorgeous green sash. Pair with sleek black peep-toe pumps for a look that's sure to have everyone singing the praises of this sweet little dress!
---
6

Color-Dipped Dress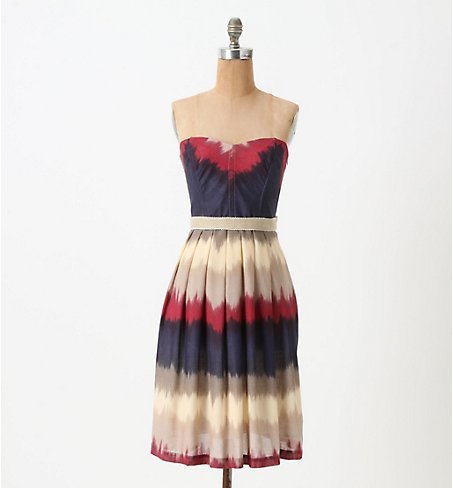 Price: $198.00 at anthropologie.com
Though Independence Day is months away, I already know what I'm wearing to the fireworks: this stunning color-dripped dress by Corey Lynn Calter. It's a creamy white background with soft waves of red and blue, ideal for celebrating our nation's independence, or just a break-away from a boring wardrobe.
---
7

Sewing Circle Dress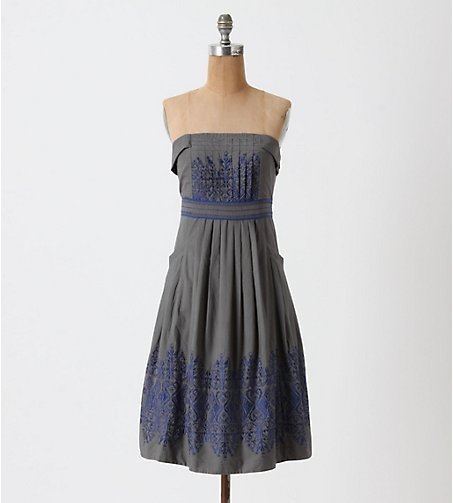 Price: $168.00 at anthropologie.com
It's nearly impossible to say which feature of this pretty dress by Floriat I love more. Is it the delicate blue embroidery, or the clever pin-tucked pleats? Or perhaps it's the handy side pockets, perfect for stashing a coin purse and lip gloss? Needless to say, with so many things I adore about it, this dress tops my wish list.
With so many adorable dresses to choose from, I'll be busy refining my list of must-haves for the next few weeks, at least until it's warm enough to wear them! Which of these sassy little strapless dresses do you like best, and what would you wear with it?
---
Comments
Popular
Related
Recent