I have a confession: whenever I feel the urge to sew a dress, the first thing I do is check Anthopologie. I drool over their lovely dresses and then somehow, a design pops into my head. If you follow craft blogs, you have probably encountered one or two sew-ers who love to make their own versions of these dresses. I am guilty of this as well. Here are 8 that I'd love to "dupe," for lack of a better word. Now if you can't sew, you can always buy these. Prices are included for your shopping convenience.
---
1

Sun Shade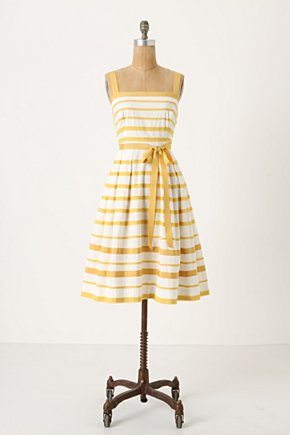 **Price: **$158 at anthropologie
The color is pretty and will be perfect for spring. I have a hard time sewing sleeves so this is a perfect afternoon project for me. Great sewing options would be adding a smocked back. This way, you no longer have to add a zipper. You can also use fabric with blue stripes and call your version "ocean shade."
---
2

Take Action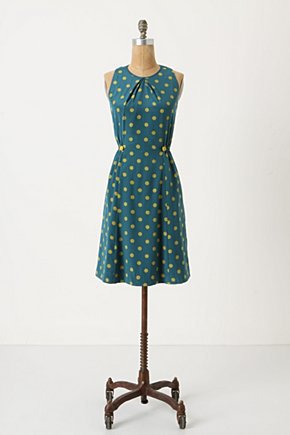 **Price: **$168 at anthropologie
This is a pretty easy dress to make as well. I suggest a fabric this rich and fun, too, because look at it: it's beyond perfect. You don't have to add a zipper since it has an elasticized waist. That's always a good thing. Make it a mini if you dare. That's what I'd do, anyway.
3

Study of Shapes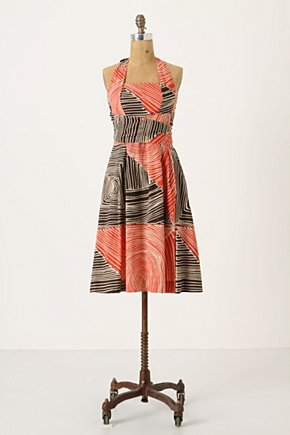 Price: $158 at anthropologie
Halter top and A-line bottom: two easy things to sew. I am not a huge fan of this fabric or pattern so I'll probably go with a plain version. Make sure that you stick to the slightly wide halter ties because they will make the back part of the dress even more gorgeous.
---
4

Gull Wings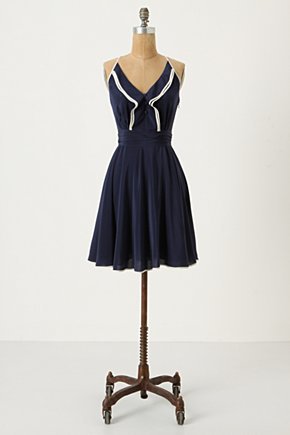 Price: $168 at anthropologie
You will become one cutie nautical goddess in this easy to construct dress. Three parts I imagine will be fun sewing: the white piping ruffles, the sexy keyhole-style back, and the waist tie. If I ever give this dress a go on the sewing machine, I think I'll choose a teal/yellow combination. Blue/white seems costume-y for my taste.
---
5

Pangea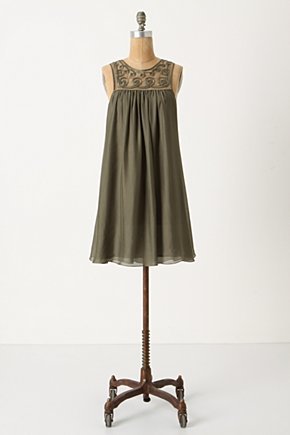 Price: $298 at anthropologie
That is a pretty color. I don't know where to get the upper part of the dress or how to construct it but I'm guessing you can crochet something similar. The bottom part would be breezy to make, though. On top of that, you'll love wearing it. Nothing like a bouncy silk dress to make you feel like a princess!
---
6

Up-do Mini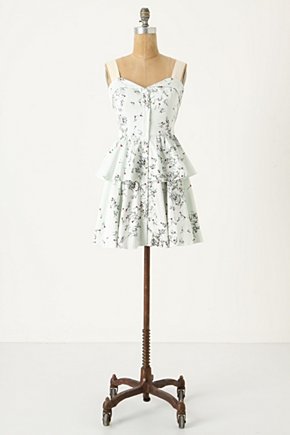 Price: $348 at anthropologie
With that price, I'm willing to sacrifice several days making my own version. Perhaps something similar in black fabric? You can easily turn this into a DIY LBD. The layered bottom and sweetheart neckline will make your version a non-boring little black dress.
---
7

In the Abstract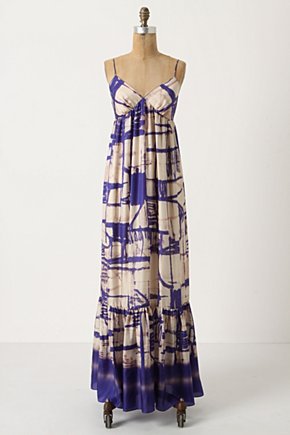 **Price: **$248 at anthropologie
Will require a couple of meters of fabric but this is very easy to sew. If you can find fabric that comes with an interesting print that you can use for the bottom layer, that would be awesome. This will be your go-to dress for the summer.
---
8

Cockatoo Feather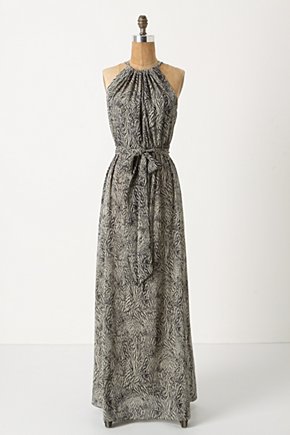 Price: $478 at anthropologie
Another easy maxi dress that you can make. Even though this will involve more fabric than a shorter dress, I guarantee that it will only take you up to 3 hours to make (without lining). This is why halters are my favorite types of dresses to sew.
Now if you have money but no time in the world to get it on with a sewing machine, you can buy the pieces here that you like. But if want to get your craft on, these are fun and easy dresses to consider. Tell us, which one do you think will be fun to sew?
---
Comments
Popular
Related
Recent