What's my favorite part of the holiday party scene? Is it the great food and drinks, the festive party scene, or spending time with friends and family? It's all three, actually, and one more — finding the perfect party dress, and rocking it at an amazing party! I've spent a couple of hours scouring my favorite online shops for a few new party frocks, and here's what I've found… here are 8 hot holiday party dresses!
---
1

Crimson Intentions Dress
Price: $79.99 at modcloth.com
This dress is so adorable, perfect for taking a holiday party by stylish storm! I love the red and black plaid and the full tulle skirt… I'd wear this with a pair of black stilettos and bring along a slinky black wrap.
---
2

Trellis Beauty Dress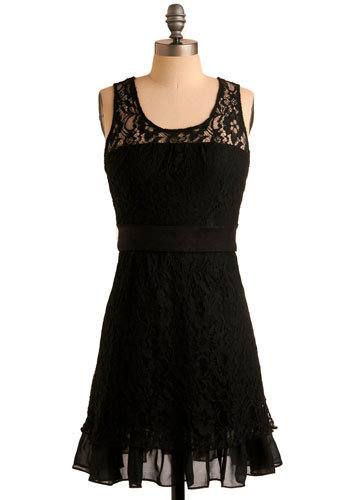 Price: $49.99 at modcloth.com
This is a Little black Dress with lagniappe — a Cajun word that translates to "a little bit extra." It's so unique, with so many gorgeous details, from the black lace overlay to the lattice pattern in the back. Pair with silver or gold peep-toes and an updo, so everyone can see the detailing in back.
---
3

Glimmer like Gold Dress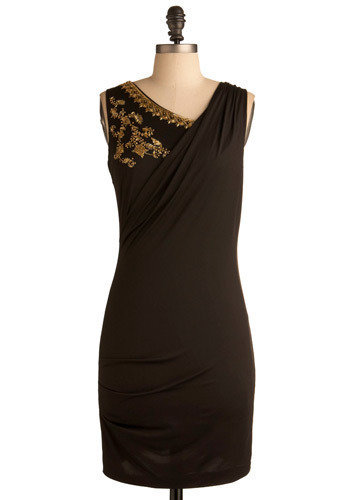 Price: $97.99 at modcloth.com
This dress is already on its way to my closet. It's form-fitting, sexy, and gloriously rich, with gold beading on the shoulder and around the scoop back, and flattering ruching in front. The sexiest detail is the tie in back… I'm going to wear it with mate gold peep-toe platforms… I can't wait to wear it!
---
4

Bright Lights Dress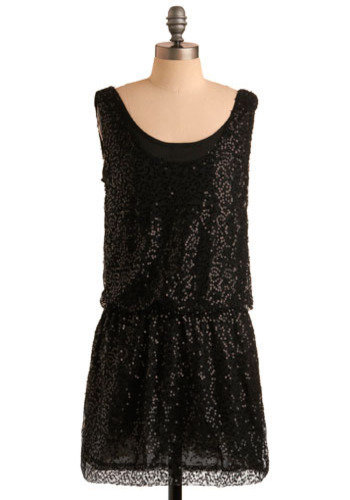 Price: $54.99 at modcloth.com
This Little Black Dress is more than just eye-catching glitter. It's got style so spare, and can be dressed up or down depending on the accessories you pair with it. Ankle boots and seamed stockings? Casual rocker girl. Strappy sandals and a simple cardigan? Getting dressier. A lush silk wrap and a gorgeous sequined headband? Ready for a holiday party!
---
5

Destined for Stardom Dress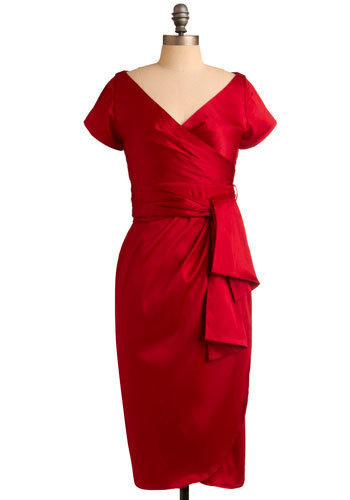 Price: $107.99 at modcloth.com
Red is powerful, chic, elegant, attention-stealing, sexy. This dress is all pin-up or starlet style, perfect for pairing with a faux fur wrap and high heels and kohl'd eyes. All that's missing after that is a glittering rhinestone necklace, matching earrings, and a sizzling updo.
---
6

Atop the Grand Staircase Dress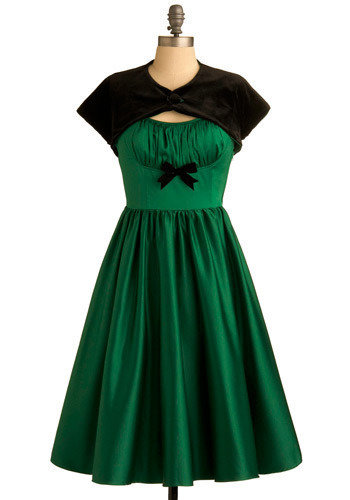 Price: $117.99 at modcloth.com
Would this gorgeous green frock be too much for a holiday party? I hope not! It's so pretty, so ladylike and flattering to so many figures. I adore the little black velvet bow on the bodice and the matching shrug. I'd wear this with black velvet pumps and perhaps a velvet headband. The green's not too much, is it?
---
7

Gather Your Glitz Dress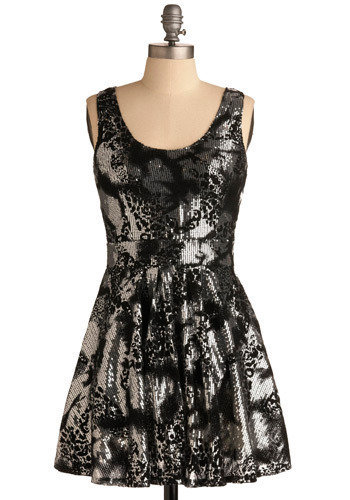 Price: $67.99 at modcloth.com
This dress is for any holiday party, or ANY party, where dancing is on the menu. Pair with red or black heels and a matching bag, along with your best red lipstick, and get ready to get noticed!
---
8

On the Spiral Stair Dress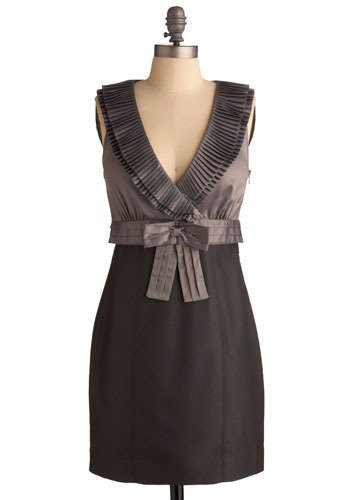 Price: $74.99 at modcloth.com
Not every complexion is flattered by glitzy, tawny gold. Some girls look much better in a gorgeous bluey-silver, like this one. The details are sumptuous, especially the deep-v, ruffled neckline, making this dress party-ready with the addition of a pair of black heels. So pretty!
With so many hot holiday party dresses, in so many styles, there's bound to be one for you on my list! Which of these dresses do you like best, and what would you wear it with? And where would you wear it? Please let me know!
More
---
Comments
Popular
Recent