Are you gals ready to welcome the New Year? Already got your parties lined up? How about the dresses? No? Well, this is your lucky day because I have found cheap but fabulous frocks to rock this new year. Let's check them out!
---
1

Lace and Darts Dress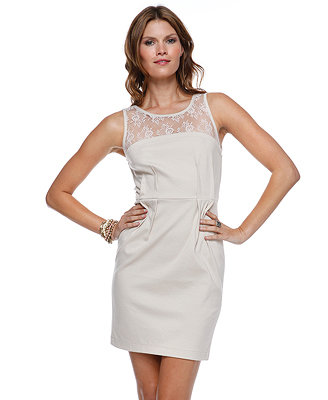 Price: $19.80 at forever21
If you happen to have a new year lunch or a day event, this classy white lace dress is a perfect choice. I am thinking this will be perfect for that modest or casual dinner with your boyfriend's family. What do you think, ladies?
---
2

Fab Satin Sweetheart Dress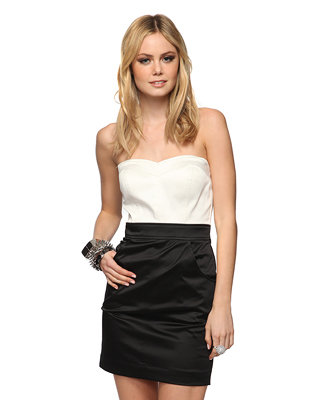 Price: $13.50 at forever21
Not only will this be perfect for new year's eve, this can also be worn in many occasions throughout the year. From a Valentine's Day date to a wild night out in Vegas with the girls to your work Christmas party next year. Plus really, you can't go wrong with satin.
Trendinig Stories
More Stories ...
3

Fab Satin Dress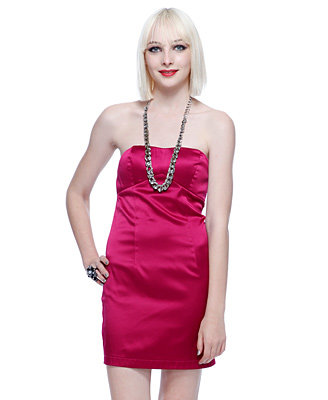 **Price: **$11.50 at forever21
This cheap but beautiful tube dress comes in several colors but getting this magenta one will be perfect for meeting 2011. After all, the color for 2011 is very close to the color of this dress. Pair this with turquoise accessories and you're good to go.
---
4

Velour One Shoulder Dress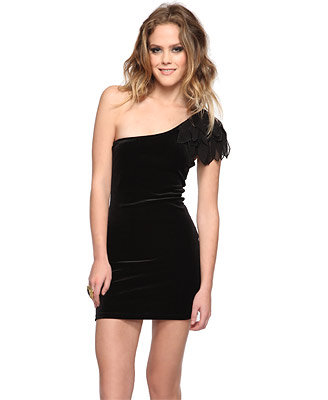 **Price: **$17.80 at forever21
How gorgeous is this one-shoulder dress? A simple one-shoulder LBD is fine but with the added shoulder details of this dress, you will surely become one sultry seductress at any new year's ball you will be attending. You'd better be ready for all the kisses you'll get once the clock hits zero.
---
5

Ruched Panel Dress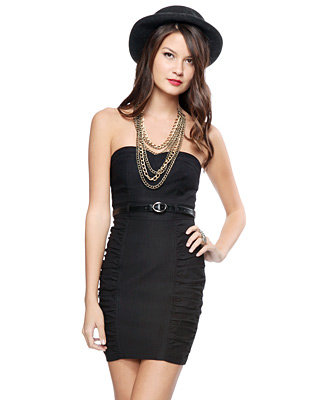 Price: $19.80 at forever21
This ruched dress can be quite versatile. Let's say you have three types of events to attend come new year's eve. Do not worry because this dress can be your perfect companion for all events. Quite dinner? Check. Drinks with the girls after? Check. Wild party with friends after the cocktails? Check!
---
6

Fab Ruffle Layers Contrast Dress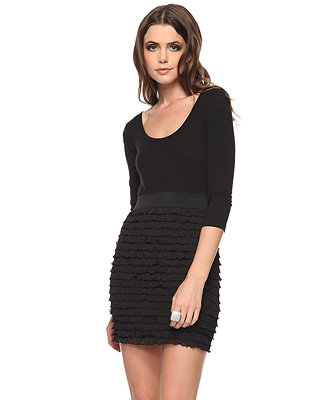 **Price: **$14.50 at forever21
This is a great alternative to the white dress I listed above. Some of us have to look modest while welcoming 2011. Now this does not mean dull. You don't have to look like you forgot the meaning of "stylish." Don this ruffle dress and you'll look stunning without looking like you're willing to spend the first day of the year in a booze-induced stupor.
---
7

Tahiti Halter Dress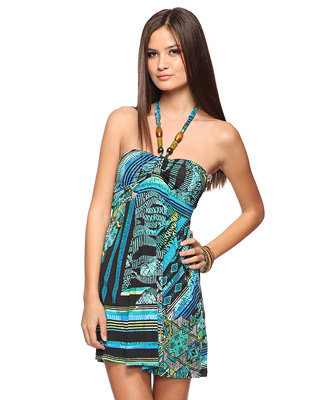 Price: $17.80 at forever21
Some of us are lucky enough to be welcoming the new year in a beach somewhere. *envious* If you are one of these lucky ladies this year, this halter dress can be the perfect NYE companion. Grab a black clutch in one hand and an ice-cold pina colada in the other and you're golden. Of course, you can always drop those and choose to hold hands with your beach holiday fling. That's also a good idea.
---
8

Voluminous Floral Dress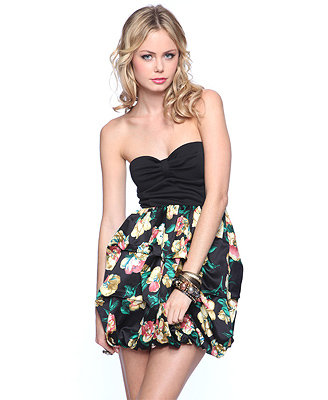 Price: $19.80 at forever21
This tube dress is perfect for several reasons. One, the flower print is just lovely in my opinion. It's not the type of flower print that looks too casual; you can definitely wear this to a new year's eve party. Another reason this dress is great is that the bottom part balloons out. In other words, you can pig out without fearing that your dress will give you away.
---
Comments
Popular
Related
Recent