I love tunics! They look marvelous with everything from patterned tights and leggings to skinny jeans and high-waisted trousers, dressed up or down to suit any occasion. I've been seeing lots of tunic in all of my favorite online shops, including ModCloth, and I'd love to share my favorites! Here are 7 lovely tunics!
---
1

Space and Time Top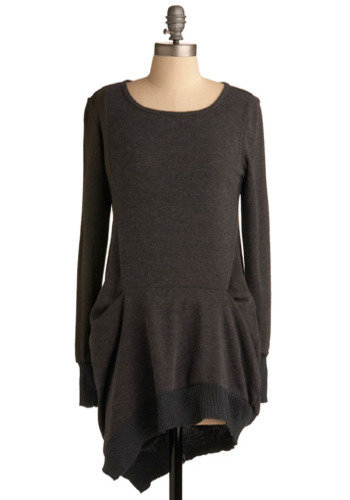 Price: $54.99 at modcloth.com
It takes a bold girl to wear a tunic with so many unique details, but you're just that sort of girl, willing to take fashion risks anytime, anywhere. Pair this with your favorite plaid or patterned leggings, boots, and a cute hat for max impact. The slate grey color is neutral enough to wear with almost anything, but do you dare?
---
2

Ski Lift Tunic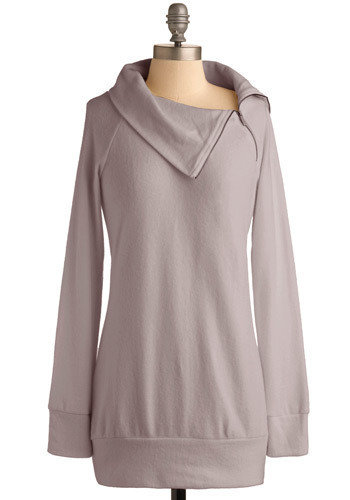 Price: $49.99 at modcloth.com
Whether you plan to hit the slopes or just sip cocoa but the fireplace in the ski lodge, this tunic is ideal for your winter wonderland get-away. The soft dove-grey color will make any complexion glow, and the asymmetrical zipper at the fold-over collar is so chic! Wear this tunic with a pair of knit leggings or skinny jeans and your favorite cozy boots.
---
3

Song of the Nightingale Tunic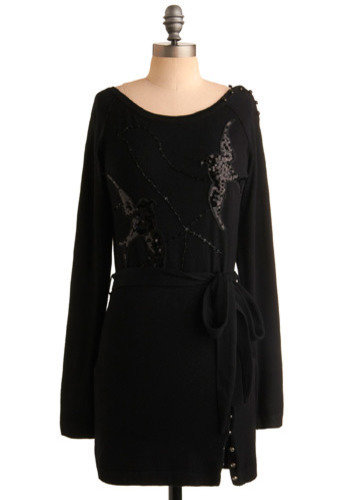 Price: $57.99 at modcloth.com
This is the tunic equivalent of the LBD, with glittery sequined birdies floating across the front, buttons at the neckline, a belted waist, and a slit in the hem. Layer over any leggings or tights, especially if they're lace patterned, and add a pair of inky black heels for extra elegance.
---
4

Rust and Relaxation Tunic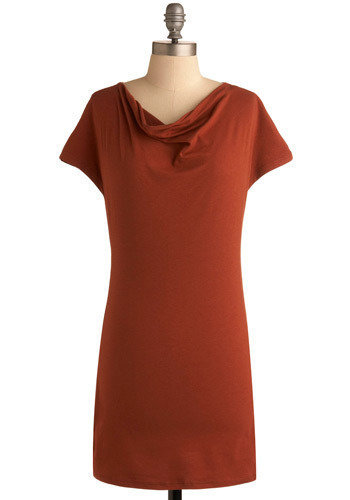 Price: $32.99 at modcloth.com
This is the ideal tunic for layering with all of your winter-time favorites, from a sweater to a vest to leggings and jeans and more! The rust adds a pop of color to any grey winter day, and the soft draping neckline is so flattering. Layer over and under anything you like, add flats or boots, and you're ready to go!
---
5

Silver Rain Tunic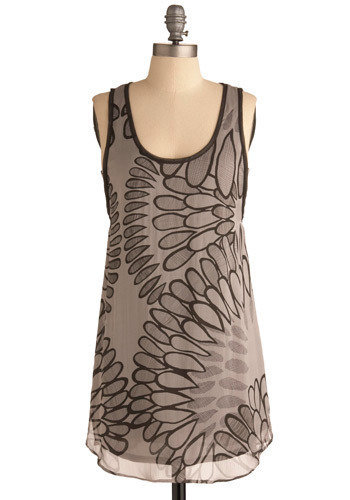 Price: $64.99 at modcloth.com
I'm not normally one for loud prints, but this one speaks to me. It says, "I'm silk, soft, shapely. Wear me with black leggings and knee-high boots for a look that will take you through winter and into spring." All you need is a belted cardi and I think the tunic is right!
---
6

It Takes Tunic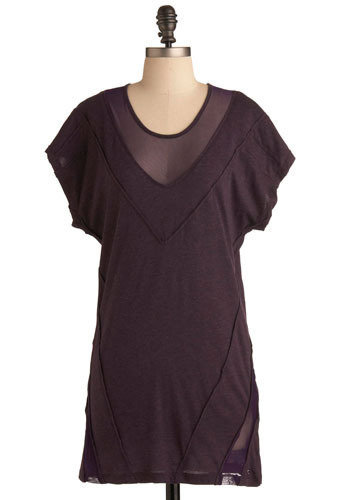 Price: $54.99 at modcloth.com
I love the rich plumy color of this tunic, perfect for brightening your complexion and matching with everything in your closet, from that creamy white cardi to those pale blue skinny jeans and those pretty brown flats. Prints too! Look closely: the mesh panels at the neck, sides, and sides are so cool (literally).
---
7

So Cool, It's Hot Tunic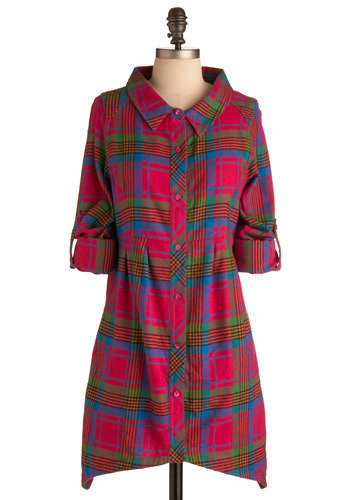 Price: $99.99 at modcloth.com
If you're mad for plaid, then this is the tunic for you! The plaid is hot, all bright pink and neon orange and lime green, perfect for wearing all spring and summer, or for just feeling warmer than it is! Pair with leggings or skinny jeans and boots (for cold weather) or flats (for warm weather). Gorgeous and oh-so-hot!
Those are just a few of my favorite tunics, and I can't wait to wear them… the ski lodge sweater is on its way and I'm still debating between the purple one and the rust one. What do you think? Which of these tunics do you like best, and how would you wear it? Please share!
More
Comments
Popular
Recent