For a girl who loves wearing dresses, I sure do have a lot of tops… which is fine, since I can wear them with my favorite skirts, and still feel completely feminine and girlie! I have a few fave designers who specialize in offering the cutest tops with a distinctly retro feel, and near the top of my list is Nick & Mo. A quick peek at this list will illustrate why! Here are 7 fab retro tops by Nick & Mo.
---
1

Fall Flowers Cardigan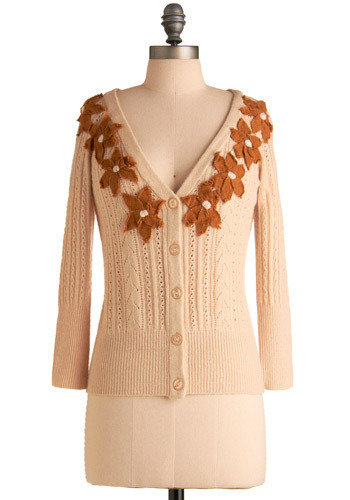 Price: $72.99 at modcloth.com
Celebrate fall all year long with this gorgeous heavy-weight cream cardigan. Across the shoulders and bust dance rust-colored wreaths of leaves, ideal for adding a touch of autumn finery to dark-wash skinny jeans and calf-skimming frocks.
---
2

Desert Sunrise Top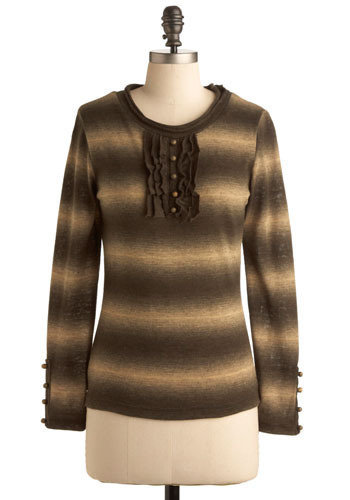 Price: $30.00 at modcloth.com
Finely knit is the softest of blacks and browns, with a ruffle detail and five brass buttons on the bodice (and four on each cuff), this sweater is ideal for pairing with an a-line skirt and boots, or with skinny jeans and flats. The colors are neutral enough to wear with almost any color, but I think it would look gorgeous with a rusty red or deep yellow.
---
3

Call It a Char-truce Shirt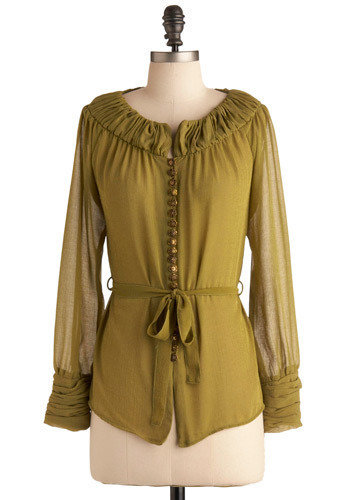 Price: $62.99 at modcloth.com
Looking for a modern interpretation of a classic poet's shirt? This would certainly work, done in sheer chartreuse with a subtle black pattern. Note the ruched cuffs and the gorgeous, unique neckline, and a long row of tiny brass buttons down the front. Pair with a black skirt or shorts and ankle boots or flats, and a pair of chandelier earrings to match.
---
4

The Meaning of Style Top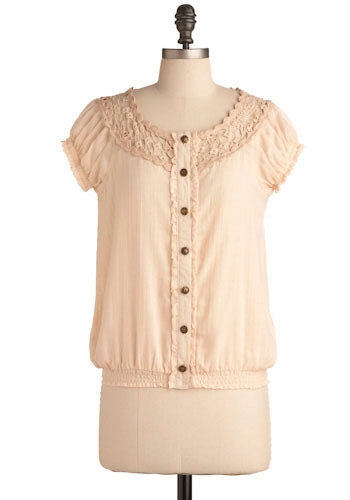 Price: $56.99 at modcloth.com
What a lovely layering piece, ideal for wearing with a cami or a cardi, a skirt or shorts or jeans, leggings or tights. The color is a creamy neutral peach, with an elasticized hem, ruffles down the buttoned front, a lace neckline, and sweet cap sleeves.
---
5

Half Moon Top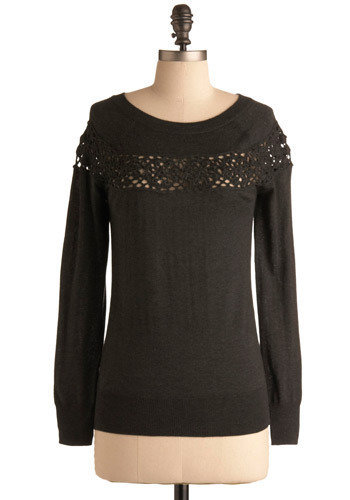 Price: $66.99 at modcloth.com
Sometimes a singular lush detail can make the difference between a bland top and one that's stunning. For instance, take a look at this slate grey sweater, very ordinary except for the crocheted panel just under the neckline. Now it's enchanting, interesting, pretty, ready to be paired with a pencil skirt and patterned tights, or with skinny jeans and tall boots.
---
6

Run Forrest Top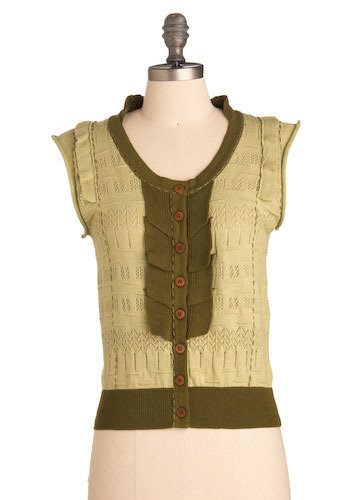 Price: $61.99 at modcloth.com
There are so many things about this top that make me sigh. The colors, the knit, the pleat down the front of the bodice. I'd wear it with a floral-print skirt or cuffed linen shorts… or with light-wash skinny jeans and flats… But whatever I decided to wear it with, I'd have to wear a wooden bead bracelet to match the buttons.
---
7

Harvest Time Coat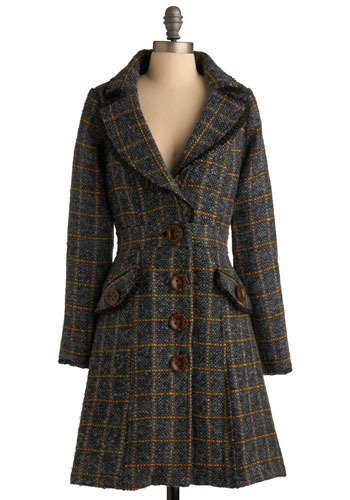 Price: $129.99 at modcloth.com
I know that technically a coat isn't a top, but you need something cute to wear OVER all those tops, right? And this darling ruffle-trimmed coat is just the thing, in charcoal grey wool with a nearly-plaid print of deep gold. Add a knit scarf for extra coziness, and render all of your other coats obsolete.
Now do you see why I love Nick & Mo? They're fashion-forward with a vintage feel, and all of their pieces are so super-cute! Which of these tops do you like best, and what would you wear it with? Please share!
More
Popular
Recent