My first experience with the design team at Kenise girl was with shoes, divine shoes. I fell in love with the brand before I even knew they made anything else, but once I discovered their other goodies, like skirts and tops, I became a loyal fan. If you love their shoes, and have yet to see their super-cute tops, keep reading! Here are 7 adorable tops by Kensie Girl.
---
1

Pleasant and Melon-choly Cardigan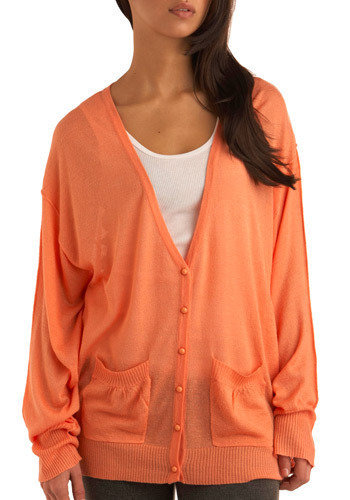 Price: $39.99 at modcloth.com
What a gorgeous way to add a pop of color to an LBD or to a bland office ensemble! This dolman-sleeved cardi is a sweet melon color, sure to flatter every complexion. Wear it over a tank and skinny jeans, or a pretty floral-print dress. So cute!
---
2

Hey, Hot Stuff Sweater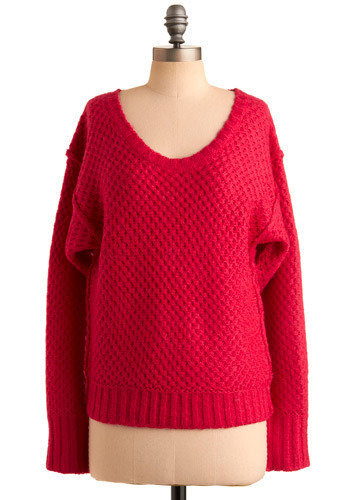 Price: $58.99 at modcloth.com
What to wear, what to wear? You stand in front of your closet, already wearing a grey pencil skirt, patterned tights, and sleek black Mary Janes… ah yes! This gorgeous pink diamond-pattern knot sweatshirt, roomy and comfortable and still chic. Now just grab a slouchy scarf, a cute handbag, and you're all set!
---
3

Nori Salad Sweater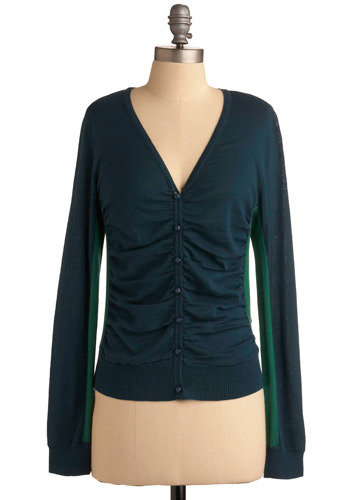 Price: $48.99 at modcloth.com
This cute cardi is sure to bring out the blue of your eyes, or the green. It's also quite figure-flattering, with ruching down the front and a slinky curvy fit. Pair with plaid leggings or a floral-print kirt, add neutral shoes and a bag, and your prettiest pink lippie. Gorgeous!
---
4

Crown of Clovers Top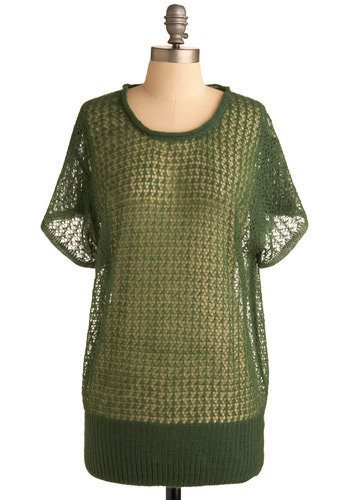 Price: $58.99 at modcloth.com
You already know which pretty floral dress you'd like to wear this Saint Patrick's Day, but what to wear over it? None of your cardis or blazers will do… then you spot this open-knit sweater in the prettiest of greens, and your clothing choice is clear. Once you've done wearing it on March 17, you'll also want to wear it with a plain tank underneath and cute cuffed shorts.
---
5

North Highlands Cardigan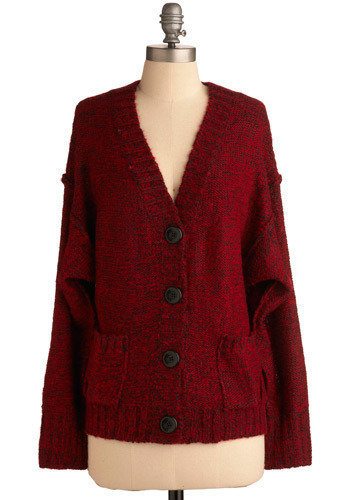 Price: $68.99 at modcloth.com
Apparently named after the Brooklyn-based indie band, The North Highlands, this sweater is ideal for wearing while listening to any of their songs, or even attending one of their shows. It's a gorgeous red color, with deep pockets (ideal for stashing a lippie and keys) and an ultra-cozy knit acrylic construction. Pair with a black pleated skirt, matching tights or leggings, and tall lace-up boots.
---
6

Martha My Deer Sweater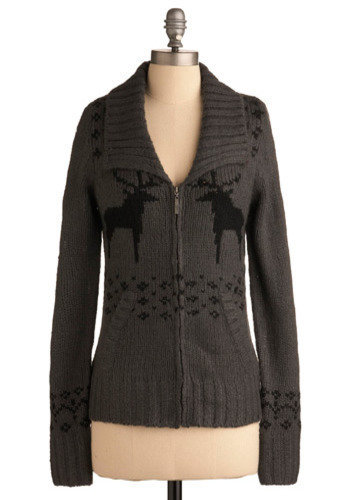 Price: $68.99 at modcloth.com
Ideal for celebrating the start of winter, or the end of it, this adorable zip-up cardigan features to prancing deer and a tall stand-up collar to keep the wind out. Pair with inky black leggings and fuzzy boots, or with dark skinny jeans and ankle booties for a winter-friendly ensemble.
---
7

Dot Com-mander Top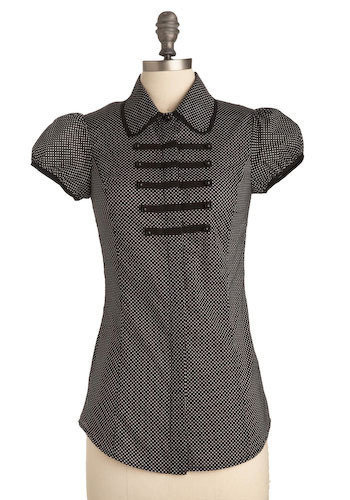 Price: $43.99 at modcloth.com
Whether you're off to work or a night out with the girls, this military-inspired yet still incredibly feminine top is just the thing top wear. I love the deal on the bust, and the flattering princess seams. Pair with a black pencil skirt and heels, or with a pair of shorts, anklets, and oxfords, depending on your destination.
Now that you've seen just a few from the range of adorable tops from Kensie Girl, you must be a fan, too. I adore that green short-sleeved sweater… wouldn't it be cute over a summer dress? Which of these Kensie Girl tops do you like best, and what would you wear it with?
More
Comments
Popular
Recent