Graphic t-shirts and tops often come in and out of fashion. Some are big and bold, while others are more subtle. The messages they sport can range from the obscene to more meaningful forms of prose. Below are just a few t-shirts that tell it like it is.
---
1

Forever21 Love All Tee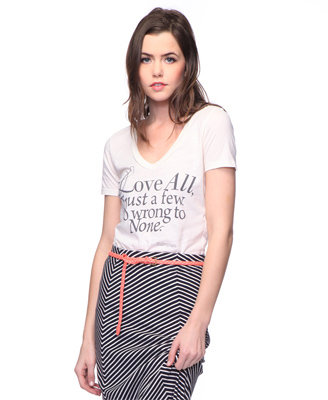 Price: $10.32 at forever21.com
Literary lovers will lust after this tee. It features a Shakespeare quote of "Love all, trust a few. Do wrong to none". Wise words to live by. This top is a simple design and can be easily incorporated into your day-to-day wardrobe. If you're after a new motto, try this one on for size!
---
2

Three Vices Pocket Tee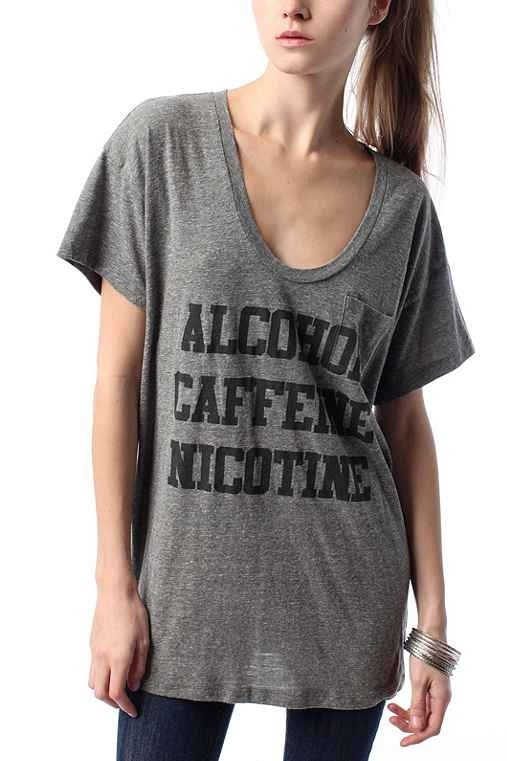 Price: $28.00 at urbanoutfitters.com
What are your vices? This tee outlines three of the most common vices out there. If you tick all three, maybe this is just the shirt for you. However, even if you don't, this is still an edgy looking t-shirt which can be worn by all.
3

Forever21 Oui Oui Oui Top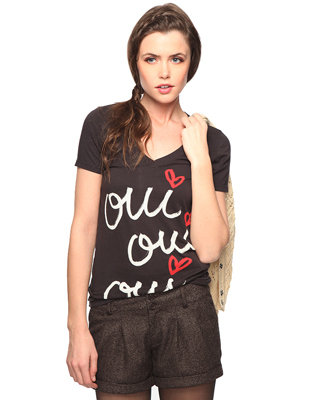 Price: $12.90 at forever21.com
Yes, yes, yes! That's my reaction to this top. If you've got something to say, why not say it in French? Everything sounds better in the French language, right? This top is perfect for all the Francophiles out there!
---
4

DimePiece La Mode Crop Tee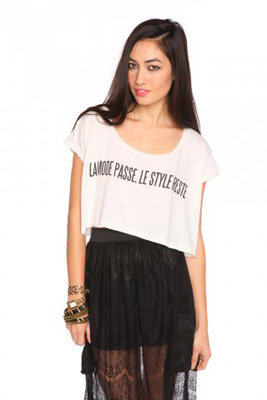 Price: $48.00 at shopnastygal.com
This crop tee sends out one of the most fashionable messages out there. Translated, it reads Coco Chanel's infamous quote of "fashion fades, style remains". The cropped style is perfect for pairing with high waisted denim. Wear this shirt with pride, and wear it with style.
---
5

Forever21 Happy Knit Top

Price: $14.90 at forever21.com
If you're happy and you know it… wear it on your shirt! Let everyone know exactly how you're feeling with this shirt. The cute smiley face and "happy" printed across the front will definitely get the message across. And even if you are down and out, wearing this shirt is a sure fire way to lift your spirits!
---
6

Wildfox Sparkle Heart Sweatshirt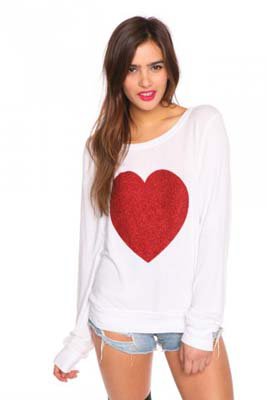 Price: $108.00 at shopnastygal.com
Sometimes you simply don't need words to get the message across. This sweatshirt is just one example. You can wear your heart on your sleeve, quite literally! Well, close enough anyway. The giant glittery heart on this sweatshirt makes for one novel way to share the love.
---
7

Forever21 Owl Be There for Your Tee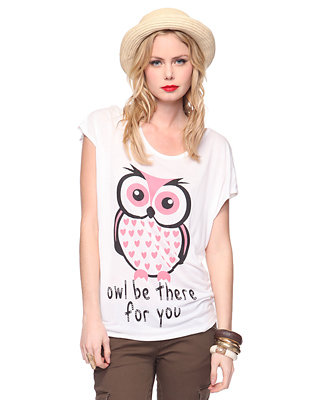 Price: $13.80 at forever21.com
This shirt combines my love of owls and plays on words. Plus it's super cute. If you are the one that your friends are always leaning on for support, this shirt is definitely for you! Let your friends know that you're there for them with this little owl number. It's bound to put a smile on faces wherever you go!
If you need to get a message across, then maybe one of these tops will help you do so. Which one of these could you see yourself wearing?
Top Photo Credit: extraverage
More
---
Comments
Popular
Recent