Celebrate spring with a fancy new floral top, perhaps something botanical, rather than abstract. There are so many lush botanical print tops to choose from, all of them only lacking a pair of skinny jeans or a pencil skirt to make an effortlessly lovely spring ensemble. Here are 7 gorgeous botanical print tops…
---
1

Arbor Vines Top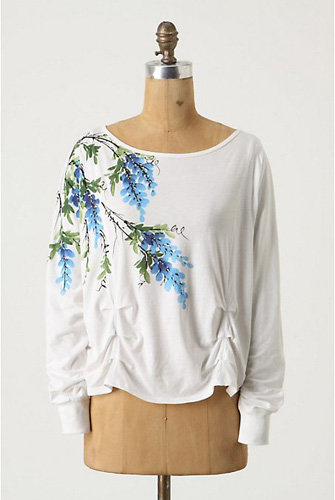 Price: $78.00 at anthropologie.com
My very favorite springtime flower is the wisteria, and the blue wisteria that drape themselves across the right shoulder of this long-sleeved cropped tee are just as gorgeous as the ones across m backyard arbor. Pair with skinny jeans or a pair of cuffed linen shorts and add a pair of espadrilles for effortless summer style.
---
2

Lush Amalgam Top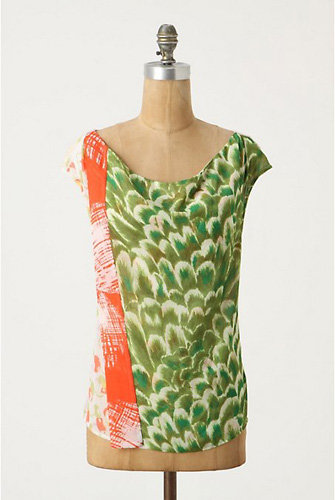 Price: $78.00 at anthropologie.com
This top is so lush, it's sure to provide a constant reminder of the verdant tropical forest you love most, even if it's just in your imagination. Aside from the leaf green print, this top also features a flattering draped neckline and short capped sleeves.
3

Infinite Garden Top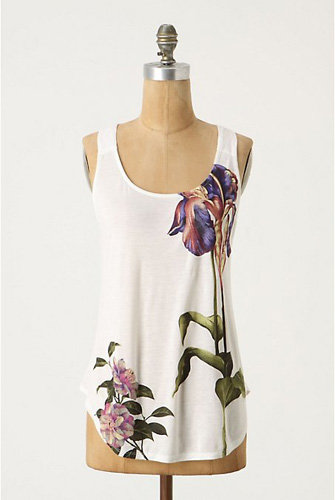 Price: $58.00 at anthropologie.com
There are so many things I love about this tank, it's hard to decide where to start. To start, I adore the realistic botanical print on the front and back, especially the irises along the left shoulder. The gathering in the back is clever, too, and the length is flattering and versatile.
---
4

Top Picks Tank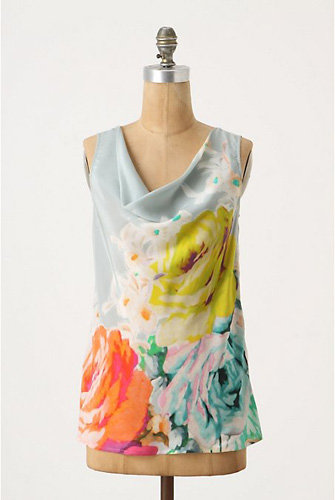 Price: $98.00 at anthropologie.com
If your top picks happen to be roses, then this pastel-hued silk tank was made for you! On the front it features a trio of gorgeous blooms, one for each primary color, delicately shadowed. The tank also features a cowl neckline and flattering fitted shape.
---
5

Cinchona Cardigan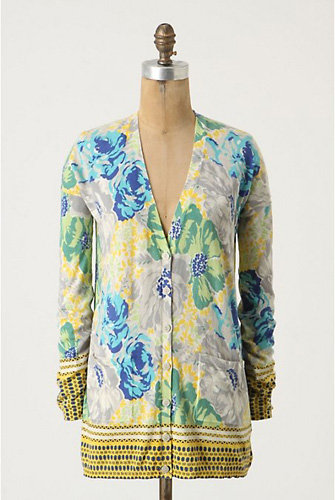 Price: $118.00 at anthropologie.com
This darling cardi by Sparrow is an easy piece to wear this spring, covered by exotic blue blooms, hemmed by rows of stripes and dots in yellow and blue. Pair with cuffed linen shorts or denim capris, layer over a tank or ruffled shell, and enjoy a sunny stroll downtown.
---
6

Hanging Gardens Top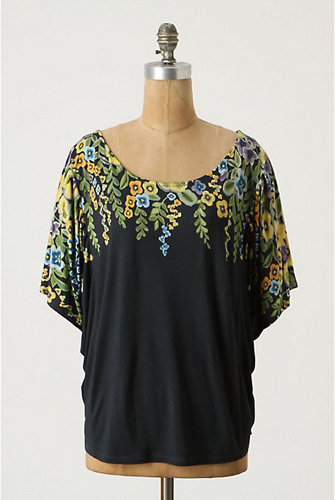 Price: $78.00 at anthropologie.com
This gorgeous rayon tee is the "top" equivalent of the Little Black Dress, just as versatile and flattering. The neckline and dolman sleeves are decorated with frilly hanging vines and flowers In lush greens, blues, and yellows, ideal for pairing with a black pencil skirt or even dark-wash skinny jeans and heels.
---
7

Oil Paints Cardigan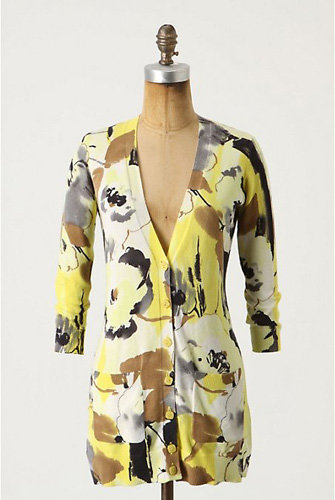 Price: $118.00 at anthropologie.com
Spring has sprung, as is evidenced by the tulips and daffodils in your garden, but the days and nights are still chilly. That's why layering this water-colored cardi by Tabitha over your tank or dress is a good idea. It's also a gorgeous idea, with its botanical print in browns, grays and yellows.
Aren't these botanical print tops all so pretty? I especially adore the tank with the irises… it's so perfect for spring! Which of these lush botanical print tops do you like best, and what would you wear it with? Do tell!
---
Popular
Related
Recent