What doormat greets your visitors when they drop by? The one you have now may already be tattered beyond belief so we give you here doormats in fun designs. Most of these will be great for giving your home a spring-perfect facelift, so get shoppin'!
---
1

Petula
Price: $36.95 at crate&barrel
Pretty flowers to welcome your visitors! Methinks this is better than a vase of flowers on your hall console. This Petula doormat measures 30 by 18 inches and is made of 100% heavy-duty coir.
---
2

Spring Striped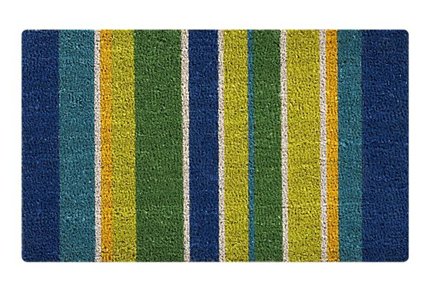 **Price: **$17.95 at crate&barrel
If the doormat above is perfect for a girly house, then this striped doormat is what your boyfriend's apartment needs. I'm not saying that you can't buy this 100% coir fiber doormat if you're a girl, of course. I think this will look perfect in your summer cottage or as the "welcoming party" to your backyard garden.
---
3

Chilewich® Mushroom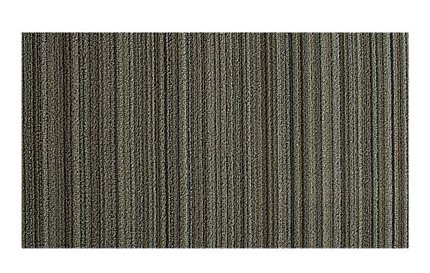 Price: $49.95 at crate&barrel
Yes, it's a bit pricey for a doormat but with this versatile and durable design, you will be getting the best value for your money. Whether you are aiming for that modern look or you think the other items in your room are bright or colorful enough, this doormat is for you. This measures 36" x 20".
---
4

Mod Flowers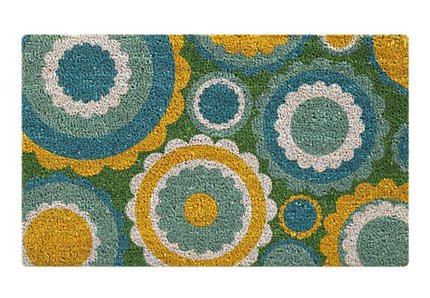 **Price: **$17.95 at crate&barrel
This is the sister of the striped spring doormat listed above. If you want a doormat that will make you smile every time you step on it, this mod flowers piece should be your top choice. Buy it for your dorm room, your little girl's room, or your home office.
---
5

Spoke to You Lately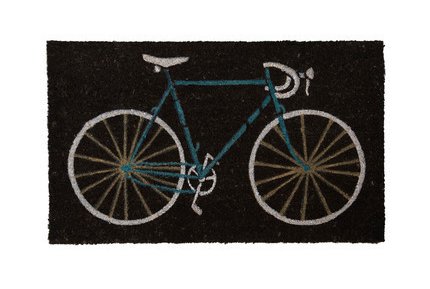 Price: $34.99 at modcloth
Although I don't know how to ride the bicycle, I can appreciate this doormat in fun design.This measures 30" x 18" and fade resistant ink was used to make it. Again, this will be perfect for a summer cottage. It can also be a great doormat for your home gym.
---
6

Chickadee Delight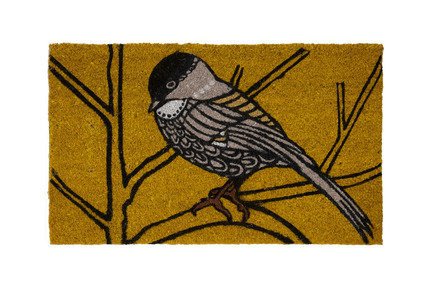 Price: $34.99 at modcloth
I love this for two reasons. One, I love the mustard color. Two, this reminds me of a childhood photo my boyfriend has where he was dressed up for a Chickadee Song performance.
---
7

Tally Home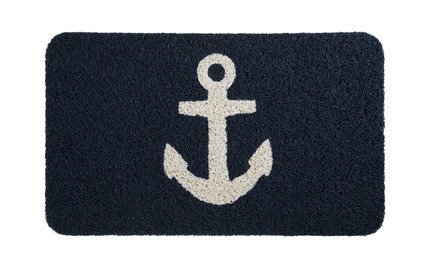 Price: $26.99 at modcloth
Oh the many places where this Tally Home doormat can go! It will be great for your son's pirate-themed room. You can also buy it for your beach house. If you are a beach bum who dreams of living by the shore all year long, this doormat will be perfect for your home.
---
8

Butter My Butt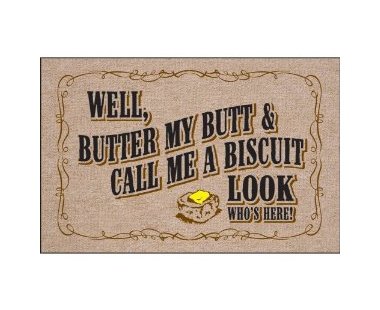 Price: $18.99 at amazon
Ha! This will make your visitors laugh their hearts out every time they drop by. Now this may look like you are always happy to see anyone who knocks on your door but you know what they say, a little enthusiasm goes a long way. This measures 27" x 18" and is made of 100% olefin fiber.
---
9

Go Away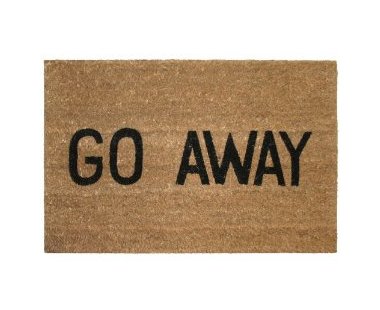 **Price: **$13.95 at amazon
Now people in your neighborhood might abuse your hearty welcome via the doormat above so we suggest you buy this Go Away one as a reserve. For days when you don't feel like seeing anyone, this is your golden ticket. If your life goal is to be a social hermit, put this on your doorstep all year long.
---
10

For Whom the Dog Barks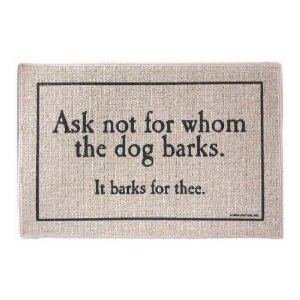 Price: $15.95 at amazon
A list of doormats in fun designs will not be complete without a piece that refers to dogs. Barking dogs scare the bejesus out of me but this doormat will probably ease any anxiety I might have about angry canines.
So, ladies, which of these doormats in fun designs do you fancy? I have to admit that I am leaning towards the GO AWAY one.
More
Comments
Popular
Recent