When the weather gets a bit chilly, socks become a must have accessory. You can keep them hidden under boots, or show them off with some ankle strap heels. If you want a break from basic, plain socks, try ones with fun and frivolous designs. Keep your feet toasty warm with the following sweet looking socks.
1

Topshop Pink Fine Pointelle Ankle Socks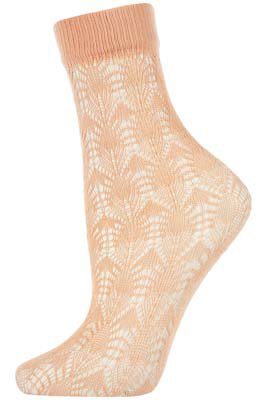 Price: $10.00 at us.topshop.com
These fine pointelle ankle socks are quite delicate looking. They come in a peachy pink colour and are one-size fits all. These socks would be perfect for wearing in spring. Wearing socks with heels is still quite a popular trend, and these socks would be perfect for dipping your toes into the trend.
2

Madewell Pinpoint 1937 Socks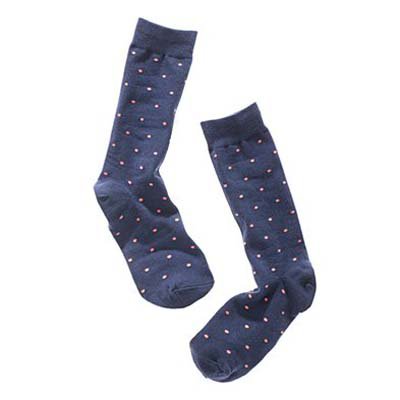 Price: $12.50 at madewell.com
These polka dot socks are simple and sweet. They are a blend of cotton and nylon and are slightly stretchy. They come in three main colour combinations of navy, pink, and cream. These socks would look so cute peeking out from underneath a pair of ankle boots.
3

Madewell Ruffle Top 1937 Ankle Socks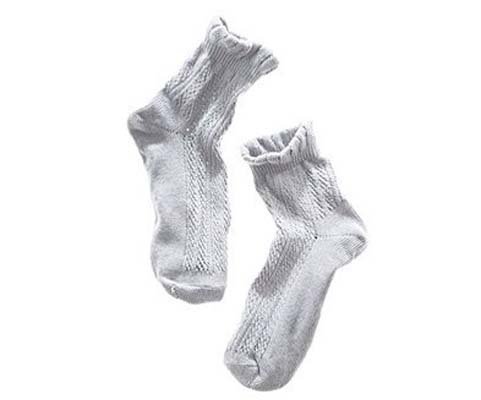 Price: $9.50 at madewell.com
These socks feature an open-weave crochet design. They also feature a slight ruffle at the opening. They are a cotton/nylon blend and come in a range of colours. They would look great with a pair of brogues or oxford shoes.
4

Topshop Cream Pinspot Knee High Socks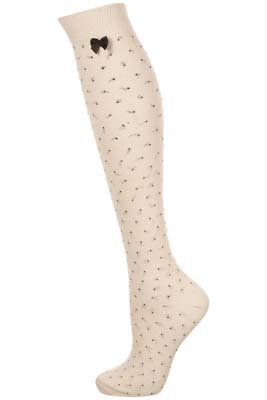 Price: $15.00 at us.topshop.com
These knee high socks are all about girlish charm. They feature a pinspot design and are decorated with a small bow detail. These would make a preppy addition to any wardrobe. Wear them with some Mary Jane shoes to complete the schoolgirl look.
5

Forever21 Lace Trimmed Socks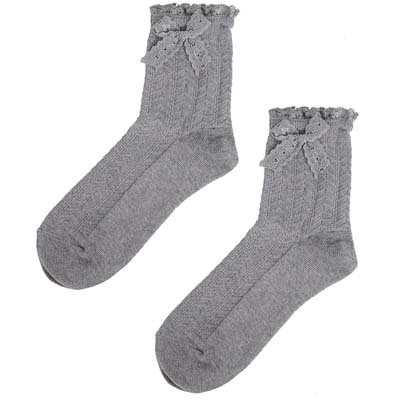 Price: $6.80 at forever21.com
These grey socks are far from boring! They have a herringbone design, scalloped lace trims, and bow ribbon details. They feature a ribbed trim and a solid heel and toe. These would look great worn with a pair of shiny black patent shoes.
6

Topshop Pink Cherries Socks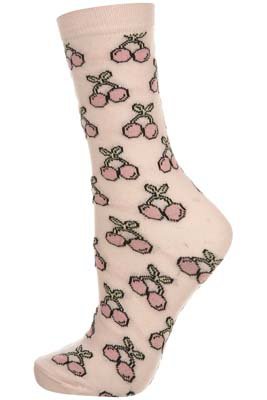 Price: $8.00 at us.topshop.com
These cherry print socks are my pick of the bunch. They are a basic ankle sock, but the cherry design gives them a playful edge. They are made from a cotton blend and are machine washable. These socks are great for wearing around the house, to bed, and beneath boots. Simply put, you won't ever want to take them off!
7

Topshop Peach Lace Trim Knee Socks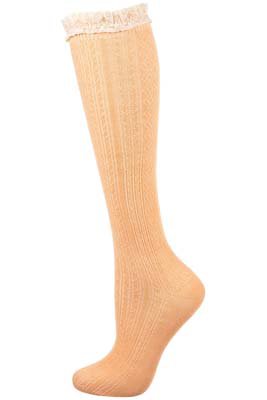 Price: $15.00 at us.topshop.com
These knee socks would make a beautiful addition to any outfit. The lace trim is a lovely design detail. The peach colour is unexpected and eye catching. These would look great worn with a pair of knee high boots, with the dash of colour and lace trim peeking out from the top.
Next time you look at buying a pair of socks, browse over a few of the more playful designs. Which of these sweet looking socks are your favourites?
Top image source: data.whicdn.com