We've all got our favorite Little Black Dress, the slinky or frilly number that makes us look and feel like a superstar, flattering and fetching. Ah, but what about the skirt version, a Little Black Skirt? Keep two or three of them in your closet, and you'll never be stuck for something to wear on date night or Monday at the office. Allow me to explain… here are 7 Little Black Skirts.
---
1

Encore, Encore Skirt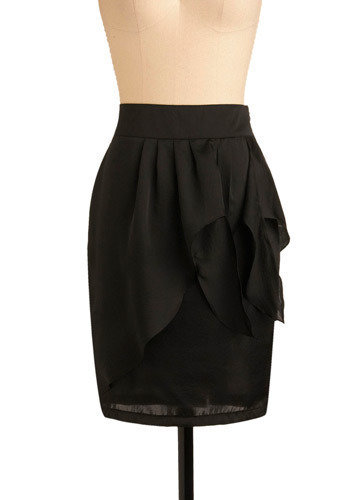 Price: $47.99 at modcloth.com
Look at the pretty ruffle detail along the side of this skirt! Wouldn't this look beautiful with a sheer grey blouse, patterned black tights, and red patent peep-toes? Or a crisp white blouse and yellow accessories? It's hand-washable, made of 100% polyester by Moon Collection.
---
2

Sweet Treat Skirt in Licorice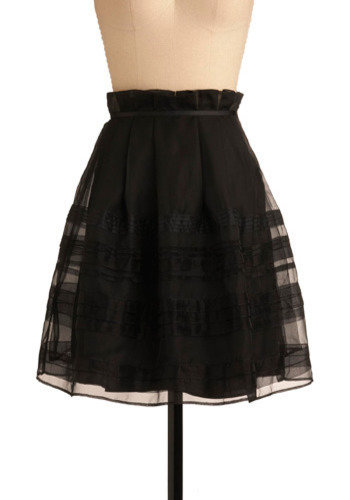 Price: $59.99 at modcloth.com
Ah, another gorgeous black skirt by Moon Collection, this one with a beribboned full skirt and preciously pleated waistline? Wear with a sleek onesie and colorful heels, or with a vintage floral-print blouse and Mary Janes. It's so very pretty!
---
3

Counting Chic Skirt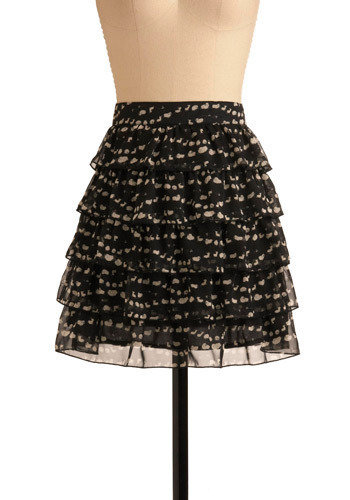 Price: $47.99 at modcloth.com
Are those polka-dots on the tiers and tiers of black chiffon? No… take a closer look… they're tin grey sheep! As they cavort, frolic, and leap, you'll look lovely, especially if you're wearing a white blouse, cropped grey cardigan, grey tights, and patent Mary Janes.
---
4

Pièce De Résistance Skirt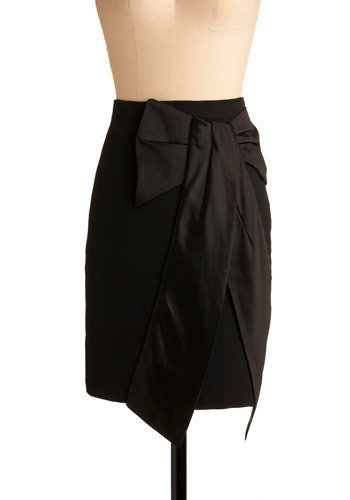 Price: $79.99 at modcloth.com
Sometimes, it's one magnificent detail that makes all the difference. For example, this pencil skirt might be plain, unremarkable, except for the oversized satin bow perched off to the side. Pair with a vintage-inspired puff-sleeve blouse and pearls, or with a sequined tank and a striking cuff bracelet.
---
5

It's in the Stars Skirt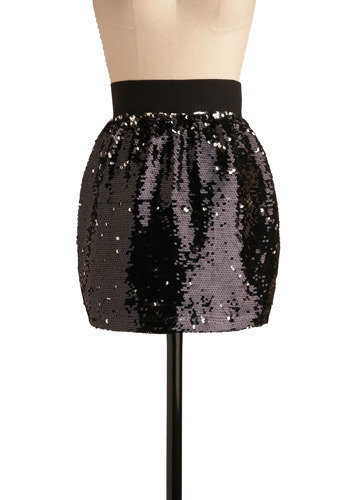 Price: $59.99 at modcloth.com
This delicate, glittering mini makes such a statement. It says, "Wear me!" With patterned tights, ankle booties, opaque or see-through leggings, cropped blazer — anything! I love the thick elastic waistband, and the length makes it so versatile! It may be a little too much (and too short) for the office, but feel free to wear it absolutely anywhere else.
---
6

Eyelash Bat Skirt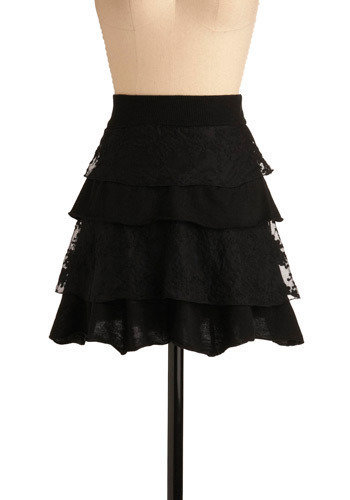 Price: $49.99 at modcloth.com
Ready, set, flirt! A tier of lace, a tier of knit, repeat. This A-line shirt is extremely flattering, though it does run small, hitting just above you knee. Wear with peep-toe pumps and a glittering silver clutch, or with anything deep red. Or… purple? Why not?
---
7

Best Bet Skirt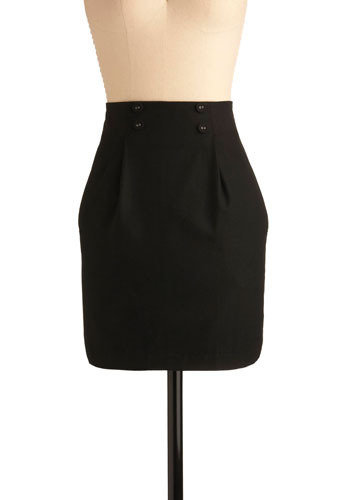 Price: $74.99 at modcloth.com
High-waisted pencil skirts are perhaps the best-kept secret of work-place fashionistas. This one's an ideal example, perfect for anchoring a menswear-inspired ensemble, or going the opposite direction and wearing with a sheer, ruffled blouse and platform pumps.
With so many beautiful little black skirts, in so many styles and price points, you're sure to find at least one must-have to add versatility and splendor to your wardrobe. Which of these little black skirts do you like best, and how would you wear it?
More
Comments
Popular
Recent