I'm a girlie-girl, and as such one of my favorite things to wear is dresses, and even better are floral print dresses. They're so pretty, so versatile, and so easy to accessorize! With spring on the way (soon, I hope) I've been looking for some new floral dresses to add to my closet, and I've found so many I love… I had to share them with you! Here are 8 pretty floral-print frocks.
---
1

Flora Luna Dress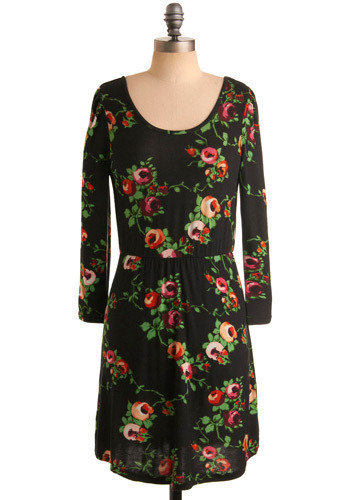 Price: $57.99 at modcloth.com
There aren't many florals I can wear year-round, with Michigan winters being what they are. But this lovely dress is perfect for layering with a cardi, scarf, tights and boots in winter and flats or sandals in the summer.
---
2

Down to the Floor-al Dress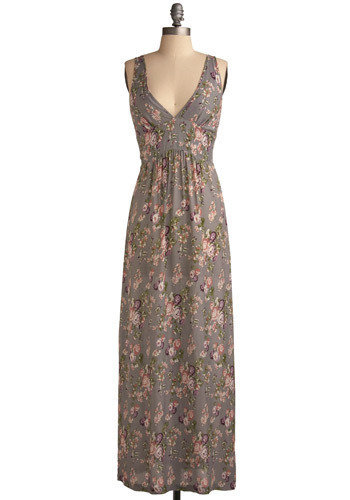 Price: $59.99 at modcloth.com
Just beautiful! This long and lean maxi sheath is stunning, with pink and purple flowers against a blue-grey background. I'd wear this with flip flops and a sun hat for a casual day, or with strappy sandals and an armload of vintage silver bangles for dress.
---
3

Itty Bitty Buds Dress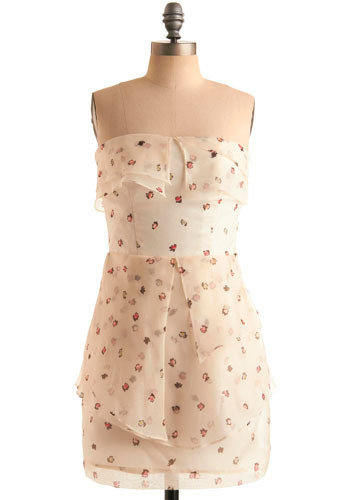 Price: $164.99 at modcloth.com
You'll feel floaty and frilly all day in this lovely slip of a dress. It's made of soft silk with a pose of tiny flowers scattered across it, with layers of sheer chiffon at the neckline and waist to add visual interest as you walk. Pair with strappy earth-tone sandals and an antique lace shawl in olive for a date night he'll remember always.
---
4

Neighborhood Bodega Dress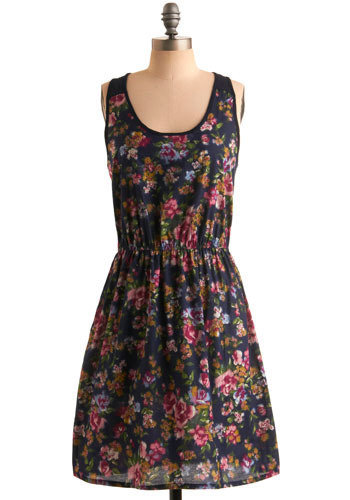 Price: $47.99 at modcloth.com
As wickedly cold as it is right now, I know spring will be here in a matter of weeks, so I've been eyeing this sweet floral print dress. It features a delicate flower pattern against a navy background, and the exposed silver zipper on the racer-back lends the dress a slight punk look.
---
5

Multi-talented Miss Dress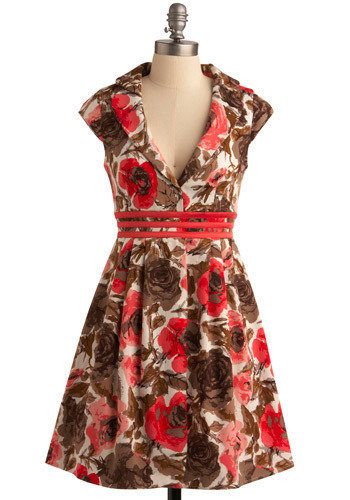 Price: $74.99 at modcloth.com
This dress reminds me of garden parties at The Whitney, the most elegant dining spot in all of Metro Detroit. The big coral and brown roses look great with copper jewelry and pumps, and the cotton spandex bland fabric give a good, flattering fit.
---
6

Letterpress Dress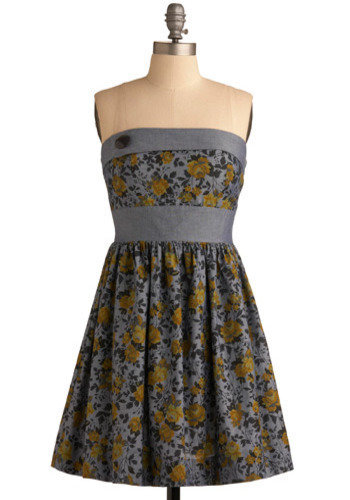 Price: $47.99 at modcloth.com
This may be the sweetest chambray dress I've ever seen, strapless, printed all over with dark yellow roses and green leaves, with a wide strip of chambray at the bust and one at the waist… and one single button on one side of the bust-line. I'd pair this with little oxfords or lace-up sneakers and a shrug (for evening chill).
7

Paint Me a Picture Dress
Price: $74.99 at modcloth.com
This delightfully flattering shirt dress is black with an all-over floral print of tiny pink flowers with long green stems and matching leaves. I love the pearly buttons on the bust, and the half-length sleeves that turn back into stylish cuffs.
---
8

Blooms of Montmartre Dress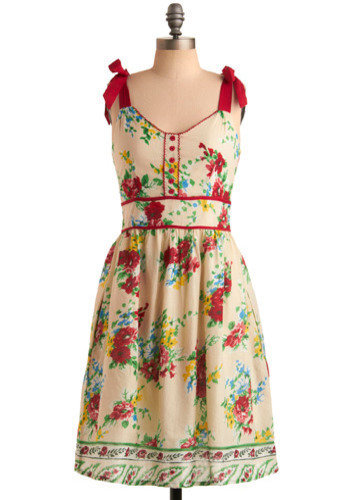 Price: $109.99 at modcloth.com
This is the ideal summer dress, all in bright colors, soft ivory cotton, and little details that make it worth every penny. Notice the slit pockets at each side (perfect for stashing a lip gloss or change purse) and the tiny red flower-shaped buttons, red tie straps, and the red piping. Obvious, this frock was meant to be worn with your best red peep-toe heels or little sandals.
With so many pretty floral-print dresses, I know my spring and summer are sure to be full of flowers, if not outdoors, then at least on my dress! All I need are cute peep-toes, Mary Janes, or sandals and I'm set! Which of these sweet floral frocks do you like best, and what would you wear it with?
---
Comments
Popular
Related
Recent