I love the holidays, and one of my favorite traditions this time of year is choosing and stuffing just the right stocking for all of the kids on my list. My daughters, my niece, my boyfriend's children — they're all so much fun to shop for because they're all so different, with different hobbies, interests, and styles. I always buy their stockings from Pottery Barn Kids, too, because they have so many themes and designs to choose from, and they're top quality! This year's line is no exception, with so many cute, festive stocking to choose from. Here are 7 cute stockings for kids, from my favorite children's décor store, Pottery Barn Kids. Best of all, they're all ready to be personalized for a small fee in just about any script you like!
---
1

Pottery Barn Kids Reindeer Quilted Stocking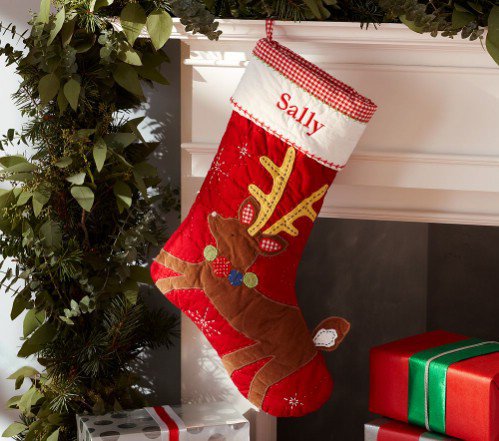 Price: $19.00 at potterybarnkids.com
This mocha brown, charming reindeer is just the right choice to guard your little one's goodies once Santa stuffs the stocking. The stocking is a generous 11" wide by 20" long, roomy enough for a Terry's chocolate orange, new lip balm, and loads of other well-deserved treats.
2

Pottery Barn Kids Velvet Ribbon Quilted Stocking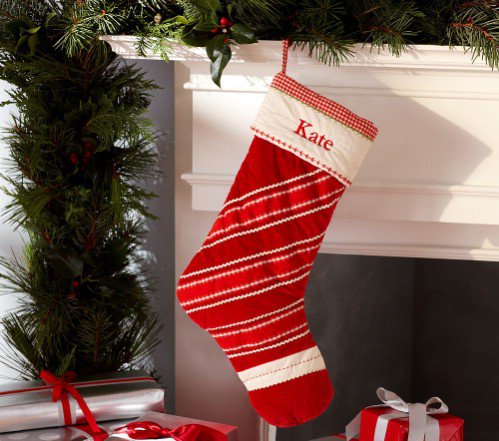 Price: $14.99 at potterybarnkids.com
This pretty velvet and ribbon stocking has borrowed its design cues and styling from everyone's favorite seasonal peppermint treat, hanging right there on the tree — a candy cane! Alternating stripes of cheery red and bright white make this stocking a favorite, for it matches any décor or theme, and can be personalized with your child's name.
---
3

Pottery Barn Kids Baby's 1st Quilted Stocking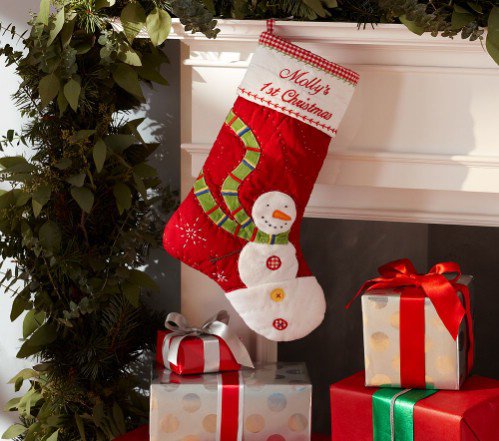 Price: $15.00 at potterybarnkids.com
What an adorable way to commemorate baby's very first holiday season! The stocking is a miniature of the others in the PBK line, measuring 9½" wide and 10½" long. The snowman is festive and appropriate for a baby girl or boy, and the stocking cuff has plenty of room for baby's name. Sweet!
---
4

Pottery Barn Kids Vintage Icon Stocking Collection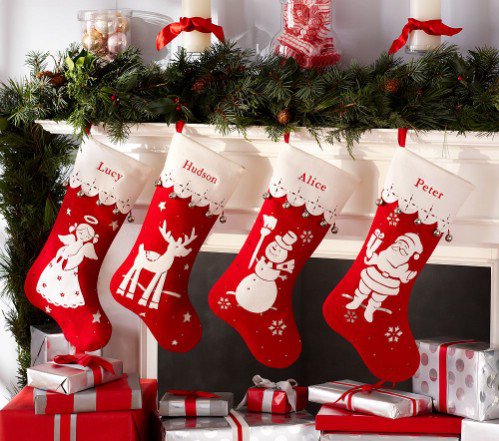 Price: $22.99 each at potterybarnkids.com
These deep red and stark white vintage-inspired stockings feature a truly festive touch — a row if bright silver jungle bells along the scalloped cuff! There are four stenciled designs to choose from (Santa, angel, snowman, or reindeer), so every little one can have their own special stocking, but they'll all still match.
---
5

Pottery Barn Kids White & Red Stripe Fair Isle Stocking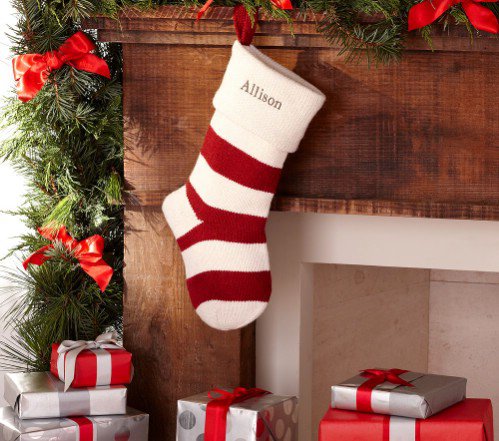 Price: $24.00 at potterybarnkids.com
This cozy knit stocking is exclusive to the PBK website or catalog, and can't be found in stores. It's made of a soft wool-acrylic blend and lined in cotton jersey fabric, like your little one's favorite knit sweater with a tee shirt underneath. Choose from green and red stripes or white and red stripes… both are so cheerful!
---
6

Pottery Barn Kids Red Fair Isle Stocking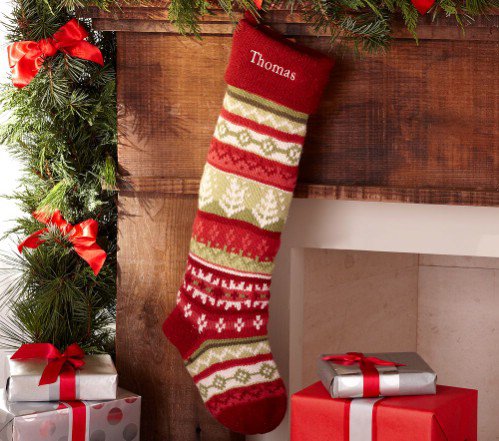 Price: $29.00 at potterybarnkids.com
This pretty, intricately patterned socking calls to mind the sweater Aunt Jennie across the pond used to send each year. You'd wait for her amazing gift for weeks, excited and proud to wear it in all of the holiday photos. Personalize this with your own little Jennie's name, and smile very time you see it on the mantel.
---
7

Pottery Barn Kids Velvet Gingham Quilted Stocking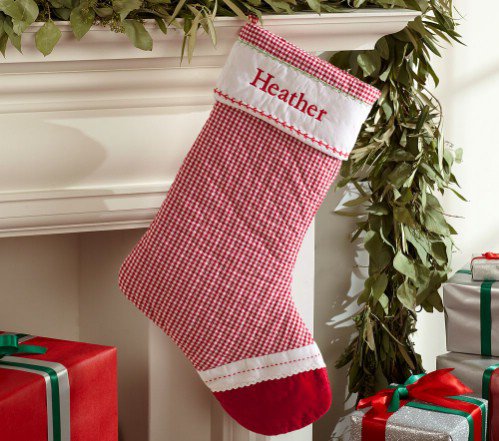 Price: $14.99 at potterybarnkids.com
This is my own favorite of all of the PBK stockings this year, in a simple, pretty gingham in the softest velvet, quilted for extra luxury. It coordinates with almost any holiday décor, and can be used again and again as your little one grows. I love it!
Those are just a few of the pretty, festive stockings Pottery Barn Kids offers this year, and there are so many more, so there's bound to be a stocking that's perfect for all of the little ones on your list! Which of these stockings do you like best, and why? Or have you spied another one somewhere you like more?
---
Popular
Related
Recent