Do you know what you're going to wear on Valentine's Day? If not, I have a suggestion: skip the sultry red and wear something sweet and pink instead! Why not? There are so many ways to wear it, including dozens of gorgeous pink dresses. And here are a few of my favorites! Here are 7 pretty pink dresses to wear this Valentine's Day…
---
1

Blushing Bohemian Dress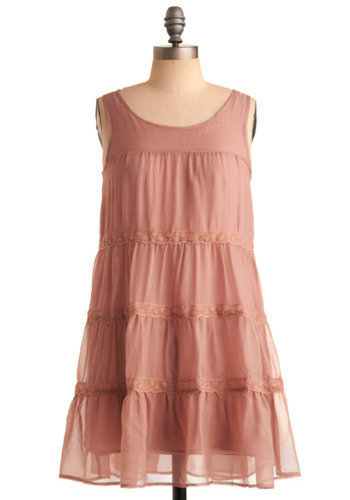 Price: $89.99 at modcloth.com
This is the ideal Valentine's Day frock for the slightly Boho girl, a girl who marches to the beat of her very own drummer. It's made of sheer, frothy pink silk with a polyester lining, and would look lovely with a netted headband, long necklace, patterned tights, and peep-toe pumps.
---
2

Ma Cherry Amour Dress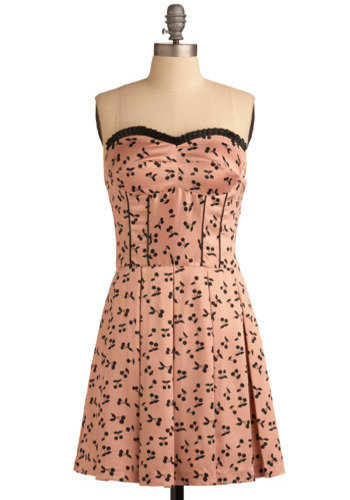 Price: $52.99 at modcloth.com
Retro-inspired, sassy, and strapless, this full-skirted pink dress boasts an all-over print of black cherries, flattering black piping, and black satin pleats at the neckline. Wear this with black patent pumps and a cropped black cardi. Gorgeous… and more than a little sexy!
3

Trench of the Tropics Dress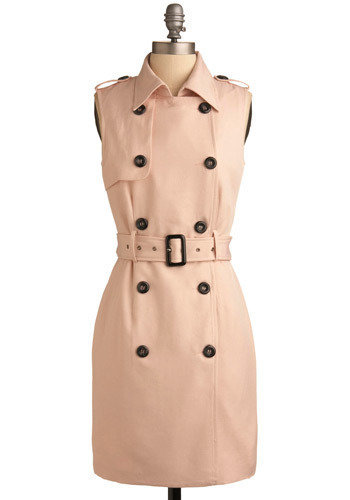 Price: $94.99 at modcloth.com
Oh my, wouldn't you look smart in this double-breasted trench-inspired dress? It's form-fitting, with double rows of buttons down the front and an adjustable, detachable belt to match. Pair with tortoiseshell t-straps and a scarf for maximum boy-catching impact.
---
4

Aren't You a Peach? Dress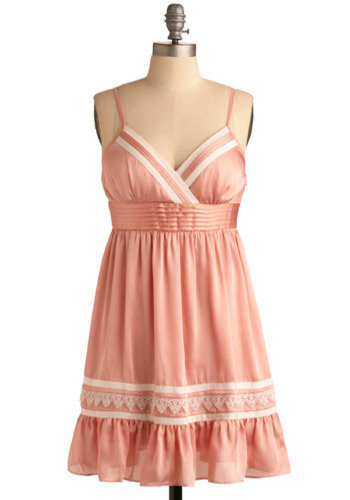 Price: $57.99 at modcloth.com
You'll look a vision in this peachy-pink satin dress, with a flattering empire waist, spaghetti straps, and ruffle and lace details. Pair with a super-soft cashmere cardi, pearl accessories, and a tiny and let him sweep you off your feet this Valentine's Day.
Stephani
and #5 are my favorite :)...
---
5

Romantic Incarnation Dress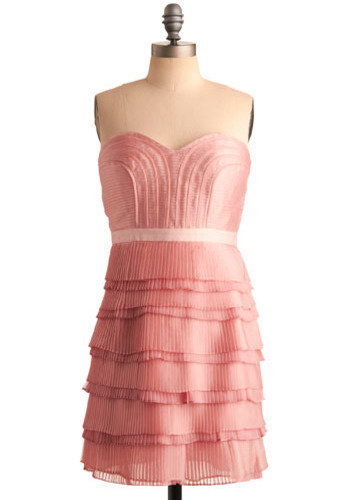 Price: $89.99 at modcloth.com
This dress is so beautiful, you'll want to wear it every day, not just on Valentine's Day. It's made of tier after tier of pretty pink layers with tiny pleats and a stunning bust with a swirl pattern. It's the shade of cotton candy, and all of these details combined make this a dress you can't pass up!
---
6

Thai Iced Tea Dress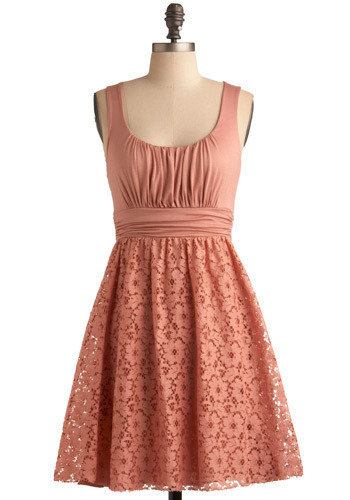 Price: $47.99 at modcloth.com
If there's a sweeter, more romantic dress out there, I haven't seen it… it's supremely flattering, with a ruched bust and belt, and a full skirt with a tonal lace overlay. Pair with silver or matte gold accessories and pumps, and (if you live in colder climes) a cropped cardigan.
---
7

Warmly Received Dress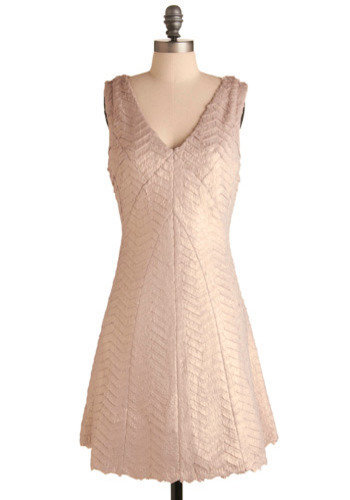 Price: $129.99 at modcloth.com
Be touchably soft in this furry-fuzzy, slight glimmering dress, with a flattering vee neck and a-line shape. Keep your accessories muted, and let the dress stand on its own. It's so unique, so pretty… just like you!
With so many ways to wear pink, and look blushingly lovely, this Valentine's Day, why would you want to wear red, or settle for the same LBD he saw you in last year? Which of these pretty pink dresses do you like best, and what would you wear it with? Please share!
More
---
Comments
Popular
Recent