Male dreams are made of them so you'll have to agree that owning at least one sexy set means having an ace up our sleeves. Sexy lingerie is indeed a must have even if we have nobody to show it to because wearing it kind of gives that extra boost of confidence and sex appeal that reflect to our business relationships, friendships and love life. Numerous researches have been conducted in this field but, don't worry, I won't bother you with scientific facts now. I just want to demonstrate how important it is for a woman to feel sexy sometimes. And these following 10 items I've found could sure make me feel sexy on any given day of the week. So, take a look at them, please, and tell me what you think.
---
1

Sequined Bra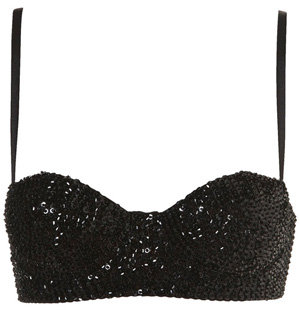 Price: $80.00 at us.topshop.com
Over-priced or not, I'd give my 80 bucks for this glam bra. I'd think twice about it but I would...Honestly. You know why? Because I already see two ways to use it – one is kind of private so I wouldn't go into details and the other is of purely fashion nature. Take your pick – Lady Gaga style or a more leveled, sparkly bra + semi translucent tunic look.
---
2

Lacy Corset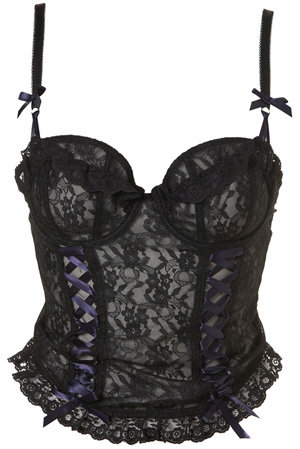 Price: $55.00 at us.topshop.com
I totally love corsets and the way they make the whole body look! They are not really practical for everyday wear, but, hey, we all know what these are for. Right ladies? Compared to bras and panties, corsets don't exactly come cheap but hey, they do a great job at hiding the little belly fat, look incredibly sexy and come with their own removable suspenders so all you need is a matching color thong and a pair of stockings and you're all set!
---
3

Retro Corselette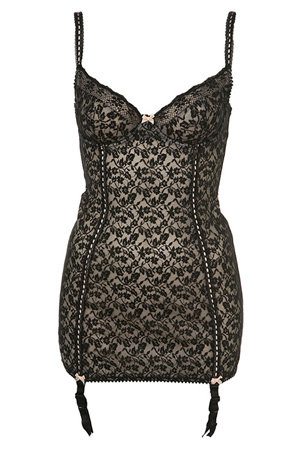 Price: $65.00 at us.topshop.com
I admit, I do have a soft spot for retro, pin-up style lingerie. And this one piece corselette shapes and smoothes out the figure so I'd say it has a practical use even outside the bedroom. Ideal for petite, average sized and plus sized ladies. In fact, ideal for any lady that considers pin-up style sexy.
---
4

Golden Panties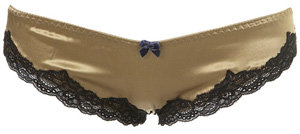 Price: $12.00 at us.topshop.com
Yay! They are 100% silk, have a full back and look gorgeous! I'm sure your body, your gynecologist and your significant other will totally approve of them. You see! Wearing lingerie made from natural materials doesn't mean you have to give up the sexy pieces.
---
5

Golden Bra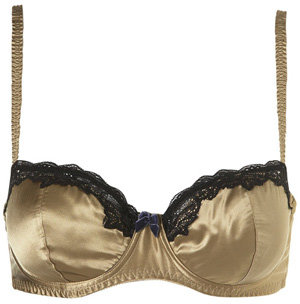 Price: $36.00 at us.topshop.com
A perfect match for those gorgeous golden panties I've mentioned above. Slightly padded with nicely molded cups, this balconette style is perfect for all ladies that, like me, could use a little bit of volume and lift.
---
6

Balconette Bra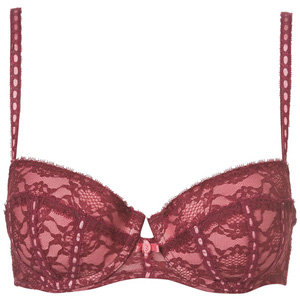 Price: $32.00 at us.topshop.com
Balconette cut again, I know, I know– I should really work on my bra selection. But I really find these bras sexy and they are the only ones that work for my tiny "girls". Plus, they really lift and put the girls out there. So, why did I choose this berry colored bra? Well the obvious usefulness, plus the lacy design combined with the fact that red is considered sexy make this bra a logical choice.
---
7

Lacy Garter Belt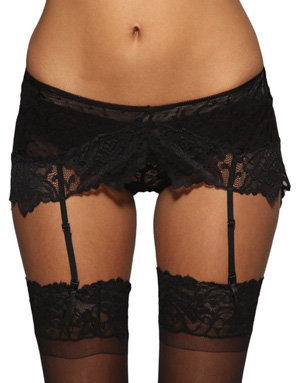 Price: $17.24 at asos.com
Every girl should have this in her lingerie drawer. The investment you have to make is small comparing to the sexy feeling you'll get from wearing it even if there is nobody to see it. There are many different styles out there but I personally suggest this one because it kind of "covers" things a bit and is wide enough so it doesn't carve into the flesh or ride up too much.
---
8

Red Skirt-thong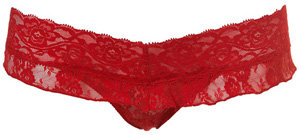 Price: $12.00 at topshop.com
Tiny, girly, sexy and kind of Christmasy – these micro thongs might not be very comfortable but they could sure make you his favorite secret Santa. Give it a shot, I'm sure his New Year's resolution will have at least one line about seeing you in them again.
---
9

Bodycon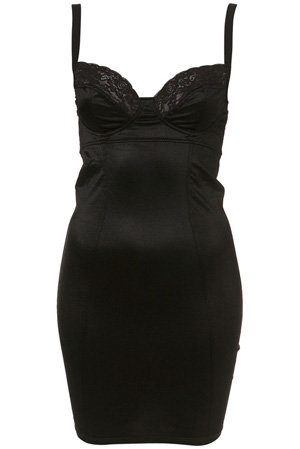 Price: $55.00 at us.topshop.com
Now, if you're wondering what the hell is this thingy that kind of looks like a dress but obviously isn't one and what is it doing on my list of sexy lingerie, let me explain it first. This garment has a very old tradition, ever our moms and grandma's used to wear them and its purpose is to smooth out the lingerie lines and offer a protective, non-sheer layer in case skirts and blouses are a bit see thru. As you can see, modern bodycon comes with under-wired, slightly padded cups so no bra is needed (read: no bra lines) and it looks and feels unbelievably sexy. Some might consider it retro or outdated but I definitely think it's sexy and ladylike.
---
10

See Thru Corset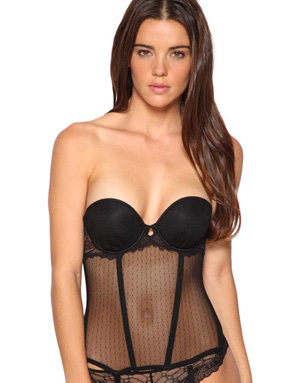 Price: $86.20 at asos.com
Another black corset, I know, hope you won't hold that against me! In my book, black is the sexiest color ever. Plus, black and black always goes together so you can easily match a sexy set whenever you need one. This glam, unusual one just had to be on this list and seeing it, I think you understand why.
Any comments? Do you like these items and do you have something similar in your lingerie drawer? How often do you wear these sexy stuff and do they play a big part in your style or not? Feel free to comment and share your likes, dislikes and fabulous finds.
More
Comments
Popular
Recent