I've admitted several times on this blog how much I adore bedding sets… well, it's time to come clean with my tiny obsession with beds to put them on, too! I'm always looking for pretty beds, though I don't often buy them… window shopping is usually the extent of my slight madness with beds. I've recently discovered that my favorite home goods store, Anthropologie, carries a range of them, and decided to share my picks of the prettiest with you! Here are 8 beautiful beds by Anthropologie.
---
1

Coralie Bed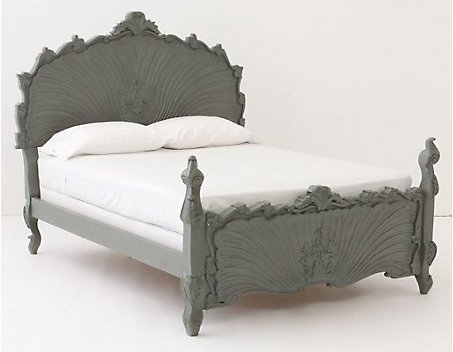 Price: $1,998.00 to $2,398.00 at anthropologie.com
Made of gorgeous mango wood, this bed is carved with curves reminiscent of sea shells, and painted a neutral slate grey. It's stately but feminine, ideal in a room with dark wood floors and a brightly-printed bedspread. Wouldn't think look pretty with yellow?
---
2

Jarvis Bed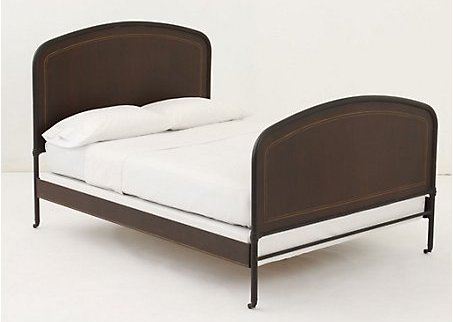 Price: $998.00 to $1,498.00 at anthropologie.com
This iron bed is elegant and graceful, yet masculine enough to be used in a guest room or a bedroom you share with your sweetheart. The iron is antiqued, a burnished brown color, with side rails and a stand in the center underneath for extra support.
3

Lusa Canopy Bed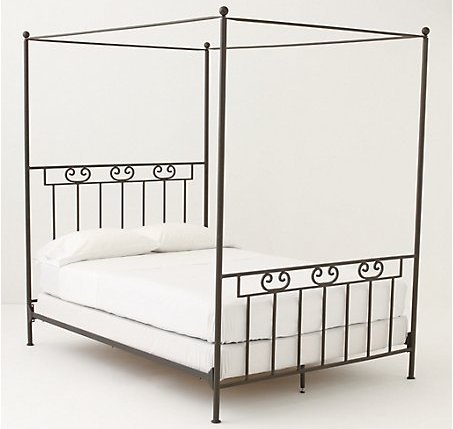 Price: $1,998.00 to $2,398.00 at anthropologie.com
Add a gauzy mosquito net and a lush ikat-print duvet to this simple, stark canopy bed for a look that's worthy of the Savannah. I love the simplicity of the lines, and the delicate hint of scrollwork at the head and foot of the bed.
---
4

Lasenby Bed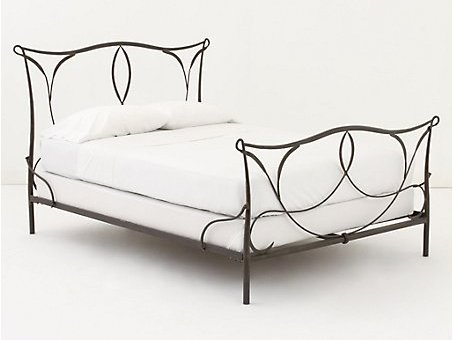 Price: $1,498.00 to $1,698.00 at anthropologie.com
All art deco curls and curves, this iron bed includes everything you'll need for a stylish room… all you need to add is a floral-print quilt and matching duvet and an antique side table with a curvy lamp. Use lush, rich blues and purples for the best effect.
---
5

Marigold Bed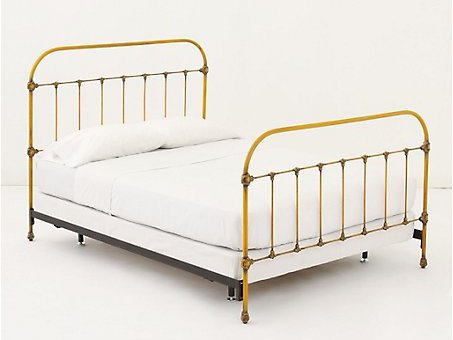 Price: $998.00 to $1,498.00 at anthropologie.com
Made of sturdy aluminum and iron, this bed is clearly vintage-inspired, with worn-effect paint in deep goldenrod yellow or pretty weathered white. Both have the same spindly rails at the head and foot, and tiny fluers-de-lis at each end.
---
6

Hushed Hours Bed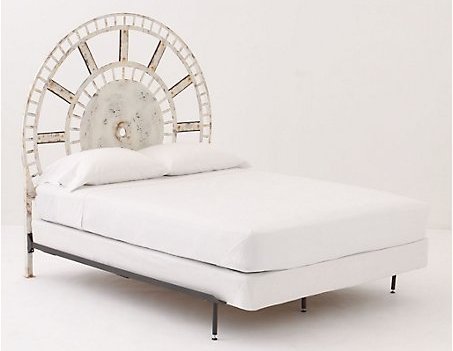 Price: $2,498.00 at anthropologie.com
Inspired by Art Deco-era headboards, this ornate, elegant bed is shaped like a clock, counting the hours of your restful slumber around to eight. It's crafted in the United States of antiqued wood and iron, and would look lovely with a floral-print bedspread or quilt.
---
7

Forest Canopy Bed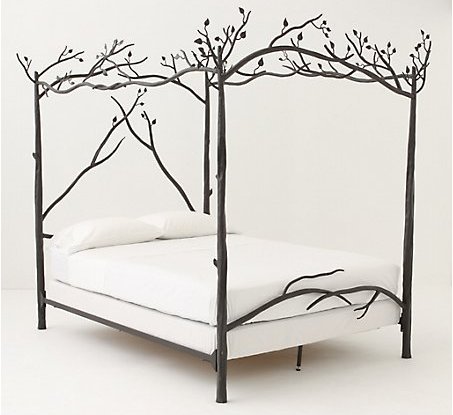 Price: $5,298.00 to $5,598.00 at anthropologie.com
Rest in a nest of carefully crafted braches and twigs, covered with an eyelet duvet in creamy ivory. This bed is fashioned in weathered iron with a canopy of braches and leaves overhead and a sturdy set of pillars and rails at each end.
---
8

Calligraphy Bed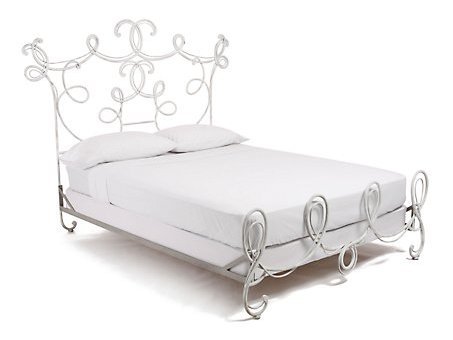 Price: $2,498.00 at anthropologie.com
Curlicues and deep swirls abound on the head and foot of this wrought-iron bed, painted a lovely neutral white. It's elegant and sweet, ideal for a little girl's room with a deco-inspired bedding set. So lovely!
Aren't these beds all gorgeous? I especially love the Deco-inspired ones, and the canopy beds… which do you like best, and why? Please let me know!
More
---
Comments
Popular
Recent