While bare walls may be aesthetically pleasing for minimalists and the like, I prefer mine with a little bit of decoration. If you're into quirky and kitchsy décor, I've compiled a list of a few zany creations. They range from colourful clocks to cardboard fish – all guaranteed ways to liven up a bare wall. Take a look at a few quirky wall decorations below.
1

Modcloth Coziest Cabin Key Holder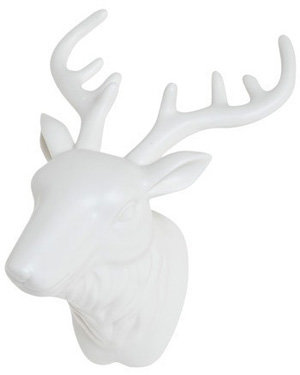 Price: $31.99 at modcloth.com
Keep your keys organised with this stag-head key holder. It is made from ceramic and comes in a plain white colour. Taxidermy isn't my thing, so this ceramic mounted deer wall adornment is a quirky alternative. Simply hook your keys on the antlers for quick and easy storage.
2

Modcloth Bling Blossoms Jewelry Hanger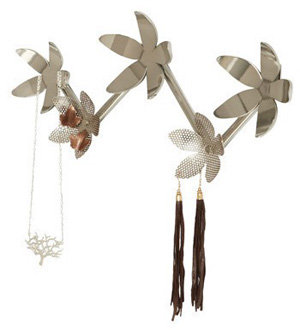 Price: $21.99 at modcloth.com
Quirky wall decorations can have a range of functions. This jewelry hanger is an innovative way to store and showcase your favourite jewels. It is made from nickel and features a flower design. There are three solid metal flowers and two mesh flowers. The mesh flowers can hold earrings while, the solid flowers provide a surface to hang necklaces from.
3

Chica Turquoise Wall Vase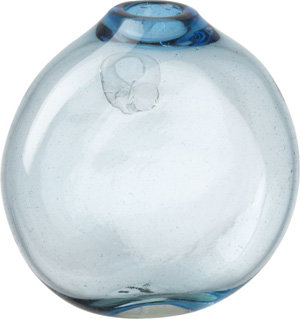 Price: $12.95 at crateandbarrel.com
Fresh flowers are a guaranteed way to freshen up a room. These wall vases are an interesting way to display your flowers. They are made from handblown recycled glass and come in a range of transparent colours. Hanging multiple vases would be a great way to freshen up a living space.
4

Modcloth Swatching the Clock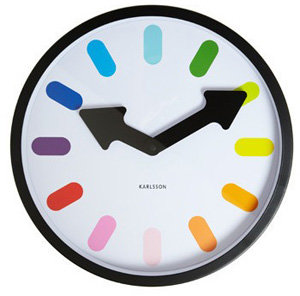 Price: $47.99 at modcloth.com
Keep the time in style with this colourful clock. The clock face is cartoon-like in design and features a rainbow of colours. The design is simple yet effective. Quirky wall decorations such as this would be well suited to a vibrant office setting.
5

Recycled Cardboard Trophy Fish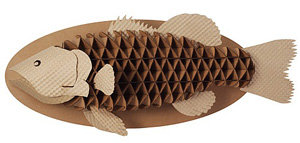 Price: $44.00 at uncommongoods.com
This recycled cardboard wall decoration pokes fun at the countless trophy fishes adorning walls around the world. Despite being made out of cardboard, the design is intricate, having been laser-cut for precision. If you have a tongue-in-cheek sense of humour, and aren't afraid to show this in your decorating style, why not mount one of these up on your wall. No fishing skills required at all to catch one of these fish!
6

Wall Mounted Gun Vase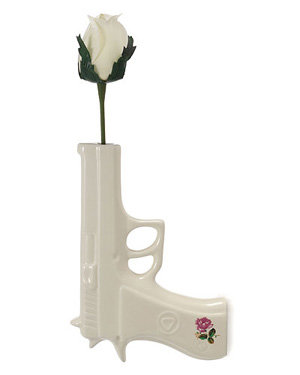 Price: $30.00 at uncommongoods.com
There's a poignant juxtaposition between the brutal nature of the gun and beauty of a flower in the design of this vase. Practice the catch phrase of "blooms not bullets" when you adorn your walls with one of these vases. It is made from ceramic materials and features a tiny rose on the barrel. It comes with an artificial rose, but you can also fill the barrel with water and replace it with a fresh flower of your choice.
7

Reclaimed 45 RPM Record Mirror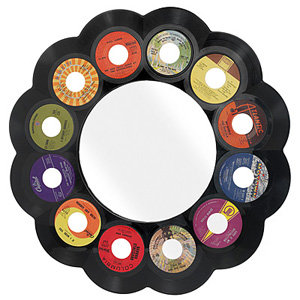 Price: $100.00 at uncommongoods.com
Vinyl isn't dead, it's just being recycled and repackaged as homeware. Take this record mirror for example. Reclaimed 45 records have been used in the construction of the mirror frame. The end result is a colourful, contemporary design that has an air of nostalgia about it. This one's for the music lover.
This is only an example of the wealth of quirky wall decorations out there at the moment. If you use your creativity, you can also come up a range of unique adornments for your wall. Which of the above are your favourites?