It seems that lately, I have a thing for tees, especially layered under open-front cardigans, or paired with cute skirts. I especially adore tees with adorable animals printed on them… and I've found a whole slew of them at one of my favorite online shops, ModCloth… here are 8 cute animal tees… enjoy!
1

Magic-owl Mystic-owl Tee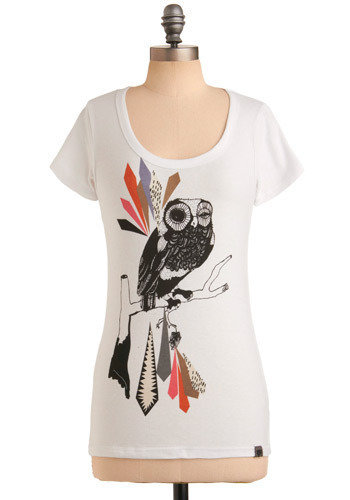 Price: $39.99 at modcloth.com
This wise, clever little owl has more to offer than sage advice — he also adds charm to any of your spring-time outfits! He's printed on a slightly stretchy 100% cotton white tee, and would look darling with dark-wash jeans and skimmer flats or wedges.
2

What's Hoppenin' Tee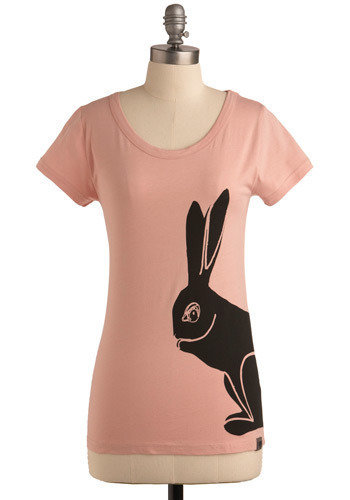 Price: $49.99 at modcloth.com
Could this be the Easter Bunny? He's printed on a 100% organic cotton tee in pale pink by Danish designer Nümph, and he looks to be made of dark chocolate. Pair with a tiered floral-print skirt and peep-toe heels.
3

I Love Unicorn Tee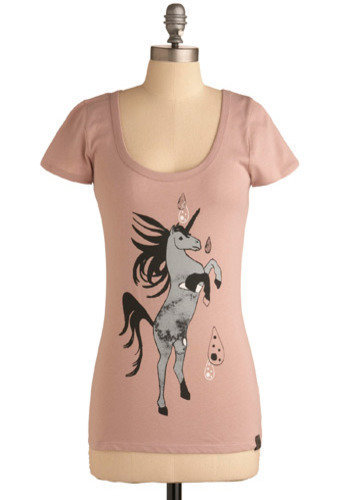 Price: $49.99 at modcloth.com
Admit it! When you were a little girl, you longed for your own unicorn as much as I did… and so what if we still do! We can finally have him, right here on this dusty pink tee. He's printed on a comfortable, ultra-soft cotton tee, and would look great with faded skinny capris and a long-line necklace.
4

Penguin Census Tee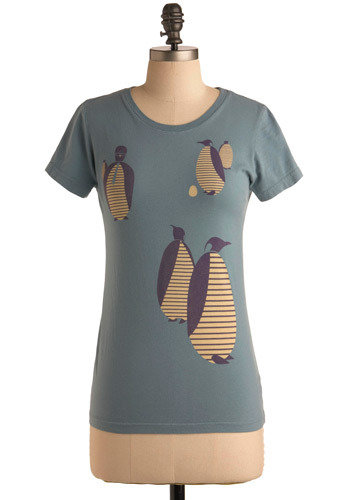 Price: $37.99 at modcloth.com
One of these penguins is not like the others. While the rest are indulging in a little rest and play, one is all business, wearing his glasses and a tie. Wear this on casual Friday with a knee-length skirt and patterned tights to make a statement that even though you're casually dressed, you're still studious!
5

This Meow's Forever Tee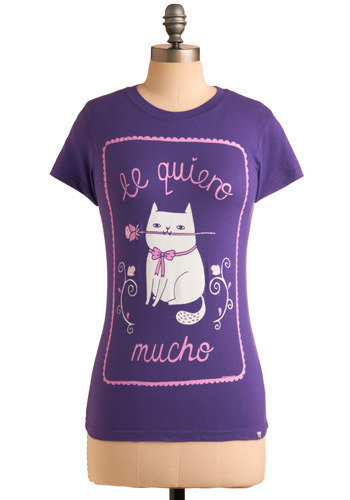 Price: $29.99 at modcloth.com
This debonair kitty speaks the language of love and the language of style! He's printed on a bright purple tee with pink and white details and a message of affection. Pair with a floral-print skirt and glossy patent shoes for a romantic spring-time look. Te quiero mucho también!
6

We Give a Hoot Tee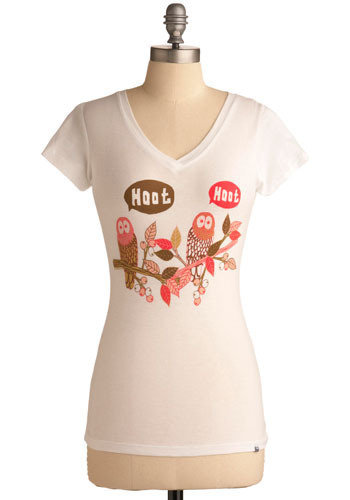 Price: $29.99 at modcloth.com
Give a hoot — don't pollute! And while you're out there, saving the eco-system, you might as well look stylish, right? This white cotton tee features a vee neck and a pair of brilliantly-plumed owls. Pair with brown linen shorts and a pair of wedges for spring fashion that's styling… and responsible!
7

Safari Built for Two Tee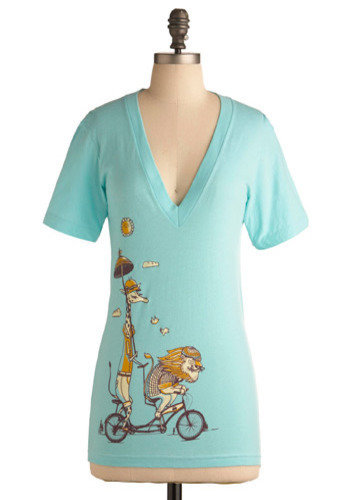 Price: $25.99 at modcloth.com
While a lion and giraffe may seem like odd bike-fellows, when you think about it, the pairing does make sense. They're both from the same geographic region, and if they're headed the same direction, why not bike together? Each character is dressed in their dandiest best, printed on a sky-blue vee neck cotton tee.
8

Mumbai Magic Eye Tee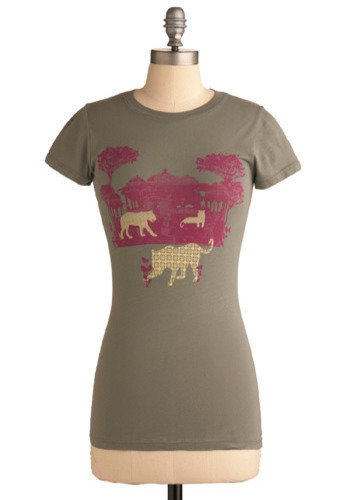 Price: $37.99 at modcloth.com
What a gorgeous tee! I love the play with colors and patterns… the tigers are more exotic than any I've seen, with a graphic print that's truly original, set against a background on dark grey cotton (the tee!) and brilliant pink trees and buildings. Wear it with skinny jeans and ankle boots in a brilliant, unexpected hue.
With so many darling animal tees, there's bound to be one that you'd love to have, too! I especially love the little Spanish-speaking cat (or rather, gato)… which of these cute animal tees do you like best, and what would you wear it with? Please share!