If you're in the beginning phase of becoming a complete baking or cooking fanatic, there are a few useful utensils you must have in your kitchen, including, of course, a good set of measuring cups and spoons. How else will you know the difference between a tablespoon and a teaspoon? But because you're a fab fashionista, and a thoroughly mod girl, your utensils have to be more than utilitarian — they also have to be cute! To give you a few ideas, here are 7 cute measuring cups and spoons!
---
1

Sweeter when Specific Measuring Spoons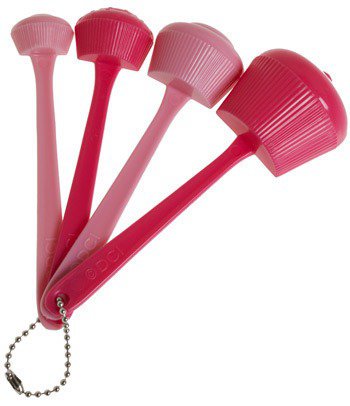 Price: $7.99 at modcloth.com
These four measuring spoons are a constant reminder of the cute cupcakes you're trying to master. They have the same princess-pink hue, and though they're made of plastic, they're sturdy enough to go into the dishwasher. And look! They clip together with a silver-tone ball chain. How handy!
---
2

Sweeter when Specific Measuring Cups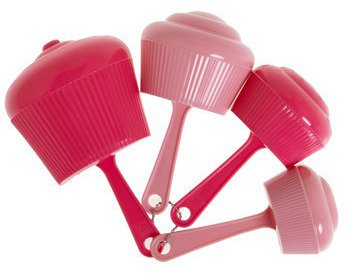 Price: $11.99 at modcloth.com
These pretty measuring cups are the sisters to the set of measuring spoons above. They're the same shades of pink, and clip together with the same silver-tone chain, but they are, of course, much larger, from ¼ cup all the way to one full cup. The two sets together would make a lovely housewarming or wedding gift, wouldn't they?
---
3

Birds of a Flavor Measuring Cups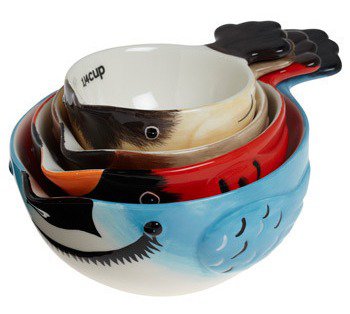 Price: $38.99 at modcloth.com
How incredibly gorgeous! You'll have a hard time believing these little nesting birdies are as functional as they are adorable! They're painted to look like a bluebird, a cardinal, and a sparrow and chickadee, and each is marked with their own measurement. They're made of ceramic, and are hand-washable.
---
4

Ingredi-antique Measuring Spoons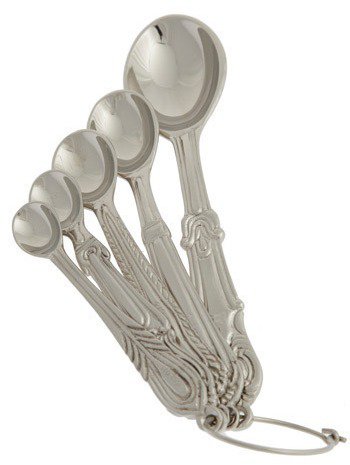 Price: $34.99 at modcloth.com
These measuring spoons, clipped together with a ring, are substantial, weighty. They're made of metal and follow the pattern of your grandmother's antique silverware, scalloped and ornate. The spoons measure out and nest together, quaint and pretty yet functional.
---
5

Meow for Measuring Cups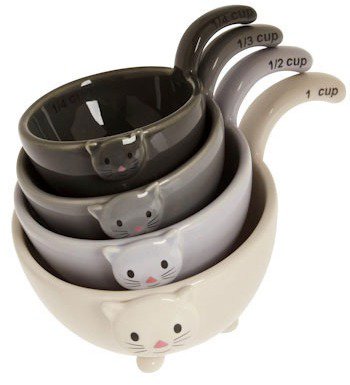 Price: $34.99 at modcloth.com
As soon as you open the carton of milk to finish your cake, your kitty comes running. You can't resist adding a little cream to her bowl, and as she's happily lapping it up, you're on to the butter-cream frosting, being careful to measure the ingredients with these darling ceramic measuring cups. Each features a comely kitty with a handle for a tail.
---
6

Scoops of Flower Measuring Spoons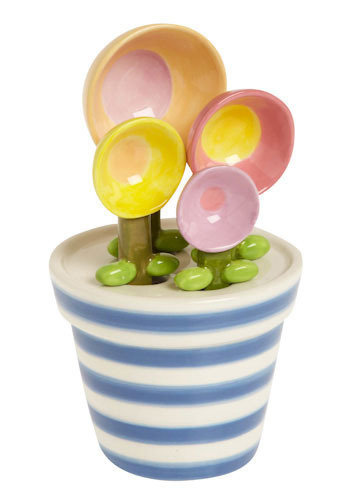 Price: $24.99 at modcloth.com
Is this a display of spring-time flowers, or something much handier around the kitchen? Actually, it's both, for each bloom is actually a measuring spoon, ready to scoop out just the right amount of nutmeg vs. cinnamon. They're made of glossy ceramic, and are practically guaranteed to add a little sunshine to your baking day!
---
7

Remix Wooden Spoon Set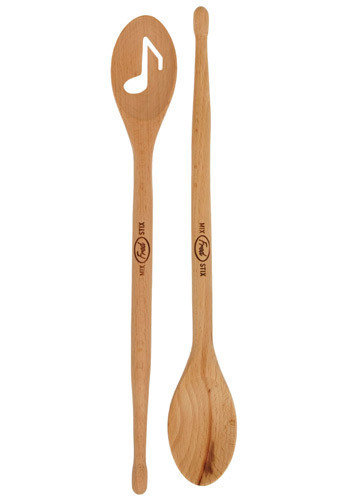 Price: $11.99 at modcloth.com
Aside from the very necessary measuring cups and spoons, you're sure to need a set of mixing spoons, like these. But look! They're made with drumsticks at the opposite ends, making these ideal for multi-tasking, ala drumming whilst cooking. Clever… and rockin'!
Aren't those Scoops of Flower measuring spoons the cutest? They'd make such a sweet house-warming gift! Which of these cute measuring cups and spoons do you like best, and why? Do tell!
More
Popular
Recent