I love hardwood and ceramic tile floors, but here in Michigan, they sure can be cold, unless you also use area rugs. I'm always on the lookout for a new area rug, one that lends color and visual interest to a room. Of course, since Anthropologie is one of m favorite home goods stores, I just found oodles of them there that I love! Here are 8 beautiful area rugs from Anthropologie.
---
1

Anthropologie Future Myths Rug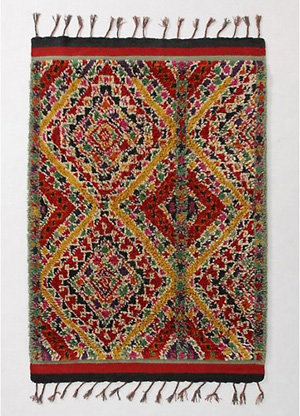 Price: $498.00 to $1,998.00 at anthropologie.com
This gorgeous rug, woven in the most brilliant red, yellow and green hues, has stories to tell, but like Scheherazade, it will only tell one a night, so listen closely: sitting on this lush carpet, made of wool and cotton, you'll remember all of the wonderful things you and your loved ones did on this rug. The books you've read together, the mugs of cocoa you drank in front of the fire, and more.
---
2

Anthropologie Winged Whimsy Rug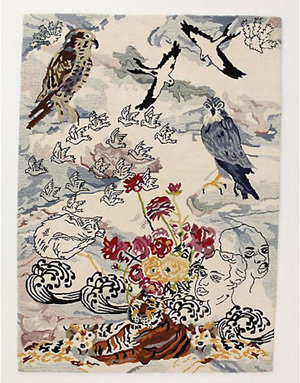 Price: $598.00 at anthropologie.com
Available exclusively online, and designed for Anthropologie by Rebecca Maysles, this rug features an aviary of birds or all shapes and sizes, some swooping through the sky, others perched on winsome branches… every time I look at this rug, I see something new, like the curled kitten, the soft clouds…
---
3

Anthropologie Coqo Floral Rug
Price: $398.00 at anthropologie.com
It's impossible to say in which color this throw rug looks best — the deep red on the creamy background, or the olive green, or the navy? Perhaps it's the cream motif on the dark brown background… they're all gorgeous, and they all feature a graphic floral pattern I love. The pattern is neutral enough to use in any room, with any décor.
---
4

Anthropologie Layered Damask Rug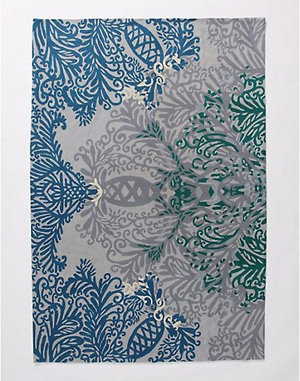 Price: $298.00 at anthropologie.com
Your parlor walls are dove grey, and while you love the peaceful look, you long for color, just a splash, and this rug is just the thing. It's made of soft, plush wool with a cotton backing, and compliments your parlor perfectly. Add a few cobalt blue or emerald green candlesticks or knick-knacks and your room's décor is complete.
---
5

Anthropologie Expanding Colorscape Rug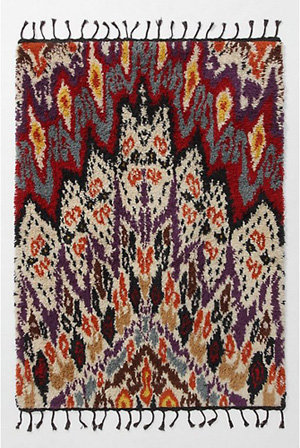 Price: $698.00 at anthropologie.com
Waves of vivid color radiate from one end of this rug to the other, in a classic ikat pattern, in rich hues of burgundy, blue, and yellow. Ach end features tassels, like a mythical flying carpet, making me wonder if that's how these colorful waves ended up here — while flying through a rainbow.
---
6

Anthropologie Spiny Lobster Rug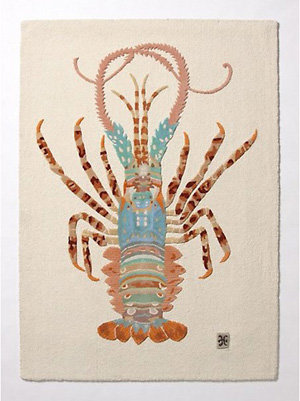 Price: $498.00 at anthropologie.com
You adore the idea of using a beach theme to your summer house, but you certainly don't want to do the trite red lobsters and lighthouses… so use this rug as a conversation-starter instead, and do the rest of the room in sun-washed neutrals with vintage wooden buoys scattered about.
7

Anthropologie Fireworks Rug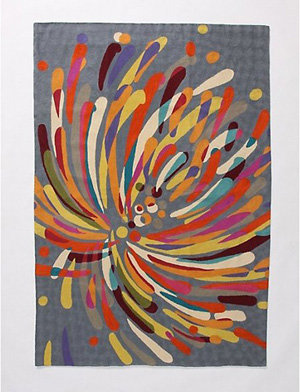 Price: $78.00 to $1,098.00 at anthropologie.com
Is it a multi-colored dahlia, or a brilliant fireworks display, there on the middle of this rug? I suppose it could be either one, but does it matter, as long as the gorgeous colors and pattern are available for use in your entry way, or by your fireplace? It's made of thick wool with a cotton backing and a background of either midnight or twilight blue.
---
8

Anthropologie Karakoram Rug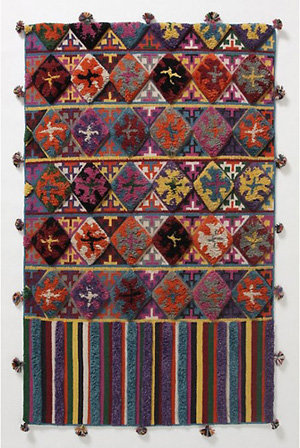 Price: $498.00 at anthropologie.com
Look closely and you'll notice that some of the diamonds patterned into this rug are raised, and that at the end of each row are tiny tassels. Wouldn't this rug look smashing in an entryway, or in a library? I love the stripes at one end…
Those are just a few of the gorgeous rugs available at Anthropologie, and there are dozens more, each more beautiful than the last! I love the Coqo rug (though I still can't say which color I like best)… which of these area rugs do you like best? Where would you use it?
---
Comments
Popular
Related
Recent